ALPA Shines at 2018 International Women in Aviation Conference
By ALPA Staff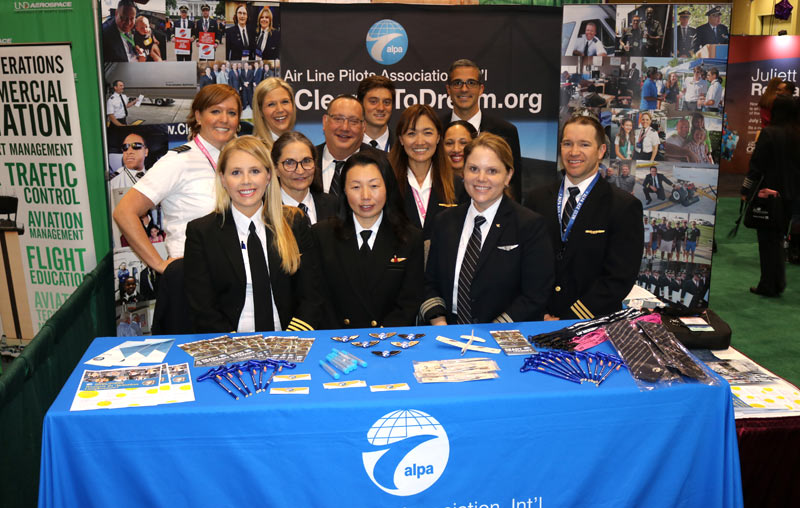 ALPA pilot volunteers pose for a photo before engaging with thousands of aviation professionals, students, and enthusiasts.
Excitement filled the air as 3,200 aviation professionals gathered for the 29th Annual International Women in Aviation Conference March 22–24 in Reno, Nev. Held at the Reno-Sparks Convention Center, the event provided an opportunity for women and men to connect, engage, and inspire.
"It's a high-energy conference, bringing together thousands of aviation professionals—many of whom are, or will be, ALPA members," said F/O Mark Haley (United), ALPA's Education Committee chair. "Being here enables us to build connections and educate members and nonmembers about our Association as well as inspire the next generation of pilots."
ALPA, a longtime supporter of Women in Aviation International, has exhibited at the conference for nearly two decades. Through ALPA's Education and Membership Committees, the Association took on a greater role at this year's conference to connect with members and encourage future generations of pilots. In addition to staffing a booth in the exhibit hall, ALPA pilots held three panel presentations, hosted a coffee break, and participated in Women in Aviation International's Girls in Aviation Day. Conference attendees also had a chance to hear from a variety of speakers who shared their motivating stories of how aviation has inspired their journeys and had the opportunity to take part in hiring briefings for some face time with airline recruiters.
ALPA front and center
ALPA's booth had approximately a dozen volunteers and received a lot of traffic due to its prime location. Visitors included ALPA members, other airline and military pilots, collegiate aviators, youth participating in Girls in Aviation Day, and other aviation professionals. ALPA volunteers, who included both female and male pilots flying for mainline, regional, and cargo carriers, answered questions and talked about ALPA initiatives, member benefits, transitioning from the military or an express carrier to a mainline carrier, paths to the flight deck for students, and more.
Education sessions
ALPA expanded its involvement in the sessions this year to include three presentations—two hosted by the Education Committee and one by the Membership Committee. The topics showcased ALPA's expertise, vision, and commitment to its members, the piloting profession, and aviation safety, security, and professionalism.
"Airline Pilot Families: Making It All Work," a Membership Committee-sponsored panel, focused on balancing family life with an aviation career. Through an interactive discussion with more than 110 attendees, pilots shared their experiences and provided useful tips for keeping in touch with family while flying and being present while at home. The panel, moderated by F/O Kandy Bernskoetter (FedEx Express), ALPA's Membership Committee chair, included F/O Kaori Paris (United), F/O Faye Matthews (United), and Capt. Brandi Cockrell (Endeavor Air). "As pilots, we face unique challenges trying to balance work and family," said Bernskoetter. "It's important that we support one another and exchange information about what works and what doesn't to help further our professional careers and personal lives."
Capt. Brandi Cockrell (Endeavor Air), left, and F/O Ellen Brinks (Delta), second from left, connect with ALPA pilots about membership benefits.
Dreams soar as young girls are introduced to a variety of aviation careers and learn how to get started on a path to the flight deck.
"Landing Your Dream Job" provided tips for preparing for and successfully completing the airline interview process. Capt. Paul Ryder (ExpressJet), ALPA's national resource coordinator, provided an industry overview and discussed career pathways. Susan White, a senior manager for pilot hiring programs at United Airlines, provided an inside look at what airlines are looking for from a recruiter's perspective. F/O Sara Baer (Alaska), an ALPA Education Committee member, emphasized the importance of setting short- and long-term goals and networking to make meaningful connections. "This is a highly competitive market," remarked Baer, who also serves as the chair of Alaska's Education Committee. "It takes hard work and dedication to achieve your dream. Look at your résumé and start working to fill in the gaps."
"Your Personal Wingman" focused on the process for navigating accidents/incidents, FAA medical certification issues, and other life-changing events. Moderated by F/O John Taylor (United), ALPA's Pilot Assistance Group chair, the panel also included F/O Ellen Brinks (Delta), ALPA's Aeromedical chair; Capt. Corey Slone (United), ALPA's HIMS chair; and Capt. Isabelle Caron (Jazz Aviation), a member of ALPA's Pilot Assistance Group. "Pilots' lives can be stressful," noted Taylor. "We want to assure both current and future pilots that they aren't alone if something goes awry. ALPA has the resources that they can rely on to get the help they need to keep them in the air."
Coffee talk
ALPA hosted a coffee break after the Women in Aviation International general session to further connect with members and nonmembers attending the Association's panel presentations. Attendees were quite engaged, and as a result, the coffee break—which was scheduled for 30 minutes—lasted for more than an hour. ALPA panelists were available to talk more in depth about their specific topics, which allowed for more personal, one-on-one interaction and discussion.
Girls in Aviation Day
For the first time, ALPA pilots were involved in the Girls in Aviation Day event at the conference. Approximately 200 local girls between the ages of 8 and 17 were introduced to aviation careers by talking with female role models, participating in hands-on activities such as a desktop simulator, and touring the exhibit hall. Baer, who participated on a panel discussion with six other women involved in different aspects of the aviation industry, used her journey to the flight deck to inspire girls to follow their dreams of flight and provide them with the tools needed to get there. She and Capt. Karen White (United) also helped girls at the different aviation-themed stations.
ALPA's Education and Membership Committees have received tremendous positive feedback as a result of their outreach at the conference. Many members have expressed an interest in getting involved with committee work. In addition, several collegiate aviation programs are interested in developing ALPA-driven professional development programs to help bridge the gap between the classroom and the flight deck. The effects of ALPA's outreach will last far into the future as young students chart their paths to the flight deck.
Next year's 30th Annual International Women in Aviation Conference will be held March 14–16, 2019, at the Long Beach Convention Center in Long Beach, Calif.
Couldn't Attend the Conference? ALPA Has It Covered.
Missed the Annual International Women in Aviation Conference? ALPA's social media network has it covered. Check out all the photos and get an inside look at the busy exhibit hall. Facebook live events also featured interviews with ALPA pilots; Dr. Peggy Chabrian, Women in Aviation International president and founder; collegiate aviators from ALPA's professional development and mentoring programs at Embry-Riddle's Daytona Beach, FL, campus and Lewis University; and young girls who were cleared to dream to become airline pilots. To learn more, go to clearedtodream.org.
This article was originally published in the May 2018 issue of Air Line Pilot.