The Bug Bit Us All . . . Hard
By F/O Erin Peltier (Virgin America)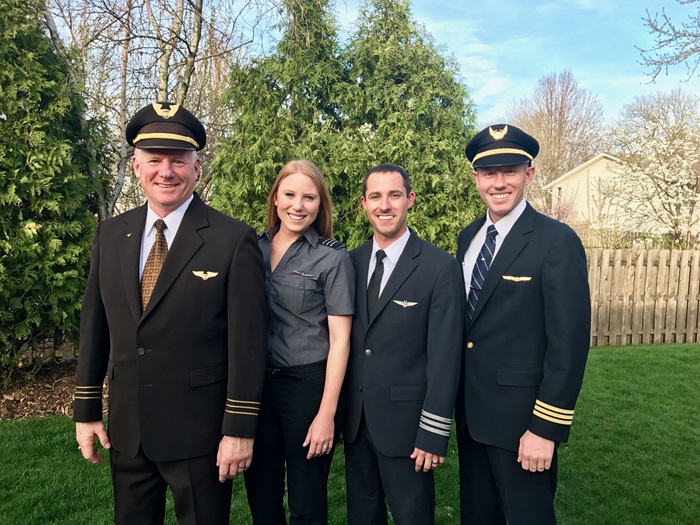 The Galis-Peltier family: (left-to-right) Marty Galis, Erin Peltier, Brett Peltier, and Ryan Galis.
To say that the aviation bug bit our family would be an understatement. It bit down, latched on, and never let go.
It all started with my dad, Marty Galis, who lived under the approach path of Chicago O'Hare when he was little. As a young kid, he would watch the arrivals fly overhead and dream of doing it some day. My dad was blessed to join the aviation community with the United Air Lines Air Explorers. This was a gracious group of United pilots, started by Captain Joseph A. Messina, Jr., and these pilots donated their time to teach kids to fly at the local airport. He began taking lessons at 15, and as any young aspiring pilot wished to do, he soloed at 16 in the club's Aeronca 7AC. He was able to get his private and commercial licenses in high school through the club.
My dad then attended the University of Illinois Institute of Aviation, where he received all the rest of his licenses, taught aerobatics, and received his A&P. He graduated with a degree in business in 1977. Shortly after graduation, he was hired at Britt Airways (in part due to his A&P license) as a pilot and mechanic. After nearly two years, he was hired at Air Wisconsin as a first officer, where he spent eight great years flying the Swearingen SW-4, the DeHavilland DHC-7, and the BAe-146. The true highlight of those years, he says today, was meeting my mom—she was an agent at the time with Air Wisconsin in Ft. Wayne, Ind. As fate would have it, they met when she was unloading his airplane. The story goes that he invited her to dinner with his crew, but "mysteriously" the crew never showed up. They have now been married 36 years!
After four years of marriage, they had my brother in 1985 and me in 1989. In February 1986, my dad was hired at Pacific Southwest Airlines, which was bought by USAir later that year, and he remained there until his early retirement in 2006. He flew the BAe-146, 737 series, 757, and 767 as an F/O; he was a captain on the Airbus 319/320/321 as well as the 737. (As I write this, I definitely have some type-rating envy!) After my dad took early retirement, he was hired at UPS Airlines, where he currently flies today. He was hired on to the 757/767 fleet and is now based in Anchorage flying the MD-11 worldwide.
After Air Wisconsin, my mom was a flight attendant with ATA for a year in 1983. She enjoyed her time there, but soon took a job as a ticket agent for American from 1984-1991. She wanted to be home with us kids until we were a little older, and so later took a job with Delta in 1999. She spent time as a red coat and has won multiple awards for her incredible work ethic and attitude. She has now been at Delta 18 years and is still going strong! We are so proud of her!
As my dad was busy building his lifelong career, he was also busy building his family life. This is where my brother and I come in. We were both bit by the bug at an early age, always wearing our dad's uniform coats and playing with airplane toys. We grew up traveling on airplanes, going with dad on his overnights—most often to New York to get a slice of pizza. What a childhood!
We both began flying lessons with Dad about the time we were 13, and then both went on to solo on our 16th birthdays. We each earned our private pilot licenses in high school and went to college at the University of Illinois Institute of Aviation to get our degrees in aviation human factors. (See a trend?) My brother then went on to get hired at multiple regional airlines after college, including Comair, Lynx, and American Eagle. While at those airlines, he was typed on the CRJ-200, the Q-400 and the EMB-145. We know he's a true airline pilot since he was furloughed twice! Finally, after years of hard work, he landed his dream job at United Airlines in June 2016.
As for me, after a short three years at ExpressJet, I was hired at Virgin America based in SFO flying the Airbus 319/320/321. It is such a fun and wonderful place to work! Virgin just completed a merger with Alaska Airlines, so I am looking forward to doing some Alaska flying in the near future!
I expanded our flying family, too. During college in the summer of 2010, I met my husband, Brett Peltier, during a Flight Operations internship at American Airlines. After college, we both pursued our passion of flying in Alaska. We were hired at Hageland Aviation in 2011 flying the BE-1900C. After a short year on the North Slope, we were both hired at ExpressJet Airlines in 2012 flying the EMB-145 based in Houston (one seniority number apart). We transferred to the Denver base in fall 2013, which has been our home ever since. On Christmas Eve 2013, Brett got the call that he had been hired at American Airlines, what a Christmas present! He received his type on the MD-80 and is now flying the Airbus out of LAX.
To recap: My family's combined airlines include: UPS, United, American, Virgin America/Alaska Airlines, and Delta—and that's just where we currently work. Flight benefits anyone? Here's to keeping it all in the family!