Captain Bill Couette, Vice President–Administration/Secretary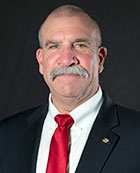 Captain William Russell "Bill" Couette (Envoy) was elected to his fourth consecutive term as ALPA's vice president–administration/secretary on Oct. 17, 2018, at the Association's biennial Board of Directors meeting. His current term began on Jan. 1, 2019.
As vice president–administration/secretary, Captain Couette executes the policies of the Association's governing bodies and acts as custodian for all ALPA documents, contracts, leases, property deeds, and general records. He also oversees ALPA's membership programs and union voting and election procedures.
While serving as vice president–administration/secretary, Captain Couette worked with the ALPA Merger Policy Review Committee to determine how to best protect pilot interests when airlines merge. He participated in ALPA's representational organizing campaigns for the pilots of Continental Airlines and FedEx Express. He also acted as Strike Oversight Board representative for the Atlantic Southeast Airlines and Skyway Airlines pilots.
As an Envoy Air, American Eagle, and Simmons Airlines pilot, he held important ALPA leadership roles including his status as a five-time elected local executive council officer and a System Board of Adjustment member.
Based in Chicago, Ill., Captain Couette flies the EMB-145 for Envoy Air. He earned a BS in aviation technology with a professional flight minor from St. Cloud State University. His deceased father, Russell, a former member of IBEW Local 160, passed onto him a deeply held belief in the importance of a strong, unified union.