Release #: MAG 22.01
August 26, 2022
Mesa Pilots Achieve Industry-Leading Pay Rates
PHOENIX—Today, the pilots of Mesa Airlines, represented by the Air Line Pilots Association, Int'l (ALPA), secured industry-leading pay rates with Letter of Agreement (LOA) 8.
"With strong competition in the regional industry, today's LOA offers the compensation Mesa needs to remain competitive and attract and retain experienced, qualified pilots," said Capt. Chris Gill, Mesa ALPA Master Executive Council chair. "We're happy to see management and our partners recognize the value of Mesa pilots."
Mesa pilots are still engaged in Section 6 negotiations under the Railway Labor Act to address other areas of the contract, but this week's agreement reflects an overall hourly rate pay increase of nearly 118 percent for first-year captains and 172 percent for new-hire first officers.
The following pay rates will go into effect September 15, 2022:
CRJ 900/E175 first-year captain pay starting at $150/hour
CRJ 900/E175 first-year first officer pay starting at $100/hour
CRJ 900/E175 20-year captain pay at $215/hour
CRJ 900/E175 5-year to 10-year first officer pay at $110
1% pay increase in 2023 and 2024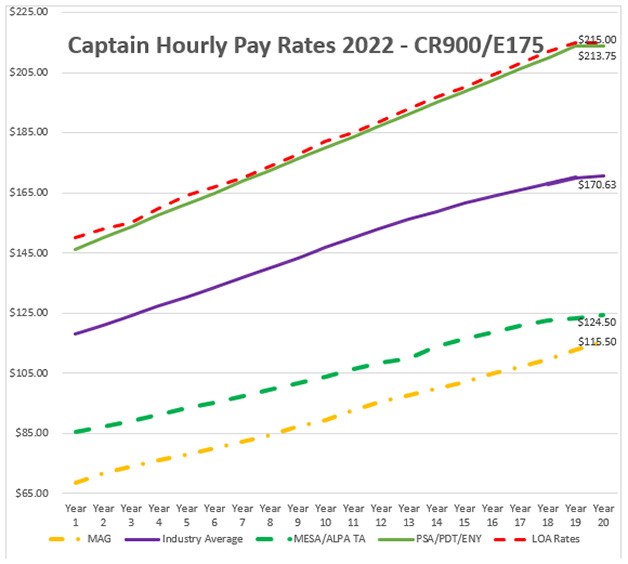 ALPA has long advocated for permanent changes to salaries and work rules, warning that without these changes, pilots would continue to leave for airlines that offer better pay, working conditions, and career opportunities. Regional airlines that have taken positive steps to improve pilot contracts have been able to attract highly qualified candidates.
Founded in 1931, ALPA is the largest airline pilot union in the world and represents more than 66,000 pilots at 41 U.S. and Canadian airlines. Visit ALPA.org or follow us on Twitter @ALPAPilots.
-###-
CONTACT: ALPA Media, 703-481-4440 or Media@alpa.org