Release #: 22.28
August 11, 2022
New FAA Data Shows U.S. Pilot Production Remains Strong
ALPA Analysis Finds Largest Carriers Have More Pilots and Conduct Less Flying Than Pre-Pandemic
MCLEAN, Va.—Pushing back on the erroneous claim that the United States is experiencing a shortage of pilots, the Air Line Pilots Association, Int'l (ALPA) today released updated data from the Federal Aviation Administration (FAA) that shows 8,823 newly certificated commercial pilots have been produced in the last 12 months. ALPA also released an analysis that showed the union's seven largest passenger carriers have more pilots and conduct less flying than they did before the pandemic, offering further evidence that pilot availability is strong and the debate about supply is really an attempt by some airlines to divert attention away from their operational mismanagement.
"Once again, the data demonstrates that the United States is producing a record number of pilots. However, there are still some in the industry that continue to mislead the public about pilot supply to cover up bad business decisions and their attempts to negatively impact aviation safety," said ALPA president Capt. Joe DePete. "Rather than focusing on trying to avoid proven aviation safety regulations, these airlines should instead follow ALPA's lead and promote one level of safety across the industry. ALPA is prepared to work with any stakeholder to ensure we are attracting and retaining the best and the brightest to the piloting profession—and we are determined to make certain that any effort to shortcut safety fails."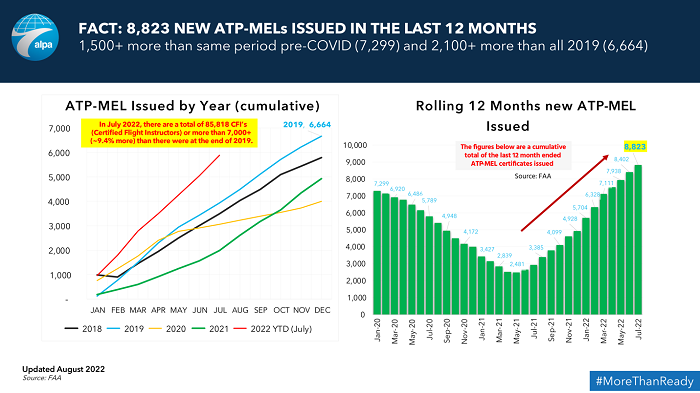 Click image to enlarge
In addition to the updated FAA pilot-supply data, ALPA's Economic and Financial Analysis team looked at the number of pilots currently employed by the Association's seven largest all-passenger carriers and, while the airlines are operating 8.8 percent fewer block hours today than they did prior to the start of the pandemic, they have 6.5 percent more pilots now.
Click image to enlarge
"The facts are clear: there are more than enough qualified pilots available to fly for the right opportunity while continuing to protect the strong safety system that has made our nation the gold standard of aviation," added DePete. "Last week, we marked the 12-year anniversary of the passage of one of the most effective aviation safety laws ever enacted, and our pilots remain resolute in our defense of the highest standards for professional aviators."
Founded in 1931, ALPA is the largest airline pilot union in the world and represents more than 65,000 pilots at 40 U.S. and Canadian airlines. Visit ALPA.org or follow us on Twitter @ALPAPilots.
-###-
CONTACT: ALPA Media, 703-481-4440 or Media@alpa.org