September 14, 2023
Air Safety Forum News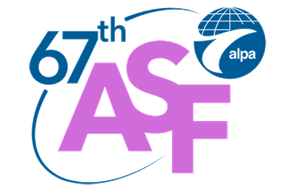 Experts from around the globe gathered in Chicago, Ill., September 11–14 for ALPA's 67th Air Safety Forum (ASF). With the theme "Moving Forward Together," the four-day conference commenced on Monday with two days of private ALPA Air Safety Organization (ASO) sessions and opened to the public on Wednesday, September 13, with hot-topic discussions and keynotes. This annual event offers unmatched collaborative and networking opportunities to discuss critical topics facing not just the piloting profession but the entire industry. Capping off the ASF was an awards banquet that highlighted the outstanding accomplishments of ALPA pilots.
Keep reading for highlights from the premier aviation event of the year. View Photos »
---
Air Safety Organization Kicks Off ASF
The Air Safety Forum formally opened on Monday with private group meetings to discuss successes, priorities, and next steps in the ASO's four pillars of safety, security, pilot assistance, and jumpseat. These meetings provide the opportunity for ALPA's ASO volunteers to share their expertise with industry and government officials in tightly focused sessions.
"This is where we put in the work that fuels our success," said Capt. Wendy Morse, ALPA's first vice president and national safety coordinator. "These meetings and the collaboration with industry and government help lay the groundwork for future improvements within the industry."
The ASO's Security and Jumpseat groups each held forums, complete with panel discussions and keynotes, in addition to council meetings where representatives from each ALPA pilot group discussed pressing issues specific to their carriers and across the industry. The Safety Council held its own session as well as a joint meeting with the Training Council and Human Factors & Training Group to address common concerns across disciplines. The ASO's Pilot Assistance Group conducted various separate meetings amongst the group's various disciplines, including Aeromedical, Critical Incident Response Program, Pilot Assistance Canada, Pilot Peer Support, and Professional Standards.
Other ASO safety groups that met Monday and Tuesday include Accident Analysis & Prevention, Aircraft Design and Operations, Airport and Ground Environment, Accident Investigation Board, Air Traffic Services, a refresher for chief accident investigators, Safety Information Analysis Programs, and Safety Management Systems, along with a breakout session specifically focused on safety and security in Canada.
Also meeting in conjunction with the ASF were ALPA's Remote Operations and Cargo committees.
---
Public Forum Opens with Address from ALPA's President
ALPA president Capt. Jason Ambrosi welcomed over 500 registered attendees at the opening ceremony of the Air Safety Forum on Wednesday. "It's especially appropriate that we are meeting in the very room in which the Convention on International Civil Aviation was signed, creating the organization that would become the International Civil Aviation Organization," he noted.
Setting the tone for the public portion of the ASF and the next two days of panels, keynotes, and awards, Ambrosi asserted, "Safety is at the core of everything we do. It's reflected in our advocacy and our strong collective bargaining agreements." He remarked, "I want to be clear: ALPA will never back down in our fight against those who seek to weaken pilot-training rules or propose an arbitrary, unstudied increase in the mandatory retirement age."
ALPA's president spent much of his presentation discussing the upcoming FAA reauthorization bill before Congress and the various challenges to the current standards that have resulted in the safest period in U.S. airline history. "Let's stop trying to break a system that's working—saving lives—and get a bill to the president for his signature before the end of this month," he said, speaking toward special-interest efforts to undermine safety. Read more: ALPA Pledges to Fight to Maintain Highest Aviation Safety Standards.
Relatedly, just yesterday, the Association released new data from the FAA proving that despite special-interest rhetoric, the United States is producing more pilots than ever. Read more: U.S. Pilot Production Continues to Shatter Records.
Briefly touching on the Association's other top safety and security priorities for both the United States and Canada, Ambrosi concluded by observing, "With your presence here today, you're joining our effort to make certain that North American air transportation—and the passengers, crews, and cargo we fly—is safe and secure."
---
Transportation Safety Board Chair Affirms Need for Two Pilots on the Flight Deck
"Sometimes the events from our past help us to prepare and look toward the future," asserted Kathy Fox, who chairs the Transportation Safety Board (TSB) of Canada, in her Wednesday morning ASF keynote address. To highlight this point, she acknowledged the recent anniversaries of the 1998 Swissair Flight 111 accident near Halifax Stanfield International Airport and the 9/11 terrorist attacks three years later. Fox shared the TSB's perspective that the two biggest challenges currently facing airline safety are the impact of extreme weather events on flight operations and the development of new technologies and the unanticipated problems they can introduce. Referencing the latter concern, she recognized the emphasis placed on increased automation asserting that, during flight deck design, special attention must be given to how the flight crew understands and interfaces with these new systems and features. Problems such as loss of aircraft control have sometimes led to automation confusion, and blind trust is simply not an acceptable approach. "For that reason—yes—two well-trained, qualified crew [members] on the flight deck are better than one," she asserted, backing up ALPA's long-standing two-pilots priority. Fox suggested that the best way to manage these two challenges and mitigate safety risks moving forward is through the sharing of information and identifying of best practices through collaborative programs like Safety Management Systems.
---
TSA Administrator Discusses Security Threats
In his Wednesday afternoon keynote, the Honorable David Pekoske, the senior official of the Transportation Security Administration (TSA), thanked ALPA for the great dialogue his agency has been able to establish with the Association. "We are aligned completely in our goals to make sure that aviation stays as safe and secure as possible," he said, adding, "We can't do what we need to do if we don't work together."
Pekoske talked about how threats to aviation security have changed, identifying domestic and cyber security issues as his organization's latest concerns. He emphasized that the TSA must remain flexible in its safeguarding methods and avoid implementing "cookie cutter" protections that attackers can easily identify and circumvent.
During his presentation to hundreds of pilots and experts gathered for the ASF, the TSA administrator provided updates on programs that directly affect flight crews, including Expedited Crew Access, which will upgrade the Known Crewmember program in the near future using a biometrics framework. He also expressed his support for the Federal Flight Deck Officer program, stressing the need for increased funding.
As one of the challenges the TSA is facing, Pekoske highlighted the September 11 security fee that's included in the purchase of airline tickets and was originally intended for training, salaries, and benefits for federal security screeners and law-enforcement personnel. Airlines charge $5.60 one way and $11.20 for a round-trip ticket. However, the government has diverted billions of dollars of these collected fees to address causes that have nothing to do with aviation security.
---
Awards Highlight Exceptional Member Service to the ALPA Air Safety Organization
The Air Safety Forum also provides an opportunity for the union to recognize members for their untiring support of the Air Safety Organization and ALPA priorities, and several awards were presented during Wednesday's sessions—presidential citations, Airport Safety Liaison of the Year, Airport of the Year, and a special recognition of ALPA's recently retired director of Engineering and Air Safety.
Four ALPA pilots were recognized with presidential citations for their significant contributions in support of the union's Air Safety Organization:
Capt. Jeff Sedin (United) for his role in advancing aviation safety,
Capt. Bill Schild (FedEx Express) for his contributions to aviation security,
Capt. John White (United) for his efforts in support of pilot assistance initiatives, and
F/O Paul Emery (United) for his work on aviation jumpseat issues.
"Truly, these pilots are among the finest examples of the spirit of volunteerism and service to the profession as well as air transportation," said ALPA president Capt. Jason Ambrosi in presenting the citations.
Ambrosi, along with Capt. Steve Jangelis (Delta), ASO Aviation Safety chair, and Sedin, Airport & Ground Environment Group chair, also recognized Capt. Robert Devadason (JetBlue) as the 2022–2023 Airport Safety Liaison of the Year for his coordination with Washington National Airport, citing his efforts at "building relationships with airport stakeholders and representing pilots' perspectives at airport meetings."
The trio also welcomed back one of the day's keynote speakers, Jamie Rhee, commissioner of the Chicago Department of Aviation, to honor Chicago O'Hare International Airport as the ALPA Airport of the Year. The airport has an "extraordinary commitment to achieving the highest safety standards, going above and beyond for flight crews, and maintaining a strong relationship with ALPA."
Ambrosi was joined by ALPA general manager David Krieger to celebrate the career of longtime director of ALPA's Engineering and Air Safety Department, Keith Hagy. Ambrosi called Hagy's departure after 37 years with ALPA "the end of an era," recognizing his tremendous accomplishments throughout his career.
The ASF concluded with an awards banquet honoring these ALPA champions and many more.
---
Reduced Crew Operations Pose Enormous Safety Threat
Capt. Jason Ambrosi, ALPA president, led a panel discussion with representatives from stakeholder organizations around the globe about reduced crew operations during the ASF on Wednesday. The increasing possibility of a reduction in the number of crewmembers on the flight deck—and the colossal threat it poses to air safety—has raised significant concern among aviation safety advocates.
Panelists included Capt. Paul Reuter, professional affairs board director with the European Cockpit Association; Capt. Craig Bomben, vice president of flight operations and chief test pilot for Boeing; Capt. Bill Secord (FDX), ALPA Reduced Crew Operations committee chair; and Mr. Gordon Margison, senior technical officer with IFALPA.
"We're working with our allies at the European Cockpit Association and the International Federation of Air Line Pilots' Associations to raise public awareness through the 'Safety Starts with Two' campaign, and making our voices heard," said Ambrosi. "This is something that is on the horizon, it's real, and it needs our utmost attention."
Learn more about 'Safety Starts with Two'.
---
Unruly Passenger Events Continue to Be a Significant Challenge for the Airline Industry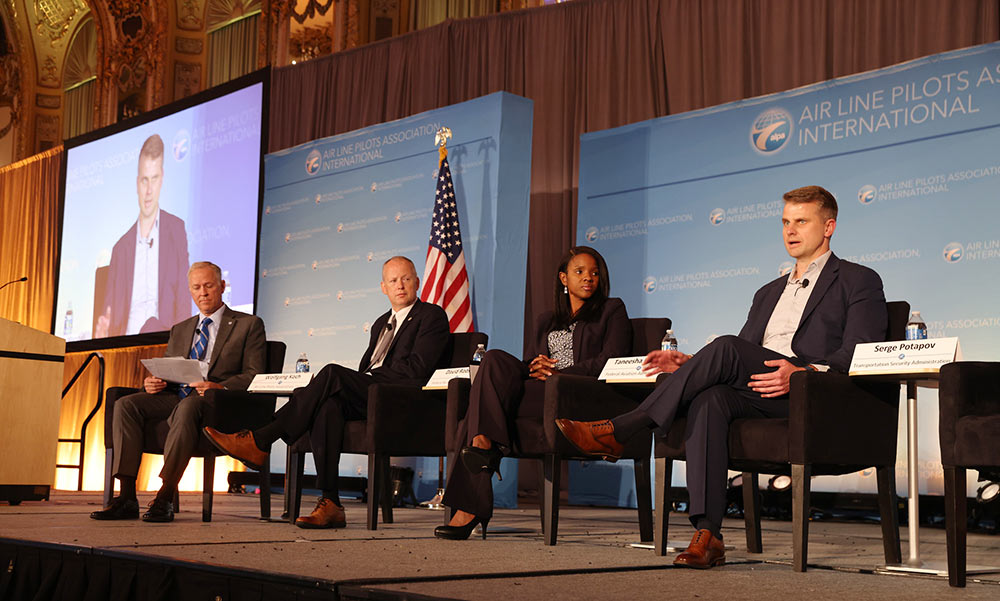 Aviation security experts discussed ongoing challenges associated with unruly passenger events on Wednesday at the Air Safety Forum. Capt. Wolfgang Koch (Delta), ALPA Aviation Security chair, led a panel discussion that brought together representatives from the FAA, TSA, and FBI to address the surge of inflight passenger incidents in recent years.
"Back in December of 2020, before the pandemic hit its peak, we prosecuted about 100 cases every month nationwide," said Taneesha Marshall, assistant chief counsel in the FAA's Aviation Litigation Division. "Then in March of 2021, we had 720 cases come in in one month. Those numbers were so significant and unprecedented that we created a special team within my division just to address passenger interference cases." Although the numbers have decreased considerably since the peak in 2021, as of January this year the FAA was still seeing approximately 300 cases every month.
Other panelists included David Rodski, the FBI's airport liaison agent coordinator for Baltimore Washington International Airport, and Serge Potapov, TSA executive director of Flight Programs, Flight Operations Division.
---
Exploring Ways to Further Increase Runway Safety
Another ASF panel Wednesday brought together pilots, controllers, and representatives from the government and industry for "Runway Safety: The First and Last Point of Contact." The panel was moderated by ALPA's Capt. Jeff Sedin (United), chair of the ASO Airport & Ground Environment Group, who noted that runway incursions have been making news headlines this year and asked the panel to explain ways they are addressing incursions and other safety issues.
Bridget Singratanakul, a runway safety representative with the National Air Traffic Controllers Association, highlighted that there are 52.5 million arrivals and departures in the United States each year, with just 1,730 runway incursions recorded last year. "You're doing exceptional at your job," she remarked.
The panel, which also included representatives from the FAA and Chicago Department of Aviation, discussed various ways to lower that number, including increased use of new technology, reinforcement of proper training, constant communication, and of course one of ALPA's hallmarks, collaboration with all participants in the process.
Capt. Robert Devadason (JetBlue), an airport safety liaison (ASL) at Washington National Airport and this year's ASL of the Year honoree, reinforced that final avenue, commenting that all parties "have the same goal in mind: safety."
---
U.S. and Canadian Agencies Reinforce Support for ALPA Priorities
Attendees of the public days of the Air Safety Forum were treated to keynote speeches from several government stakeholders who shared their organizations' priorities and perspectives—Jamie Rhee, commissioner of the Chicago Department of Aviation (CDA); Carlos Monje, Under Secretary for Policy at the Department of Transportation (DOT); and Andy Cook, associate director general of civil aviation at Transport Canada.
"While policymakers and federal agencies make decisions that affect the safety and security of pilots, passengers, and ground crew, you represent the front line," said Rhee, whose CDA supports both Chicago O'Hare and Midway International Airports. During her Wednesday afternoon keynote, Rhee talked about the two facilities' massive passenger and cargo throughput, including approximately 68.3 million passengers and 2.2 million metric tons of cargo processed by O'Hare alone in 2022. She also discussed upcoming facility improvements and a new education and outreach initiative for Chicago's youth.
Monje, who serves as a principal advisor to DOT Secretary Pete Buttigieg, took the stage Thursday, providing a presentation on aviation issues currently being addressed at the DOT. Monje gave special attention to the status of the FAA reauthorization bill, noting that certain stakeholders are trying to reduce the number of actual flight hours required to earn an air transport pilot certificate. "I want to assure you that we are holding strong on the 1,500-hour rule, and we will not compromise on safety," he vowed.
In his Thursday afternoon keynote, Cook provided a brief recap of his background experience, which includes time as a military pilot, civil aviation pilot, and operations manager before joining Transport Canada. "As a government regulator," he continued, "I don't come from a purely bureaucratic pedigree." He touched on Transport Canada's many priorities, including flight-time/duty-time regulations, pilot shortages, and 5G interference issues with radar altimeters. In all these areas, he said, "Safety is not just part of the job, it is the job."
---
ASF Panels Explore Current Industry Hot Topics
The 67th ASF was rounded out with discussion panels covering security, aeromedical, pilot support, safety multipliers, and cargo safety.
A favorite of forum attendees, the "Meet the Doctors" panel, moderated this year by ASO Aeromedical Committee chair First Officer Ellen Brinks (Delta), examined various issues surrounding airline pilot medical certification. Senior officials from both the Federal Aviation Administration and Transport Canada talked at length about efforts to streamline procedures and improve efficiency. Both nations are working to digitize medical certification processes to make them more transparent and faster to administer. In recent years, both agencies have invested resources to help eliminate the stigma surrounding mental health issues and encourage pilots who need assistance to seek treatment. Aviation Medicine Advisory Service president/CEO and ALPA Aeromedical advisor Dr. Quay Snyder talked about the free consultations his office provides to ALPA members. Snyder also spoke to the importance of ALPA's Pilot Peer Support and other Pilot Assistance programs.
Capt. A.J. Berlotti (Alaska), ASO Aviation Jumpseat chair, moderated a panel of ALPA pilots who discussed the evolution of security and jumpseat initiatives since the attacks of September 11. Topics included emphasizing proper jumpseat procedures, unruly passengers, the Federal Flight Deck Officer program, and one level of security for cargo. Capt. Darrin Dorn (Alaska), ASO Aviation Security vice chair, reminded all of the constant need for vigilance. "Aviation is the crown jewel for terrorists," he stated.
The "Support for Our Members" panel put a spotlight on ALPA's Pilot Assistance group, with Capt. Travis Ludwig (United), ASO Pilot Assistance chair, moderating a discussion with the group's chairs in Canada Pilot Assistance, Aeromedical, Critical Incident Response, HIMS, Pilot Peer Support, and Professional Standards. Ludwig and the panelists reviewed the history of ALPA Pilot Assistance, starting with Professional Standards in the 1930s up to the Pilot Peer Support program stood up just a few years ago. "The human is the most complicated machine we operate," stressed Ludwig. He pointed out that Pilot Assistance at its core is a safety program, helping pilots be safe in all ways. "It's how we help our members every day," he said.
Capt. Rich Hughey (FedEx Express), ALPA Cargo Committee chair, led a panel discussion that addressed the urgent need to extend the "One Level of Safety" concept to Part 121 all-cargo flight operations. Citing statistics since 2009, Hughey noted that all-cargo pilots are 7 to 10 times more likely to be involved in an accident with fatalities than their passenger counterparts. Sixteen cargo pilots have lost their lives in accidents since 2009. "From my perspective, the higher accident rate in cargo is potentially because of an overreliance on cost-benefit methods," said Hughey. "Specifically, that is the analysis of the financial benefit of implementing a safety protection versus the cost of that implementation. When safety and security decisions are solely based on cost-benefit methods, the math rarely adds up for the cargo pilot." Panelists included experts from ALPA, the FAA, and the Coalition of Airline Pilots Associations.
The forum's final panel, "Safety Multipliers for Future Operations," looked at the different ways aviation industry stakeholders are enhancing safety for the future. Led by ASO Aviation Safety chair Capt. Steve Jangelis (Delta), reps from Airbus, Boeing, the FAA, the Mitre Corporation, NASA, and United Airlines reviewed their organizations' work and the many ways they are collaborating to better mitigate risks. Panelists discussed advancements in aerodynamics, new alloys, and flight deck systems as well as work to improve human/systems interfaces. Special attention continues to be given to voluntary reporting systems and other operational information to consider the best way to compare and analyze the various available data streams. The group acknowledged the importance of using statistics and trends to chart recurring factors that can predict future outcomes, enabling us to better anticipate problems before they occur.
---
And the Awards Go to . . .
The Air Safety Forum concluded Thursday evening with the annual Awards Banquet, where ALPA recognized its best and brightest for remarkable achievements over the past year—from volunteers who passionately advocate for safety, to line pilots who performed their duty and kept their passengers and cargo safe in extreme circumstances.
The tradition of honoring pilots at the annual forum began in 1957 when Capt. E.A. "Ernie" Cutrell received the very first award for his work in developing standards for a centerline approach lighting system.
Attendees gathered in the Grand Ballroom of the Chicago Hilton on September 14 to pay tribute to Air Safety Organization pilot volunteers for their significant contributions in the areas of Safety, Security, Jumpseat, and Pilot Assistance. Superior Airmanship awards were presented to ALPA members for their exceptional airmanship and professionalism under difficult circumstances. These prestigious honors were in addition to a full series of awards presented throughout the week, including presidential citations, Airport Safety Liaison of the Year, and Airport of the Year.
"I am proud to have the opportunity this evening to honor these individuals," said Capt. Jason Ambrosi, ALPA president. "They set an example for pilots around the world and uphold our union's tradition of service to others and an unwavering dedication to excellence."
Air Safety Organization Awards:
Air Safety Award: Capt. Steve Jangelis (Delta)
Aviation Security Award: F/O George "Andy" Uribe (Delta)
Pilot Assistance Award: Capt. Jason Graves (JetBlue)
Aviation Jumpseat Award: Capt. Richard Odbert (FedEx Express)
Superior Airmanship Awards:
Capt. Stuart Smith and Capt. Ian Augustine, Delta Air Lines Flight 2295
Capt. Brandon Hendrickson, Envoy Air Flight 3556
Capt. Stuart Smith and Capt. Ian Augustine were honored with the Superior Airmanship Award for their teamwork, communication, and skill for managing, stabilizing, and landing their aircraft, Delta Flight 2295, after a bird punctured the flight deck, leaving a gaping hole in the aircraft. Capt. Brandon Hendrickson received the award for his quick actions and leadership to calmly assess an urgent situation and land the aircraft when his captain in training became incapacitated on Envoy Flight 3556.
By mere coincidence and further demonstrating the unpredictability of flight operations, both of these inflight emergencies took place on the same day.
"Captains Stuart, Augustine, and Hendrickson set an example for pilots around the world and uphold our union's tradition of unwavering dedication to excellence. The quick actions and piloting ability under some of the most unforgiving conditions an airline pilot will ever experience exhibited by each of these pilots is a testament to their talent, determination, and courage as aviators," said Ambrosi. "It is important to underscore that the positive outcome of both of these flights depended on the presence of two highly trained, highly qualified, and well-rested pilots on the flight deck."
---
That's a Wrap!
Watch for extended coverage of the 67th Air Safety Forum in the October issue of Air Line Pilot.
-###-