Five Questions For ALPA's Pilots for Pilots Board of Directors President
By Christopher Freeze, Senior Aviation Technical Writer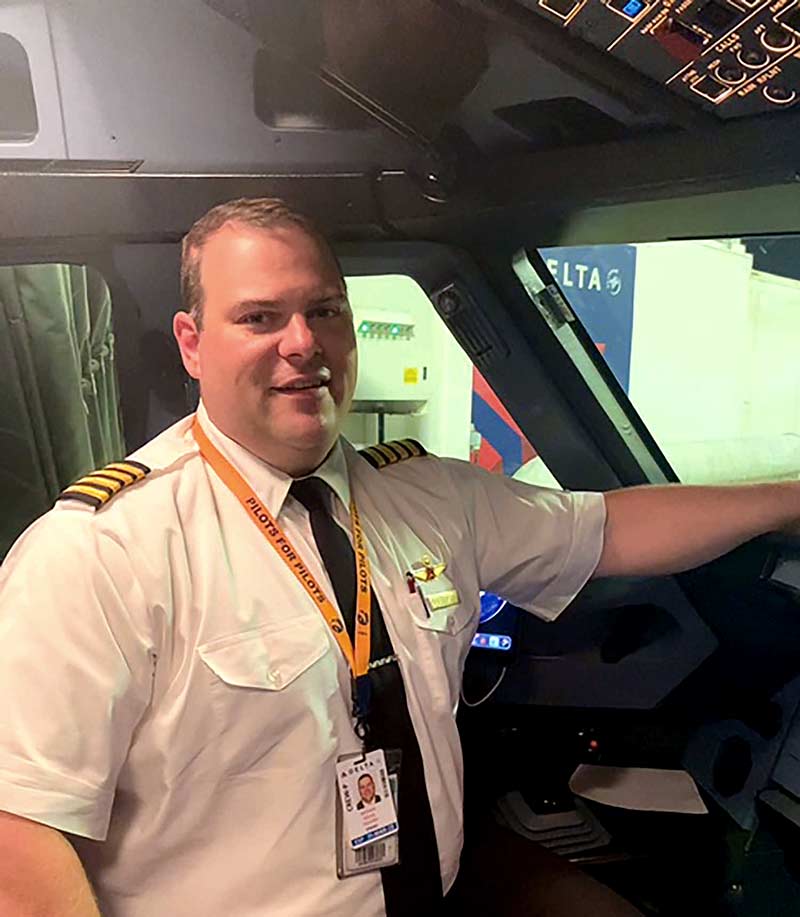 Capt. Nathan Hillard (Delta) is president of the Board of Directors of ALPA's Pilots for Pilots, the Association's emergency relief fund.
Editor's note: This column showcases the efforts of a cross section of ALPA pilots who volunteer their time and talents to advocate for the union's priorities and the cadre of knowledgeable and passionate staff specialists who support them.
Pilots for Pilots (P4P), ALPA's emergency relief fund, is a 501(c)(3) tax-exempt charity created to offer financial assistance to ALPA pilots and their dependents to cover the immediate, extraordinary expenses that follow widespread, catastrophic events.
Established in the wake of Hurricane Katrina in 2005, P4P has aided hundreds of ALPA members, providing almost $1 million in the form of grants to address the devastating effects of these disasters. As tragedy can strike at a moment's notice, P4P helps expedite the recovery process, allowing pilots and their dependents to return their lives to some semblance of normalcy.
Air Line Pilot sat down with Capt. Nathan Hillard (Delta), president of P4P's Board of Directors, to learn more about the pilot who leads the Association's charity that helps pilots in their hour of financial need.
Air Line Pilot:
1. How did you get into aviation/flying?
Capt. Nathan Hillard: Like most pilots, I think, I came to love aviation at an early age. I still vividly remember a flight I took as an unaccompanied minor at eight years old, and I was hooked. Later in my teens, I got involved with the Civil Air Patrol (CAP) and completed my private license when I was 18 with a flight instructor who volunteered his time to CAP. Back then, I wanted a career in the Air Force and attended the Air Force Academy for two years, but I left once I realized it wasn't the career for me. Subsequently, I finished my commercial flight training and undergraduate degree at Embry-Riddle Aeronautical University and began working as a flight instructor in New York. This was shortly after the 9/11 attacks, and after two years of instructing, I still wasn't able to move up into either corporate or airline work. In 2005, I started working at ARINC as a radio operator for New York radio to make a living wage. It was challenging work, but I still wanted to fly. At the end of 2007, I finally got my shot at an airline job and started at Colgan Air in January 2008. I worked for Colgan, which became Pinnacle Airlines and finally Endeavor Air through a merger and bankruptcy, for a little more than seven years and in 2015 was hired by Delta Air Lines.
2. How did you first become involved with ALPA work?
Hillard: My first work for ALPA was to bring the Association on as the bargaining representative for Colgan Air pilots. I started at Colgan just after the pilot group's first failed attempt at organizing in 2007. Shortly after I was hired, I became a member of the Organizing Committee and worked to bring ALPA representation to the pilot group. My initial committee position with ALPA was as a negotiator for our first contract with Colgan, which eventually led to my work on the Joint Negotiating Committee for the Pinnacle-Mesaba-Colgan merger. Later, I became the pilot group's Master Executive Council (MEC) secretary-treasurer, a position I held for more than three years and truly enjoyed. In 2017, I joined P4P.
3. What are your roles and responsibilities as the president of the P4P Board of Directors?
Hillard: The P4P directors are currently three members from different pilot groups who volunteer to run the charity. As a result, we all have an equal say in the decisions of the charity. Most of the work involves reaching out and talking to pilots and their families who apply for aid. This is both difficult and deeply rewarding as we're generally talking to people who've just had a terrible disaster befall their families. However, being able to provide meaningful aid at a time when they need it most is extremely gratifying to me.
4. How do you see ALPA national and staff helping you achieve your goals?
Hillard: P4P is helped immensely by ALPA's staff members from the Legal, Finance, Membership, and Communications Departments who spend many hours of their valuable time providing the day-to-day support needed to keep a national charity running. We wouldn't be able to exist without their ongoing support. In addition, ALPA's national officers, Executive Council, and specifically Capt. Bill Couette, ALPA's vice president–administration/secretary, have been enormously helpful in advancing the P4P program. They've provided funds for support projects, access to materials, and contacts to keep P4P going, and they've fought to provide necessary funding when P4P coffers were at critical levels. Capt. Couette was also instrumental in arranging a P4P presentation at this year's Executive Board, providing funds for our new "P4P Donor" label pins, and helping us get out the word that June is P4P Awareness Month.
5. What advice would you give to new pilots who want to get involved with ALPA?
Hillard: Doing ALPA work is a wonderfully rewarding experience knowing you're helping fellow pilots. I strongly encourage every pilot to volunteer in any way they can. However, there are certainly some crucial takeaways I've learned in more than a decade of ALPA work.
First, always take the time to listen to your fellow pilots. Regardless of your role, we need constant feedback and ideas from line pilots. Whether on the flight deck, on the jumpseat, on a layover, or in the crew room, take the time to listen to pilot concerns and ideas.
Also, ask for help. Due to the expertise and dedication of ALPA leaders, members, and staff, the Association has come up with some highly creative ideas to address the innumerable challenges ALPA has faced throughout its nine decades. Be open to new ideas and share your own creative solutions when you're able.
And finally, ensure that you take care of your own family and be certain that your spouse or significant other can support your time commitment to ALPA. During my days as a negotiator, I thankfully had the loving support of my wife, but the time away put a serious strain on our household.
A Helping Hand to Members in Need
Pilots for Pilots (P4P) offers grants to ALPA members and their dependents who've been affected by widespread natural disasters. The fund also provides temporary financial assistance to ALPA members suffering a financial hardship related to COVID-19. P4P is not available to replace lost pay due to the pandemic (e.g., furloughs, fewer hours, etc.) but rather to help cover any unexpected and unanticipated costs that bring an extra burden.
To learn more about the eligibility guidelines or to apply for assistance, visit alpa.org/p4p. When in doubt, fill out the application and the fund directors will be in contact if additional information is needed.
P4P is funded solely by ALPA members' donations. Please consider making a donation, if possible, in any amount to help fellow ALPA pilots. Throughout its history, the fund has provided approximately $1 million in grants to members and their families in dire need, extending a helping hand to members who need one.
This article was originally published in the June 2021 issue of Air Line Pilot.