Homer Scholarship Helps Recipient Pursue His Passion for Flying
Our Stories
By John Perkinson, Senior Staff Writer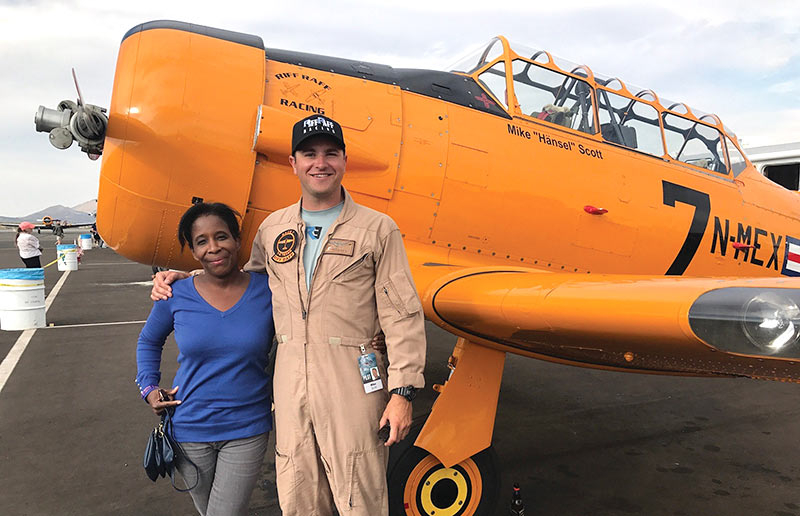 F/O Mike Scott (FedEx Express) and Melodie Homer in front of his North American T-6 Texan at the 2017 Reno Air Races.
With the North American airline industry recently observing the 21st anniversary of the 9/11 terrorist attacks, it's important that we also remember the tremendous good that resulted from our collective efforts to heal from this devastating tragedy. A noteworthy example is the creation of the LeRoy W. Homer Jr. Foundation and the scholarships it's provided to assist students interested in pursuing professional flying careers. Homer was the first officer of United Airlines Flight 93 that crashed in Shanksville, Pa., on that tragic day.
F/O Mike Scott (FedEx Express), who in 2003 became one of the first Homer scholarship recipients, took full advantage of this resource to embark on what's been a productive and rewarding career. "At a young age, I had a passion for flying and knew I wanted to become a pilot," said Scott, whose father was a naval flight officer and who grew up surrounded by military pilots and attending numerous air shows. "I was fortunate to find out about the Homer scholarship 20 years ago," he added, noting that he used the financial assistance to pay for his entire private pilot's license.
Scott attended the U.S. Naval Academy, graduating in 2008. As part of his coursework as a midshipman, he studied for a month in Salamanca, Spain, spent two and a half months on Spanish warships, and completed a semester at the Spanish Naval Academy in Galicia, Spain.
Joining the U.S. Navy, Scott flew the F/A-18E Super Hornet with the strike fighter squadron VFA-105 "Gunslingers" and was soon deployed on the USS Harry S. Truman for Operation Enduring Freedom in Afghanistan. He later served as a flight instructor for all variants of the F/A-18 (the Hornet, Super Hornet, and Electronic Attack Growler), and completed another tour in the Middle East on the USS Abraham Lincoln during the summer of 2019 as the strike operations officer for Carrier Air Wing 7.
In 2019, Scott left the Navy to join the Air National Guard, transitioning from a naval lieutenant commander to an Air Force major, flying F-15C Eagles for the 122nd Fighter Squadron, the "Bayou Militia," out of New Orleans, La.
Scott made the change, in part, to be able to pursue airline flying. He was subsequently hired by American Airlines but soon moved to FedEx Express, where he's currently a B-757 first officer based in Memphis, Tenn. However, his aeronautical pursuits don't end there.
"I own a tailwheel, homebuilt aircraft called an F-1 Rocket," said Scott, who's also taken an interest in vintage airplanes. "I have about 150 hours in the North American T-6 Texan." In fact, he raced the T-6 at the 2017 Reno Air Races and was selected as the T-6 Class Rookie of the Year.
More recently, Scott's become the chief pilot and operations officer for the Big Easy Wing of the Commemorative Air Force. In addition, he's the chief pilot for a 1941 World War II N2S-3 Stearman biplane. According to the organization's website, the wing's mission is to "acquire, restore, and preserve World War II warbirds to flying condition as well as educate our community through stories told through flight, events, and artifacts."
Despite Scott's accomplishments and his assorted flying pursuits, he hasn't forgotten the organization that made it all possible. "I feel very fortunate to have had the career I've had, and it all started with the Homer Foundation." He acknowledged, "I try to attend as many foundation events as I can and occasionally help screen scholarship applications. I also mentor the newest recipients," he noted, adding that he makes a point to keep in touch with all the scholarship recipients.
Scott's distinguished career and service to his country are just a small part of the legacy that is the LeRoy W. Homer Jr. Foundation—a tribute to the former U.S. Air Force Academy graduate, Desert Shield and Desert Storm veteran, airline pilot, and ALPA member whose life and experiences continue to touch the many aviation students who follow in his footsteps.
The LeRoy W. Homer Jr. Foundation
The LeRoy W. Homer Jr. Foundation was established in 2002. The work of Melodie Homer (Homer's wife), Homer's sisters, and several ALPA members from United Airlines, the foundation's mission is to encourage and support young adults who want to pursue careers as professional pilots. Learn more and/or make a donation.
This article was originally published in the October 2022 issue of Air Line Pilot.