Oshkosh Showcases ALPA Pilot Involvement in Aviation
Members Promote the Union and Inspire Future Aviators
By John Perkinson, Senior Staff Writer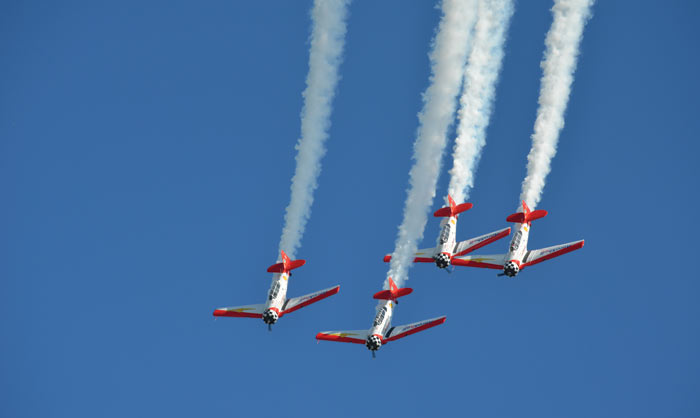 The AeroShell Aerobatic Team—one of the many aerial acts performing at this year's EAA AirVenture.
ALPA returned to AirVenture at Wittman Regional Airport in July for what the Experimental Aircraft Association (EAA) calls "the world's greatest aviation celebration." For a brief period each summer, the sleepy little airdrome in Oshkosh, Wisc., transforms into a beehive of activity as aviation enthusiasts from around the globe, including ALPA members, gather to celebrate the joy of flight.
Attendance at this year's event soared to a record 601,000 with participants registering from 87 different countries. Wittman skillfully managed 19,588 aircraft operations as local air traffic control juggled an average of approximately 134 takeoffs and landings an hour using the facility's four runways. And with limited local accommodations, many pilots flying into the airport simply pitched a tent next to their parked aircraft, braving the elements for a chance to be a part of this massive aeronautical event.
Oshkosh offers a world-class air show as well as a forum for air transport education and discussion. It's an opportunity to look at all that flight has achieved in its century-plus existence, and what it will take to continue growing and developing aviation to better drive economies and connect people from across the globe.
The Association seized the moment to capture this aviation-enthusiast audience by ensuring that members were on hand to promote the airline industry and advance the Association's strategic goal of securing the future of the airline piloting profession as well as engage with the flying community. Pilots served as volunteers for EAA's KidVenture while others staffed an ALPA information booth in one of the primary exhibit hangars. In outdoor theaters at the EAA Forums Plaza area, members gave informative and well-received presentations.
In addition, ALPA members performed in the air show, served as display docents, networked with regulators, and acted as representatives for other important organizations. Countless other ALPA pilots simply attended Oshkosh as spectators, for the sheer joy of this annual event, and could be seen in locations like Boeing's Airline Crew HQ, signing one of the many pilot guest lists of airlines from around the world.
All these participants proudly represented the piloting profession, strengthening bonds with the larger aviation community and forging new relationships with potential future members. And with all that EAA had slated for the seven days, this year's Oshkosh presented numerous possibilities for ALPA to engage.
Some of the record 601,000 participants watch an afternoon performance high above Wittman Regional Airport.
Making contact
In a Pioneer Airport hangar behind EAA's Aviation Museum, ALPA volunteers demonstrated the value of preflight inspections and the importance of determining weight and balance as part of EAA's KidVenture. F/O Alex Arcamuzi (Endeavor Air), one of many volunteers, conducted a walkaround of an old Cessna 150 with a small group of girls 5 to 8 years old. Despite their youth, they were quick to point out several problems with the aircraft, including a flat tire and a bird's nest behind the propeller.
Three boys later brought to F/O Adam Marko's (PSA) attention that a wrench had been jammed into a small hole near the Cessna's tail and that a wing light was broken. At a nearby station, Capt. Jason Ambrosi (Delta) used a scale exercise and a corresponding computer program to demonstrate to two future aviators the purpose of determining weight and balance. Across from the stall, representatives from another aviation organization taught children how to construct "hand foils" to better understand the concept of lift. In addition, a Condor flight simulator was on display.
In the EAA Four Corners area in Exhibit Hangar C, ALPA maintained an information booth as a primary point of contact. Visiting ALPA members were encouraged to sign the union's event registry, and volunteers spoke with those individuals who wanted to know more about the union and the airline piloting profession. Capt. Steve Swanson (Delta) chatted with a group of high school students, explaining how he became an airline pilot.
Another day, Capt. Duane Dunwoody (Delta) talked to former US Airways F/O Jeff Skiles—who played a crucial role during the "Miracle on the Hudson" incident—as he stopped by the booth for a visit. Other volunteers like F/Os Sara Baer (Alaska), Jerry An (Hawaiian), and Stephanie Arcamuzi (Endeavor Air) handed out plastic ALPA wings as well as information about the Association's Education Committee and all the resources it provides to those interested in becoming airline pilots.
Capt. Bill Couette, ALPA's vice president−administration/secretary, spent time at each of ALPA's activities, speaking with those who stopped by and networking on behalf of the Association (see page 6). On several of the evenings, the Delta, FedEx Express, and United Master Executive Councils sponsored casual dinners at a Camp Scholler campsite, providing one more opportunity for Association members to connect and network.
A day in the life
During one afternoon, F/O Mark Haley (United), ALPA's Education Committee chair, gave a presentation titled "Learn What Airline Pilots Do" on EAA Forum Stage 2. "What does an airline pilot do?" he asked rhetorically to the nearly 100 in attendance, adding, "Do you actually fuel your airplane? Do you file your own flight plan? We thought it would be a good idea to give you a sense of what we do on a daily basis and take it from there," Haley said, setting the stage for a discussion about everything from flying the line to bidding a schedule to commuting for trips.
The audience was clearly fascinated, frequently asking Haley to stop and elaborate on a point he had just raised. He and other Education Committee members in attendance remained after the hour-long presentation to make sure everyone in the audience had the chance to ask questions.
Referencing flight training, Haley told a reporter from the Green Bay Press Gazette, "If you have the drive, people will help you get through it," noting that the Association provides information about pilot careers at clearedtodream.org.
On Forum Stage 8 the following day, F/O Kandy Bernskoetter (FedEx Express), ALPA's Membership Committee chair, moderated a panel discussion titled "ALPA Women Fly." She began by noting that only about 5.5 percent of ALPA's more than 60,000 U.S. and Canadian members are female. Periodically pausing to allow the sound of performing aircraft to pass, she acknowledged that while the total population of airline pilots has changed in recent decades, that percentage has essentially remained the same.
The B-777 pilot proceeded to ask the panelists questions about their careers, how they learned to fly, and how they manage their family lives. "Everything is open for discussion," she said, encouraging members of the audience to chime in when they had questions. "We want this to be a conversation that encourages more women and girls to want to become airline pilots and learn how to fly."
Panelists included Capt. Lisa Peasley (Delta), F/O Lisa Avila (ExpressJet), F/O Stacey Jackson (WestJet), Capt. Marcia Graff (Spirit), and Capt. Bridget Matarrese (Endeavor Air). The group drew from a wide range of experiences and circumstances and shared colorful stories about both challenges and triumphs. Once again, the crowd was captivated and asked many questions.
When the presentation was over, Bernskoetter conducted a raffle of several items the panelists' airlines had donated.
An army of ALPA reps
ALPA's Oshkosh activities were well attended and well received, and volunteers talked about the multitude of people who wanted to know more about flying for a living. In addition, ALPA members promoted the profession in other ways, away from KidVenture and the Association's booth.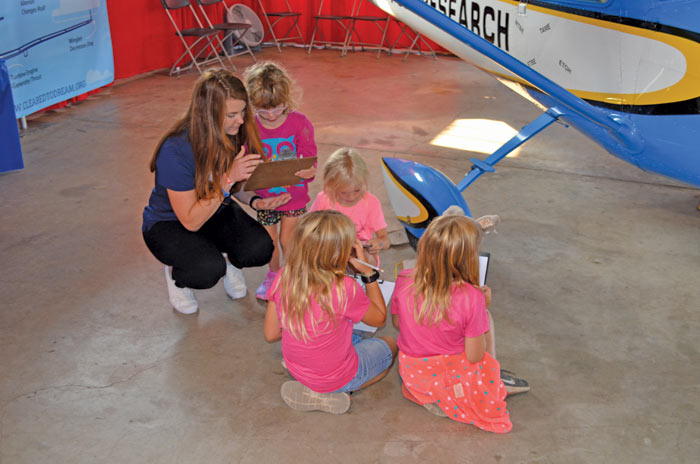 F/O Alex Arcamuzi (Endeavor Air) engages with several future aviators as part of KidVenture activities.
If you simply looked up, you might have caught Capt. Skip Stewart (FedEx Express), one of AirVenture's headliners, performing in his biplane, Prometheus (see "Our Stories," September 2018). Capt. Chris Orr (JetBlue) was also in the skies, flying precision maneuvers with the GEICO Skytypers on three of the afternoons (see "Our Stories," January-February 2018). Not far from where air show spectators sat to enjoy these performances, Capt. Gerry "Fossil" Molidor (United) and other members of the Phillips 66 Aerostars signed autographs for fans. Although Molidor is the newest Aerostar, he's the oldest member of the group (hence the call sign).
Each year, AirVenture's Warbird Alley features historic airplanes that "played key roles in the 20th century's world conflicts." Capt. Valerie Scott (United) chatted with AirVenture guests interested in the World War II–era Devil Dog, a PBJ-1J that's part of the Commemorative Air Force (see "Our Stories," August 2017). Scott flew the Marine version of the B-25 Mitchell bomber up from its home in Georgetown, Tex.
Nearby, Capt. Stuart Milson (FedEx Express) was preparing to fly his Douglas A-1 Skyraider as part of the Air Force Heritage Flight Team for an afternoon performance. He's also flown aircraft in television and movies, including for the series Zoo.
In addition to the skies, ALPA pilots could be heard over the airwaves. EAA Radio (96.5 FM/1210 AM) broadcasts live for one week each year at AirVenture, and filling the 1:00 p.m. time slot was roving reporter F/O Jeff Montgomery (United). Traveling in his Ford Escape, Montgomery covered different stories remotely and pointed out that this was his 15th year serving as an EAA Radio announcer.
Some ALPA members attended Oshkosh representing other organizations. Sporting their ALPA shirts, Capt. Kathi Hurst (United) and Capt. Mike Boccher (United) worked at their carrier's booth in Exhibit Hangar D, promoting their airline. Hurst, who heads ALPA's Energy and Environment Group, noted that other pilots volunteering at the United booth were donning ALPA apparel as well.
The International Aerobatic Club (IAC) is a major player at Oshkosh with a centrally located building on the AirVenture grounds. If you walked in the front door this year, chances were good that you were greeted by Capt. Bob Hart (United), IAC's national treasurer. A former aerobatic pilot, Hart has also been a guest speaker at AirVenture as well as at numerous FAA Wings programs on topics like stall/spin awareness.
The future of the airline piloting profession depends on ALPA members engaging with youngsters, and Graff (who also participated in the "ALPA Women Fly" panel discussion) and Capt. Julia Wood (United) worked as counselors/mentors with "Women Soar, You Soar." The high school girls' camp teaches young women about flying in fun and interesting ways, and one afternoon the group took a tour of the busy Wittman Regional Airport control tower.
Capt. Julia Wood (United), left, and Capt. Marcia Graff (Spirit) serve as camp counselors for "Women Soar, You Soar."
Federal agencies that regulate air transport had an important part to play at Oshkosh. In the FAA Aviation Safety Center, Capt. Mike Schilz (Delta), ALPA's FOQA team leader, spent much of the week helping the agency promote a general aviation version of the Aviation Safety Information Analysis and Sharing (ASIAS) network. The airline version of ASIAS has been tremendously successful in reducing risk by allowing carriers to share certain safety data.
Countless other ALPA pilots represented the Association or pursued their own specific aviation interests. Many of this year's AirVenture activities provided Association members with chances to promote and advance the piloting profession. Sometimes, it all comes down to being at the right place at the right time, and for ALPA, this year's Oshkosh truly was an opportunity realized.
This article was originally published in the September 2018 issue of Air Line Pilot.