United Honored with J.J. O'Donnell Trophy for PAC Excellence
Last fall, at the Board of Directors meeting, ALPA introduced the J.J. O'Donnell Trophy. This award, named for the man who presided over our PAC's creation, recognizes the pilot group that has put the most emphasis on growing the PAC, measured by receipts and by participation, during the previous year. The Mesa MEC earned the first trophy for raising PAC participation among their pilots by more than 20 percent.
The competition this year was extremely close and came down to ALPA's two biggest pilot groups. Collectively, Delta and United have added more than 1,300 PAC contributors so far this year. They achieved this by getting in front of each and every new hire class and motivating their youngest members to make some of the biggest contributions. United even took that approach one step further, adding a PAC pitch to the curriculum for new captains.
In making ALPA PAC a top priority, both MECs have raised the bar for our union moving forward. Unfortunately, there can only be one winner.
For 2015, the J.J. O'Donnell Trophy for Excellence in Political Action goes to United! Congratulations to the pilots of United, and thank you to all pilot groups for their constant work toward a successful ALPA PAC.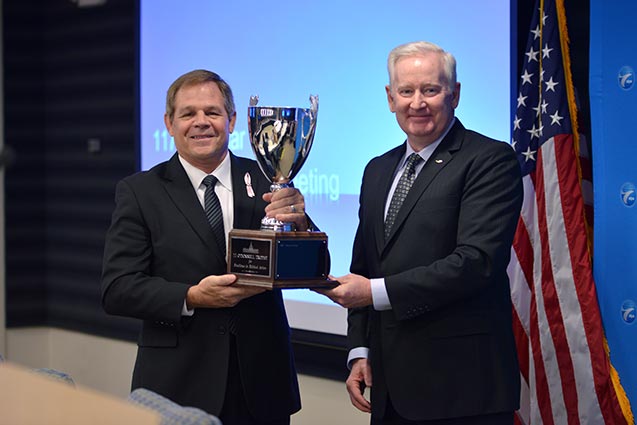 ALPA's president, Capt. Tim Canoll (right) presents the J.J. O'Donnell Trophy to Capt. Jay Heppner, United MEC Chair
Learn More About Our Advocacy >
---
The above descriptions of the Air Line Pilots Association PAC are not a solicitation to contribute to the PAC. Only ALPA members, ALPA executives, and senior administrative and professional staff personnel, and their immediate family members living in the same household are eligible to contribute to ALPA-PAC. ALPA-PAC maintains and enforces a policy of refusing to accept contributions from any other source. ALPA members may learn more about ALPA-PAC and about contributing to ALPA-PAC by entering the members-only portion of this website.