Securing and Quieting the U.S. Capital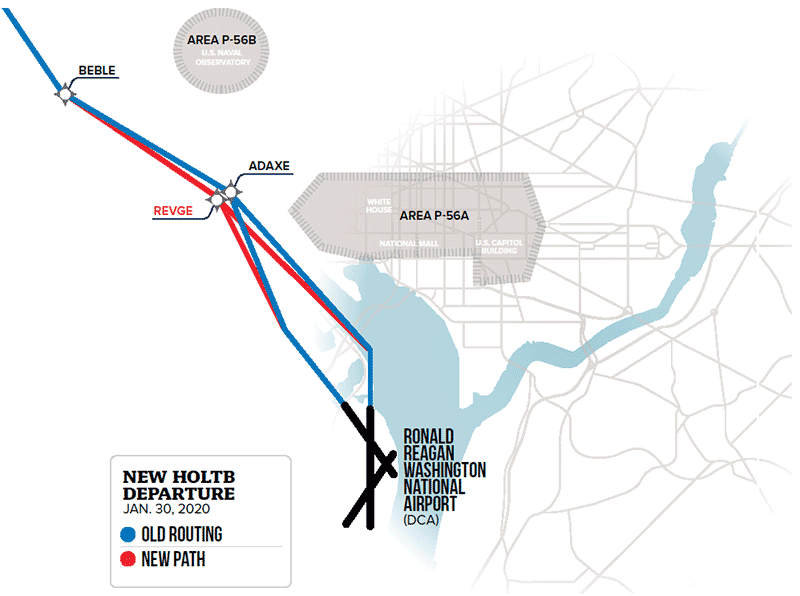 The Washington, D.C., airspace is unique within the FAA's national airspace system due to prohibited airspace located 1.5 miles north of Ronald Reagan Washington National Airport (DCA). And due to increases in incursions in this P-56 airspace, small changes to operational procedures into and out of DCA were recently put into effect.
"ALPA's Air Safety Organization [ASO] Air Traffic Services Group has been working to reduce P-56 incursions for years, but the discussion was significantly elevated early in 2019 after two aircraft—within about 15 minutes of each other—penetrated the P-56 airspace," said Capt. Steve Jangelis (Delta), ALPA's ASO Aviation Safety chair.
"Unlike a typical operational variance that would result in filing an ASAP [Aviation Safety Action Program] report, an incursion into P-56 involves law enforcement," observed Capt. Wolfgang Koch (Delta), ALPA's ASO Aviation Security chair. "So ALPA's Safety and Security teams have worked in partnership to resolve the dilemma."
As a result, on January 30 the FAA began test trials of a new departure procedure and database waypoint for aircraft operating at DCA. The new northward HOLTB ONE RNAV departure will be closely monitored to ensure that aircraft avoid prohibited areas surrounding Washington, D.C.
"The P-56 airspace areas are 'owned' by the Secret Service, up to 18,000 feet," said Craig Marech, assistant to the special agent in charge, U.S. Secret Service Special Operations Division-Airspace Security Branch, at ALPA's Air Safety Forum last summer. "It's our mission to protect that."
The HOLTB departure replaces the BOOCK departure, and the REVGE GPS waypoint replaces the ADAXE waypoint. The new REVGE GPS waypoint is located about an eighth of a nautical mile (784 feet) west from the ADAXE waypoint. These improvements—along with the RNAV (GPS) RWY 19 arrival that's been in effect since mid-August 2019—represent the culmination of years of work among ALPA, industry stakeholders, and the U.S. Secret Service to halt the increasing number of P-56 incursions.
"We found that violations were stemming from wind shear and highlighted the problem. As we have a 'zero fail' mission, we have to know what happened and why as quickly as possible. But we found ourselves unable to easily communicate with those flying to learn what happened," Marech continued. "The quicker we get the call [with ALPA's security liaisons] to learn those facts, the quicker we can deescalate the situation. There may be an uptick in aircraft noise complaints and people may get upset, but that's something [the U.S. Secret Service is] going to handle. Thanks to the collaborative efforts of ALPA and others, we've figured out what we believe to be a good solution that also minimizes overall noise impact."
This article was originally published in the March 2020 issue of Air Line Pilot.