Our Stories: FedEx Pilot Wows Crowds as World-Class Aerobatic Performer
By John Perkinson, Senior Staff Writer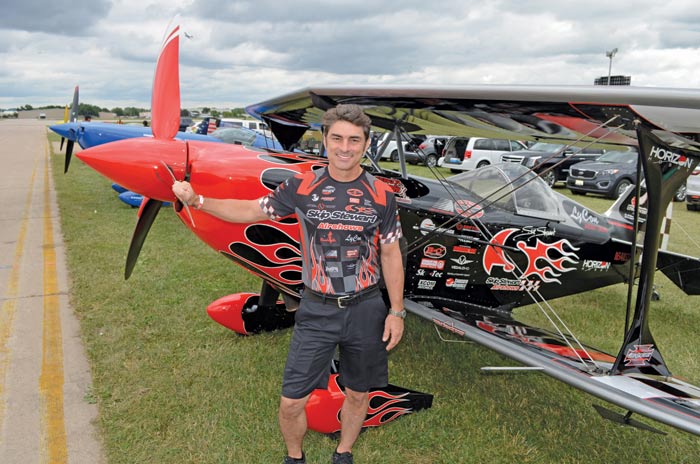 Capt. William "Skip" Stewart (FedEx Express) stands in front of Prometheus after the briefing for his July 27 performance at EAA AirVenture Oshkosh.
Pushing the envelope isn't something you typically think about when briefing for a flight, but it's frequently on the mind of Capt. William "Skip" Stewart (FedEx Express). One of today's premier aerobatic pilots, Stewart routinely maneuvers his custom-built Pitts S-2S Prometheus well beyond the attitudes routinely encountered when flying as an air cargo pilot.
"During one of my air show performances, I pull up to 12 g's and push 7 g's," said Stewart, observing that he has to hold his arms up despite tremendous pressure and precisely manipulate the aircraft's controls to perform some of his signature aerial feats. "It's a workout, and you have to train and be in shape if you're going to safely perform this kind of flying," he noted, adding that he believes performing at these events makes him a better pilot.
The recipient of the 2015 Art Scholl Showmanship Award, the 2013 Bill Barber Award, and numerous medals and trophies, Stewart has more than 10,000 hours of flying experience and has performed at air shows for nearly 20 years.
Stewart's first exposure to flying was with his grandfather, a crop-dusting pilot. The Memphis-based MD-11 captain recalled being young enough to sit on his grandfather's lap for some of those flights. Stewart soon built a remote-control aircraft, racing and angling it for what he would later consider to be the beginnings of his aviation training.
At age 14, Stewart attended his first air show and was forever hooked. He watched world aerobatics champion Leo Loudenslager perform, and "from that moment, I knew that's what I wanted to do." But how could he fund this passion?
Graduating from Middle Tennessee State University with a degree in aerospace administration, Stewart flew for Northeast Express and later a UPS feeder. Moving to corporate flying, he was hired by Southern Company to fly Beechcraft King Airs and Cessna Citations. He became a FedEx Express pilot 19 years ago and has flown for the carrier ever since.
Stewart saved his money and acquired a 1979 Pitts S-2S in the late 1990s. "I stripped it down to the frame and rebuilt it to my own specifications," he recalled, noting that he strengthened the wings and significantly increased the aircraft's horsepower. In 2011, Stewart bought a second Pitts S-2S, naming it Prometheus 2 or P2. Both airplanes are painted in red, black, and white to resemble hot rods. He has since acquired several other aircraft.
Among his aerobatic routines, Stewart flies under a jumping motorcycle. He also performs a slow knife-edge maneuver, hovering his aircraft mere feet off the ground in an upright diagonal position or racing cars and trucks along an open runway. He occasionally uses pyrotechnics in his performances and sometimes teams up with other pilots to fly an ensemble act. In addition, Stewart combines tested stick-and-rudder skills with his own creative flair to perform barrel rolls and other maneuvers. He's scheduled to perform at 14 events this year, which will take him from Guatemala to China.
A headliner at this summer's EAA AirVenture Oshkosh, Stewart said it's challenging to perform as an air show pilot and fly for a major cargo airline. "Obviously, FedEx comes first. I bid my schedule and my vacation so that I have the time to perform at aerobatic events."
Stewart noted that while events like Oshkosh are a lot of fun, the long hours of training and practicing are difficult but extremely necessary. "They're called routines for a reason," he acknowledged. "You perform them so many times that they eventually become almost second nature."
The ALPA pilot said he particularly enjoys talking to fans and signing autographs. In a May 2005 interview for Smithsonian Air and Space magazine, Stewart joked about the exposure, remarking, "There are no selfless acts, except maybe throwing yourself on a grenade. If you didn't like the attention, just fly solo in your practice box."
Oshkosh Aerobatics
Watch Capt. Skip Stewart (FedEx Express) perform during this year's EAA AirVenture Oshkosh.
This article was originally published in the September 2018 issue of Air Line Pilot.