A New Era in Congressional Advocacy: Social Media Habits of Policy Makers
The Landing
The world of advocacy was flipped onto its head in 2020. While advocacy has primarily been an in-person interaction with elected representatives, the inability to meet face-to-face with legislators due to the COVID-19 pandemic allowed for more modern methods of advocacy to expand. Members of Congress are among the most prolific users of social media, using it to address current events, as well as promote their own agendas and introduce legislation. With so much of the business of legislating happening virtually, key decision-makers on Capitol Hill are turning to social media more than ever. Check out some of the ways lawmakers and their staff utilized social media as part of their work in 2020.
The median Democratic Member of Congress now has more followers on Twitter than the median Republican Member, but follower counts for Facebook are comparable.
Total number of followers (across all accounts) for the median Member of Congress on Twitter and Facebook
Legislative activity and audience engagement on social media has increased dramatically since 2016.
Average tweets and posts for median Member of Congress, 2016 vs. 2020 (January 1–May 31)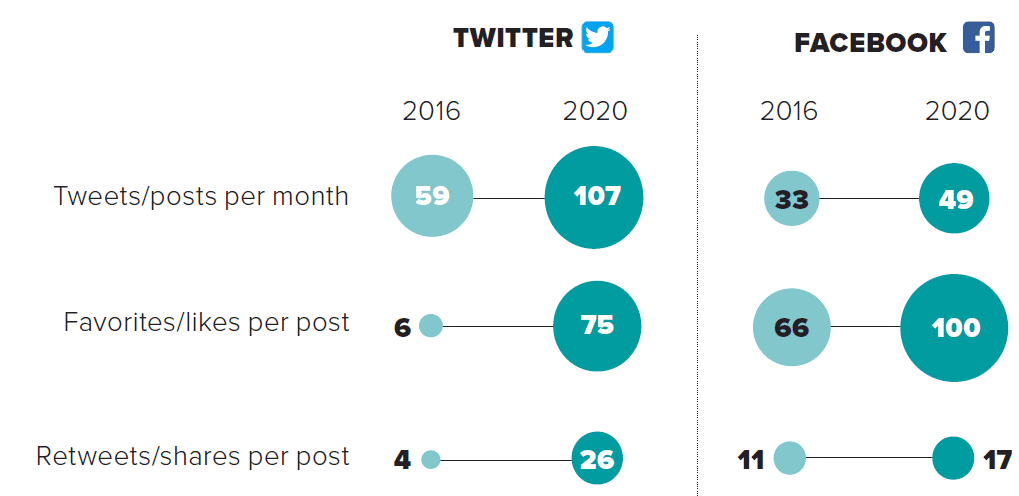 ALPA Members Sent a Total of 179,327 Tweets to the Hill Last Year
In the 116th Congress, the 10 percent most followed Members received the bulk of audience engagement.
Percentage of tweets and posts that were generated by the top 10 percent most-followed Members of the 116th Congress on Twitter and Facebook
The median Democratic lawmaker posts substantially more than the median Republican lawmaker on Twitter and somewhat more on Facebook.
Total tweets and posts per month (across all accounts) for the median member of Congress from each party
Democratic lawmakers had a larger share of total audience engagement in early 2020. The median Republican lawmaker's posts had more engagement on average.
First five months of 2020
This article was originally published in the August 2021 issue of Air Line Pilot.