Honoring Those Who 'Embody and Exude Perseverance'
By John Perkinson, Senior Staff Writer, and Kevin Cuddihy, Contributing Writer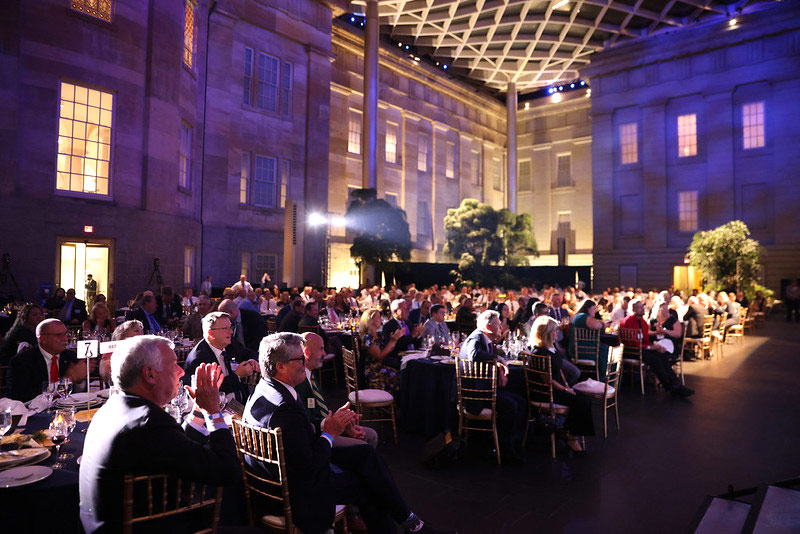 During the Tuesday night awards banquet at the Smithsonian American Art Museum, attendees applaud ALPA pilot honorees.
The 2022 ALPA Air Safety Forum featured two awards banquets to recognize the extraordinary performance of individual members and the exceptional and dedicated service of pilot representatives of the union's Air Safety Organization (ASO). This special recognition was conducted over the course of two evenings to accommodate the 2021 honorees as well as those from the two previous years when the forum had to be postponed due to the protracted COVID-19 pandemic.
Tuesday Night Awards Banquet Highlights
The first of two ceremonies was conducted on September 13 at the Smithsonian American Art Museum in Washington, D.C., and featured the presentation of three sets of Superior Airmanship Awards, two sets of Daedalian Awards, and multiple Presidential Citations.
"It's such a pleasure to be together in person again," said Capt. Joe DePete, ALPA's president, who moderated both evenings' festivities. "I'd like to thank you for being here as we celebrate airline pilots who've achieved the very highest standards of excellence."
He continued, "ALPA pilots, combining their collective knowledge and skills, make it possible for passengers and freight to reach their destinations safely and securely. And when the unexpected happens, it's airline pilots' unity that ensures the safest possible outcome for the flight." Accordingly, the Association recognized pilot crews who demonstrated competence, composure, and the many other reasons why it's important to have at least two adequately trained, well-qualified, and properly rested crewmembers on an airline flight deck.
Demonstrated Acumen and Ability
ALPA's 2021 Superior Airmanship Award was given to Capt. Mark Stephenson (United) and F/O Michael De Vore (United), who performed courageously while flying United Airlines Flight 328 on Feb. 20, 2021. Shortly after takeoff from Denver International Airport, the B-777 crew received an ENG fail light followed by a fire warning on the No. 2 engine. The pilots completed the necessary checklists and prepared for an emergency landing. The captain then performed a one-engine-inoperative approach and safely landed the aircraft at Denver International without further incident.
Capt. Mike Hamilton (United), his pilot group's Master Executive Council (MEC) chair, provided details of the event, while DePete presented the flight deck crew with the award.
Stephenson, who spoke briefly to the crowd, gave special thanks to his pilot group's Critical Incident Response Program team for assisting him and De Vore after what easily could have been a catastrophic accident. "I learned a lot about the safety side of ALPA, which I probably didn't appreciate as much as I should have. You guys make me proud to be a union member," he remarked.
The 2020 and 2019 Superior Airmanship Awards were presented by DePete, while Capt. James Harding (Wasaya), his pilot group's MEC chair, gave a recap of both events. Capt. Gregory Van Langenhove (Wasaya) and F/O Trevor Rentmeester (Wasaya) received the 2020 accolade for their composure and quick action while flying Wasaya Flight 814 on Jan. 30, 2020.
Cruising at 12,000 feet on the way to Pickle Lake, Ont., the de Havilland Dash 8-100 experienced a failure of the left-side and overhead instrument panels. One of the initial electrical failures removed power from the annunciator panel, so the crew had minimal information about the cause or source of these complications.
The pilots coordinated with another crew of Wasaya pilots flying a nearby company freight aircraft, who provided radio support and requested the activation of lighting at all the nearby airports. The crippled Dash 8 was eventually diverted to Kingfisher Lake Airport in Kingfisher Lake, Ont., where it safely landed. A subsequent inspection by maintenance personnel revealed that the aircraft had an unserviceable left starter generator.
Unfortunately, Van Langenhove and Rentmeester were unable to attend the awards ceremony.
Capt. William Mitchell (Wasaya) and F/O Josh Siefert (Wasaya), pilots of Wasaya Flight 815, accepted the 2019 Superior Airmanship Award for their adept handling of a de Havilland Dash 8-100 headed for Wiebenville Airport in Kenora District, Ont. During the flight, the pilots received failure indications of both the primary and secondary inverters. The primary instruments for both crewmembers ceased functioning, and Mitchell cleverly used the ForeFlight app on his smartphone to help navigate to Pickle Lake, where the crew landed the aircraft safely.
In his acceptance speech, Mitchell thanked the many pilots who assisted the crew during the aftermath of this significant incident and for the ongoing love and support from his and Siefert's families.
Recognizing similar courageous action, Capt. Robert Smith (FedEx Express) and F/O Brian Clark (FedEx Express) were honored with the Order of the Daedalians Lt. Gen. Harold L. George Civilian Airmanship Award for 2020, which was accepted by Capt. Chris Norman (FedEx Express), the pilot group's MEC chair, and F/O Don Loepke (FedEx Express), the MEC secretary-treasurer. The pilots of FedEx Express Flight 1026 safely landed a B-767-300 on Aug. 19, 2020, at Los Angeles International Airport with a landing-gear-deployment issue.
Prior to landing, the pilots maintained a holding pattern for approximately 40 minutes to consider possible alternatives and communicate with maintenance personnel. The crew eventually landed the aircraft with the left main gear up, even though the process for this maneuver wasn't covered in the airline's pilot training. Smith's outstanding airmanship during the approach and landing minimized the damage to the aircraft.
The Order of the Daedalians Lt. Gen. Harold L. George Civilian Airmanship Award for 2019 was presented to Capt. William McReynolds (FedEx Express), F/O Blake Waldo (FedEx Express), and Capt. Arthur Moye (FedEx Express), the crew of FedEx Express Flight 5152, which was also accepted by Norman and Loepke. On Nov. 21, 2019, the crewmembers executed a safe landing at Clark Air Force Base in Pampanga, Philippines, despite a trailing edge flap asymmetrical alert. The pilots were compelled to conduct a nonprecision approach while contending with nearby mountainous terrain; bad weather, including thunderstorms; and low visibility.
The Order of Daedalians is an American military pilot fraternal organization and the George Civilian Airmanship Award recognizes U.S. airline crews who exhibit "the most outstanding ability, judgment, and/or heroism above and beyond normal operational requirements during the preceding calendar year."
Special Recognition from ALPA's President
During the Tuesday night ceremonies, DePete presented presidential citations to 10 ALPA pilots covering the past three years of awards.
Capt. Ben Wallander (Delta), a 2019 recipient, was honored for his instrumental role in developing Flight Finder for the ALPA app and for his work on ALPA's jumpseat etiquette video. He also modernized the jumpseat contact list and assisted with the design, coordination, and installation of ALPA electronic bulletin boards in crew rooms across the country, which continue to help Association members stay informed.
F/O Robert Kiszka (Endeavor Air), a 2020 and 2021 presidential citation recipient, was honored for his efforts to ensure that information about jumpseat policies remains accurate, up to date, and widely available to ALPA members. He was a key resource during the transition between jumpseat policy databases, contacting each Jumpseat Committee chair/coordinator individually and manually transferring jumpseat policies into the new database. This work was essential for the jumpseat section of the ALPA app.
Capt. Ross Kendall (FedEx Express) received a 2019 presidential citation for his longtime dedication and support of fellow FedEx pilots confronting aeromedical issues. He served as an aeromedical liaison with the FAA and interacted regularly with the Aviation Medicine Advisory Service and insurance companies on behalf of FedEx pilots.
A 2020 recipient, Capt. Steve Savidge (United) was recognized for his work with Pilot Peer Support and aeromedical issues during the pandemic. He played a critical role in creating the Alaska MEC COVID-19 Task Group, leading the aeromedical component of the group. Savidge audited multiple aircraft cleanings, and his observations and recommendations to the airline led to several changes in aircraft sanitation.
F/O George "Andy" Uribe (Delta) received a 2020 presidential citation for his work in improving security during domestic and international layovers. A hotel/layover subject-matter expert for the Aviation Security Council, he drew from his military experience to raise awareness of potential layover risks. Uribe also enabled better communication and coordination on this issue among pilot groups.
F/O Allen "Greg" Smith (United), a 2021 presidential citation recipient, was lauded for his important contributions to security related to the safety of crewmembers during layovers. Smith serves as the United MEC Security Committee vice chair and is ALPA's Aviation Security Group subject-matter expert for hotel/layovers. In this capacity, he assembled hotel layover databases and developed a communications tool that alerts crews involved in a crisis while on the job or during overnights.
Presidential citation recipient for 2019, F/O Stacey Jackson (WestJet) was recognized for her service as a member of ALPA's Accident Investigation Board and as the flight-time/duty-time coordinator for ALPA Canada. She's also the ALPA Canada representative to the International Federation of Air Line Pilots' Associations Female Pilots Working Group and works along with others to address issues that affect female airline pilots around the globe.
Another 2019 presidential citation recipient, Capt. Paul Koziol (ExpressJet) was honored for reinvigorating his pilot group's Central Air Safety Committee, his work instructing at the ALPA 101 Safety Training Course, and other ASO activities.
Capt. Bob Sisk (United) received the 2020 and 2021 citations for launching the JEDI next-generation safety management system in support of the United MEC and for his extensive air safety work. Serving as the group's Central Air Safety Committee chair for more than 10 years, he played an important role in integrating the United and Continental Central Air Safety Committees after the Continental and United merger, restructuring the MEC policy manual and contract language regarding safety. Capt. Tom Murphy (United), his pilot group's MEC vice chair, accepted on Sisk's behalf.
Capt. Michael Schilz (Delta), a 2021 presidential citation recipient, was praised for his work on the Flight Operations Quality Assurance (FOQA) program at Delta. He served as the first FOQA lead at Northwest Airlines (his previous carrier) and was a foundational member of the Aviation Safety Information Analysis and Sharing system, which promotes the open exchange of safety information to continuously improve aviation safety.
View Photos
Airport Acknowledgements
In a special ceremony during the Thursday plenary session, DePete presented accolades to airport authorities that work closely with the Association to advance operational safety as well as pilot representatives who distinguish themselves as airport safety liaisons.
"ALPA's Airport of the Year Award recipients demonstrate the standard of excellence that can be achieved when all stakeholders hold a shared commitment to safety," said DePete, adding that, because of this unique partnership, "Together, we help set the standard for the world."
He conferred the 2021 Airport of the Year to Clyde River Airport near Clyde River, Nunavut. This northern Canadian facility declared an emergency last year when it was down to a single piece of heavy snow removal equipment following several blizzards. The airport team ensured that pilots received time-critical information while also working to keep the airport open and operating safely.
Capt. Brent Este (First Air), the airport's assigned ALPA airport safety liaison, accepted the award for the airport's representatives who were unable to attend the forum.
Denver International Airport received the 2020 Airport of the Year Award for "working with pilots to address current issues including gliders and tail strikes," said DePete. The airport's "commitment also fosters collaboration to ensure safety on future projects, including plans for developing a commercial space hub at a nearby airport."
Airport Chief Executive Officer Phil Washington, who accepted the award, thanked ALPA and discussed Denver's plans for growth, including Vision 100, a project to prepare the airfield to reach its goal of 100 million annual passengers.
The 2019 Airport of the Year Award was presented to Vancouver International Airport for seeking ALPA pilot views, providing updates on hazards and construction, and including the Association's airport safety liaison in meetings and mock accident exercises. "Keep up the dialogue," commented Beth Henschel, the facility's director of airside operations, in her acceptance remarks, adding that it's invaluable to have this kind of feedback from subject-matter experts like ALPA pilots.
DePete presented the 2021 Airport Safety Liaison Award to Capt. Ron Grimberg (Jazz Aviation) for his work in representing ALPA pilot interests at Toronto Pearson International Airport. He noted that in addition to years of volunteer service, Grimberg "provided the Greater Toronto Airports Authority his line-pilot perspective on runway and taxiway construction, as well as lighting and resurfacing efforts."
The 2020 Air Safety Liaison Award was presented to two pilots who both support Los Angeles International Airport—Capt. Kevin Berry (FedEx Express) and F/O Jason Herman (Delta). Berry worked to build relationships and meet with airport leaders and other stakeholders during the pandemic to ensure they understood the line pilot's perspective on key issues. Herman represented ALPA pilots during meetings on issues such as aircraft and vehicle taxiing, construction project planning, and air traffic control.
DePete presented the 2019ircraft pa Air Safety Liaison Award to Capt. Craig Boxrucker (Alaska) for his contributions to safety at Minneapolis-Saint Paul International Airport. He was recognized for his work to ensure that arked due to reduced travel during COVID-19 were positioned to avoid interference with NAVAIDS, firefighting and rescue efforts, and the safety of flight operations.
Second Awards Banquet Honors ALPA Heroes
The second awards banquet took place on September 15 at the Omni Shoreham Hotel in Washington, D.C., to honor the pilots receiving the Air Safety, Aviation Security, Aviation Jumpseat, and Pilot Assistance Awards for 2019, 2020, and 2021.
"We pay tribute to ALPA pilots who embody and exude perseverance," remarked DePete in a reference to the forum's theme of "Perseverance Through Strength and Unity." "They've either found a way—or created one—to deliver on their dedication to improving aviation jumpseat, pilot assistance, aviation security, and aviation safety."
He welcomed past recipients of ALPA awards who were in attendance, going all the way back to the Air Safety Award honoree of 1977, Capt. William Melvin (Delta, Ret.), whose research contributed to the aviation industry's understanding of wind shear. "These individuals have contributed immeasurably to our industry," DePete said. "Please join me in thanking them."
The official festivities began with the Aviation Jumpseat Award, with DePete presenting it along with Capt. Bob Fox, ALPA's first vice president, who was standing in for Capt. Richard Odbert (FedEx Express), ALPA's Aviation Jumpseat Group chair.
For 2019, ALPA honored F/O Joseph Chance (FedEx Express) for his efforts on ALPA's award-winning jumpseat etiquette video. An Envoy Air pilot when he was nominated for the award, Chance acknowledged how rewarding it was as a new hire at FedEx Express to see the video he helped create be part of the introduction to the company.
Capt. Bob Spadea (United) received the award for 2020 for his work in establishing the Aviation Jumpseat structure within the ASO and helping maintain jumpseat authority during the pandemic. He called the jumpseat "an essential travel tool and an invaluable asset in a pilot's life," and encouraged ALPA MECs to include language regarding the jumpseat in their next pilot contract. Spadea also received a Presidential Citation for 2019 in recognition of his work on improving flight deck security.
Capt. Anthony "A.J." Berlotti (Alaska) was honored with the 2021 award for his leadership and initiative during the COVID-19 pandemic. "It's a privilege for us to do what we do," he remarked. "Everything we do is driven by one primary objective: ensuring the pilot-in-command remains in control of the jumpseat."
Next on the agenda was the Pilot Assistance Award, presented by DePete along with F/O John Taylor (United), the Pilot Assistance Group chair.
Capt. Murray Munro (Jazz Aviation) was honored for 2019 in response to his 15 years as chair of ALPA's Canadian Pilot Assistance program. "It's been an amazing journey working with Pilot Assistance," he remarked. "I hope this program continues saving careers, continues saving families, and continues saving lives."
For 2020, ALPA honored F/O Travis Ludwig (United) for his representation of the Association with the RTCA group on flight deck and cabin cleaning during the pandemic. "It was a great showing for our union how we all came together" to persevere during the industry's darkest days, he said of the collaboration.
Capt. John McFadden (United) received the award in 2021 for his work with the Critical Incident Response Program and particularly in raising the program "to a whole new level" during the pandemic, according to DePete. McFadden remarked, "This is very humbling," and thanked his fellow volunteers for the group effort in the program.
DePete presented the Aviation Security Award next, assisted by Capt. Wolfgang Koch (Delta), ALPA's Aviation Security Group chair.
Capt. Ali Frohlich (Delta) received the 2019 honor for increasing communication between ALPA and the Department of Defense and the Secret Service as a special liaison. "Our collaboration with government and the military is vital if we're going to make improvements," Frohlich stated. "Make no mistake, the threat is still omnipresent, and an attack on our industry by those who wish us harm remains their Holy Grail. We must remain ever vigilant and never forget."
For 2020, Capt. Steven Curry (United) was honored for his work as a subject-matter expert in law enforcement, including federal air marshals and airport police. "We're not done with the work we're called to do," he remarked, "and hopefully we can continue to make the advancements we need." Curry also received a Presidential Citation in 2019 for his overall contributions to aviation security.
Receiving the 2021 award was Capt. Gregory Marion (Spirit), who was honored for his ongoing work regarding the Known Crewmember® program and the unpredictable screening process. Marion thanked the national officers, ALPA staff, and his fellow volunteers for their contributions. "For the people who worked before me and those who will do so after me," he said, "it's an honor to work alongside you."
DePete then went on to present ALPA's oldest recognition, the Air Safety Award, which was first conferred in 1957. He was joined by Capt. Frank Pizzonia (United), the ASO's Aviation Safety Group chair.
The 2019 Air Safety Award was presented to Capt. Scott Schwartz (FedEx Express) for his tireless work regarding dangerous goods. A globally recognized expert in his area, he issued a challenge to his fellow pilots. "You're part of an organization that has the resources to help you make a difference," he said. "Don't be shy—there's plenty to do."
Capt. Robert Fulton (Jazz Aviation) received the honor in 2020 for his work on ALPA's Accident Investigation Board and advancing accident prevention. He joked about his longevity, saying, "I can be like a virus—persistent and I won't go away." Fulton praised the ASO, referring to himself as "one link of the Slinky" that brings so much to the Association.
Capt. Dan Coogan (Delta) was honored with the 2021 Air Safety Award for creating a program that brought together Aviation Safety Action Program and FOQA information. "Those of us who've followed in the footsteps of those early aviation volunteers should be honored to continue their work," he said. Coogan also received a Presidential Citation for 2020 for his contributions to safety programs integral to advancing aviation safety.
"Thank you all again for joining us this evening to recognize how ALPA pilots' perseverance through strength and unity has reshaped our industry and continues to make it stronger, safer, and more secure," DePete concluded.
This article was originally published in the October 2022 issue of Air Line Pilot.