ALPA Pilot Testifies Before Congress on the Importance of Diversity and Inclusion in the Workforce
From the Hill
By Corey Kuhn, Contributing Writer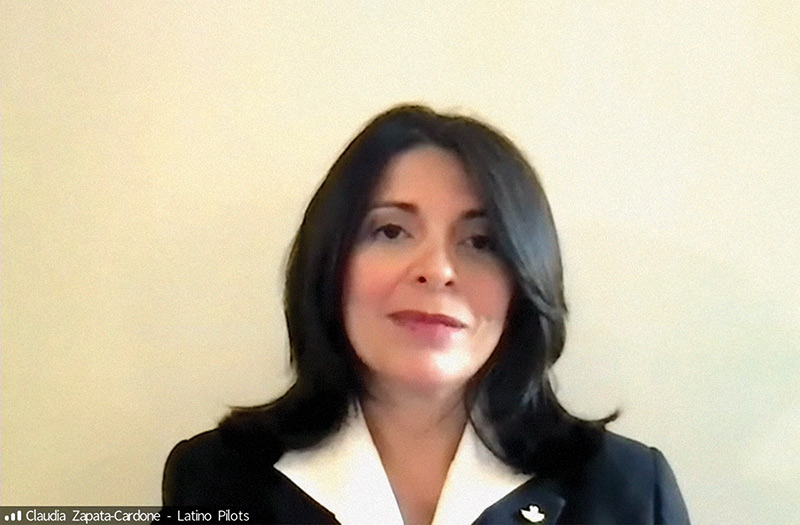 Capt. Claudia Zapata-Cardone (United) testifies at a congressional hearing titled "Bridging the Gap: Improving Diversity and Inclusion in the U.S. Aviation Workforce."
Capt. Claudia Zapata-Cardone (United), a member of the ALPA President's Committee for Diversity and Inclusion, addressed the U.S. House of Representatives Transportation and Infrastructure Subcommittee on Aviation regarding the need to bridge the U.S. aviation workforce diversity gap while reinforcing why safety must never be compromised.
On July 20, Zapata-Cardone testified at a hearing titled "Bridging the Gap: Improving Diversity and Inclusion in the U.S. Aviation Workforce" on behalf of the Latino Pilots Association (LPA), where she serves as executive director of community relations.
Rep. Rick Larsen (D-WA), chair of the Subcommittee on Aviation, has made improving diversity in the U.S. aviation and aerospace workforce a priority and called the hearing to discuss the need to improve efforts within the aviation industry. The hearing brought together a panel of witnesses to help the committee better understand the need for diversity in the U.S. aviation and aerospace workforce and challenges faced to succeed in the industry.
"It's important that the economic and job opportunities available in these industries be available and accessible to all Americans. However, in many cases, the U.S. transportation workforce doesn't reflect the true diversity of the country," said Larsen during opening remarks. "As the nation works toward full economic recovery, government and industry must work together to break down barriers and ensure that careers in the aviation and aerospace industries are available and accessible to all Americans. Doing so will not only boost continued economic growth, but also help to ensure the long-term health of the industries themselves."
Zapata-Cardone was one of five witnesses who discussed challenges and offered recommendations for developing a robust and diverse aviation workforce. In her testimony, she told her personal story of having a passion for aviation as a young child but never seeing any pilots who were Latin. She discussed the challenges she overcame to becoming an airline pilot and outlined steps policy makers can implement to ensure an adequate supply of pilots while also preserving aviation safety.
"It's important that more people who look like me are able to access this profession and that we tap into the currently underrepresented pool of potential airline pilots to ensure a healthy and robust pilot pipeline in the future. LPA and ALPA are 100 percent committed to changing what the pilot community looks like while maintaining current safety standards," Zapata-Cardone said.
During testimony, she highlighted several actions policy makers can take to ensure that the U.S. continues to have an adequate supply of pilots while breaking down barriers and fostering a more diverse and inclusive aviation workforce that reflects the communities and customers the industry serves.
"Currently, there are severe economic disincentives for pilots considering employment at regional airlines, which serve as a main avenue for individuals to enter the profession. It's important that we improve this career entry point while maintaining the first officer qualification requirements that have helped make U.S. air transportation the safest mode of transportation in the world," added Zapata-Cardone.
ALPA has advocated that Congress can help by aligning federal funding support for the education required to become an airline pilot with that of other highly skilled professions. Authorizing and increasing federal educational aid programs such as the Pell Grant Program would help provide financial assistance to students following two- and four-year degree programs at postsecondary higher education institutions in order to cover the costs of aviation flight training.
In addition, ALPA supports expanding opportunities for those who fought for the U.S. to use their GI Bill to help cover the cost of two- and four- year flight training degree programs. Congress could also consider student loan cancellation programs that would allow airline pilots to work for a specific period in exchange for loan forgiveness. The Association is also advocating that government guidelines be reviewed to increase the number and amounts of subsidized loans available to students for flight training and that students who receive unsubsidized loans don't accrue interest on the loans while in school.
"I believe we can—and must—do more as a nation to open the doors of opportunity for those currently underrepresented in the piloting profession," Zapata-Cardone concluded.
This article was originally published in the September 2021 issue of Air Line Pilot.