ALPA-PAC Protecting Airline Pilot Careers Through One Unified Voice
What Are PACS?
Political Action Committees (PACs) are made up of people who share a common interest, career, profession, employer, union, or some other bond who donate funds to campaigns for or against candidates, ballot initiatives, or legislation.
What Is ALPA-PAC?
ALPA-PAC supports our pilot-partisan agenda by pooling the voluntary contributions from U.S. ALPA pilots to educate decision-makers about the issues that affect our careers and the realities of flying the line. ALPA-PAC is the unified voice for airline pilots.
Why Is ALPA-PAC Important?
ALPA-PAC allows us to plan for our future by building relationships and informing the decision-makers who control our industry. The more robust our PAC, the better we're able to fill Congress with pilot-partisan champions who'll support our priorities.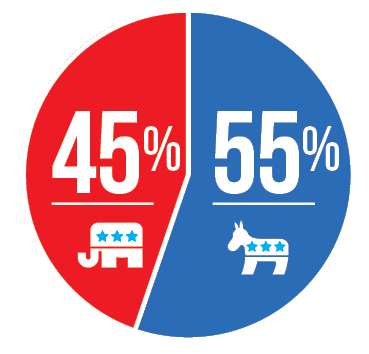 ALPA-PAC is bipartisan and has built relationships with candidates and elected leaders from both the Republican and Democratic parties. In the last three elections cycles, 55 percent of ALPA-PAC funds was contributed to Democrats and 45 percent to Republicans.
Back the PAC!
With a significant number of ALPA-PAC supporters set to retire in the next few years, we need new supporters to back the PAC and stand together with one unified voice. With your help, we can make ALPA-PAC even stronger.

Visit alpapac.org for more information or to contribute. Our political strength depends on pilots.
Disclaimer: The descriptions of the Air Line Pilots Association PAC are not a solicitation to contribute to the PAC. Only U.S. ALPA members, ALPA executives, senior administrative and professional staff personnel, and their immediate family members living in the same household are eligible to contribute to ALPA-PAC. ALPA-PAC maintains and enforces a policy of refusing to accept contributions from any other source. ALPA members may learn more about ALPA-PAC and about contributing to ALPA-PAC by visiting alpapac.org.
This article was originally published in the August 2021 issue of Air Line Pilot.