ALPA Members Support U.S. CRAF Operations
Pilots Perform Crucial Role in Afghanistan Evacuation
By John Perkinson, Senior Staff Writer
Sunset in Afghanistan.
Among the many reasons for maintaining a strong U.S. airline industry is the important role commercial aircraft play during periods of national crisis. Thanks to an initial joint agreement between the Department of Defense (DOD) and the Department of Commerce during the early 1950s, domestic airlines provide airplanes, flight crews, and other support as participants of the Civil Reserve Air Fleet (CRAF). During periods of national emergency, the Pentagon activates this important program when airlift demands exceed what the military can provide.
In August, U.S. airlines were called upon as part of Operation Allies Refuge to transport thousands of evacuees from Afghanistan as the U.S. government prepared to end its 20-year presence in that country and withdraw most of its troops by September. However, the demand for air transportation from Hamid Karzai International Airport in the capital city of Kabul increased as the Taliban quickly seized control of the country and began a brutal crackdown on those described as "dissenters."
DOD Secretary Lloyd Austin officially activated Stage I of the CRAF program on August 22, calling for 18 widebodies from six U.S. airlines, including four from United, three from Delta, and two from Hawaiian, to supplement military transport efforts. Other participating airlines included American, Atlas Air, and Omni Air, and for nearly a month, these six carriers provided safe passage for thousands of U.S. citizens, Afghans with special immigrant visas, and other at-risk individuals.
"ALPA pilots were proud to assist with this important humanitarian effort," said Capt. Joe DePete, ALPA's president, who praised the participating pilots and acknowledged the important role they played in delivering thousands to safety. "Our airlines were a key component of this operation, and day after day ALPA pilots helped lead the way," he said.
Over approximately 30 days, military transports ferried passengers to bases in Bahrain, Qatar, and the United Arab Emirates. From there, U.S. airliners typically transported the evacuees to countries in Europe before continuing to the United States.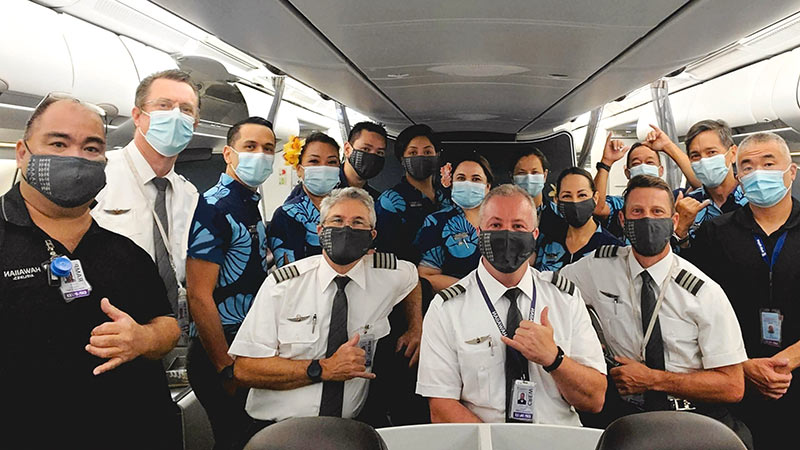 From left, pilots Capt. Paul Rorden, Capt. Alan Akina, F/O Russel Flynn, and then F/O Adam Becker together with other Hawaiian Airlines employees take a quick photo in preparation for their upcoming CRAF flight.
Volunteering for Duty
Established in 1952, the CRAF program was inspired by the military's use of airliners during the Berlin Airlift during the Cold War and operates as a cooperative, voluntary partnership with the DOD, the Department of Transportation (DOT), and the U.S. airline industry. The Department of Commerce secretary, under Executive Order 10999, was originally given the responsibility to develop plans for a national emergency preparedness program. The transportation aspect was later handed off to the DOT when it was established in 1967.
Today, under individual contractual agreements with U.S. Transportation Command (USTRANSCOM) at the approval of the DOD secretary, airlines provide crews and aircraft, which they maintain and operate throughout the mission. According to the DOD, "The commercial carriers retain their civil status under FAA regulations while USTRANSCOM exercises mission control via its air component, Air Mobility Command [AMC]." As an incentive, airlines that volunteer for this duty are given preferential treatment when competing for U.S. military peacetime passenger and air cargo contracts.
CRAF can be activated in three different stages. Stage I, initiated recently for the Afghanistan evacuation, addresses humanitarian assistance and disaster-relief efforts. Stage II is structured around the demands of a major-theater war while Stage III is intended to address a full mobilization of U.S. forces and can only be activated by the U.S. president or Congress after a national emergency has been declared.
As of August 2021, CRAF's available resources included 450 aircraft at 24 airlines. Among these airlines are those with ALPA-represented pilots: Air Transport International, Alaska, Amerijet International, Delta, FedEx Express, Hawaiian, JetBlue, Kalitta, Sun Country, United, and Western Global.
The Afghanistan evacuation was only the third time this special support network has been mobilized. CRAF was previously activated in conjunction with the first Gulf War in the early 1990s and again in 2003 as part of the U.S.-led invasion of Iraq.
Much of the recent CRAF flights headed for the United States entered the country via Washington Dulles International Airport and Philadelphia International Airport.
A "Moving" Operation
"It's an honor serving this vital role bringing U.S. citizens home and ensuring our allies are out of harm's way," said Capt. Todd Insler (United), his pilot group's Master Executive Council (MEC) chair. United flew four B-777-300ERs for the CRAF operation. Along with these widebodies, more than 8,000 United employees assisted with the evacuation efforts, including pilots, flight attendants, aviation maintenance technicians, and others who speak Dari and Pashtu and could serve as interpreters.
For some, this herculean effort was personal. F/O Zakaullah "Zak" Khogyani (United) lived in Afghanistan until he was nine and understands the challenges of making this kind of journey. For political reasons, he and his family were compelled to hastily depart the country in 1977. "Volunteering for these flights was a great way to serve both my home and adopted countries," Khogyani noted.
Preparing to pick up passengers at Ramstein Air Base in southwestern Germany, Khogyani posted a brief video about the experience and what it meant to him. "I'm already getting pretty emotional and choked up in anticipation of facing our passengers because I know what an arduous journey they've endured and the uncertainty that they face and the pain of leaving loved ones behind," he said. "So I'm just going to have to pull myself together and focus on the mission, and the mission is to get them as safely and as comfortably to their new homes."
Other pilots were also moved by what they experienced. F/O Jennifer Shields (United) related that she flew three AMC military charter trips in conjunction with the CRAF operation. "My very small role was to fly the passengers from Dulles to an airbase in Wisconsin where they would await what comes next to start their new lives in this country," she said.
Following one of her arrivals, Shields saw an Afghan woman fumbling as she carried a baby in one arm while also trying to hold a toddler's hand, as the three descended a mobile staircase. A National Guard member quickly stepped in to assist the older child. "I had tears in my eyes," Shields remarked, witnessing this kind gesture and the mother's obvious relief and appreciation.
"It's hard to convey in words what these people are going through as you watch them walk across the ramp from buses to the aircraft with everything they own fitting in a half-filled plastic bag, clinging to their wives and children, leaving behind everything they've ever known," said Capt. Jeff Godfrey (United), who related his experiences on his pilot group's September 2 Leading Edge podcast. "Volunteering for a mission like this changes you," he said.
A former U.S. Air Force pilot, Godfrey flew several CRAF flights, noting, "For those of us who've spent significant time in the region, these missions are particularly poignant. Looking into the eyes of a five- or six-year-old barefoot child filled with fear and trepidation and then seeing their face light up when you hand them a teddy bear as they step off the plane brings a new definition to the idea of job satisfaction."
Some pilots supported this humanitarian operation in other ways. Capt. Warren Witt (United), who also serves as an emergency medical responder for the San Diego County Sheriff's Search and Rescue team, volunteered for a special assignment to assist medics, nurses, and doctors during the evacuation efforts. "Our goal was to treat any sick people, stabilize them, and avoid any unnecessary medical diverts," he said.
Witt participated in four CRAF missions to Ramstein Air Base and was about to begin his fifth when operations were suspended.
A Day in the Life
Delta pilots Capt. Joe MacGillivray, left, and F/Os Todd Badura and Jay Caldwell at Frankfurt-Hahn Airport.
Delta began its CRAF missions using an Airbus A330-300 but soon added a B-767-300ER and an Airbus A350-900. Capt. Joe MacGillivray, F/O Todd Badura, and F/O Jay Caldwell shared an experience on one of the early A330 flights, flying from Frankfurt-Hahn Airport in Germany to Dulles. The crew's passengers had come from Afghanistan by way of Qatar.
The Delta flight was scheduled to depart at 7:30 a.m. but was delayed by two hours because of a late inbound airplane. The pilots recalled that while waiting in the terminal, one of the flight attendants received a text message from a flight attendant on the incoming aircraft indicating there were lots of young children on board needing diapers, bottles, and other items.
The flight attendants quickly put together a shopping list, and Badura and Caldwell, with the help of the airport manager, proceeded to a nearby store. They returned with several boxes of supplies. "We weren't really sure what ages the children were," Badura said. "We just wanted to make sure everyone was covered."
Once the flight had landed in Germany, the inbound passengers were required to remain on the aircraft while it was refueled and serviced for its next flight. As the new flightcrew members boarded, they learned from the manifest they'd be transporting 267 passengers, significantly more than their A330 normally accommodated in the main cabin. "We had probably 70 percent women and children," said Badura. "A lot of the children were small, so they were lap riders."
Other issues surfaced, further delaying the flight's departure until 2:25 p.m. "In a charter operation, things very rarely go on time," said MacGillivray.
During the flight, Badura walked through the cabin to check on the passengers. "I sensed a lot of mixed feelings—apprehension, uncertainty, sadness for leaving family and friends behind, but also relief and thankfulness to be some of the lucky ones who made it out safely."
When the airplane finally touched down at Dulles, there was another wait before passengers could disembark. MacGillivray remembered watching as the 267 passengers stepped out of the aircraft. "That's when it really hit me, what we just did," he said.
Other pilots observed distinct differences when flying CRAF trips. On a flight from Qatar to Germany, Capt. Larry Newman's (Delta) full Airbus A330-300 was remarkably light. "Many of the passengers had left with only the clothes on their backs," he commented, adding that without the usual baggage load, the aircraft's fuel burn was about 11,000 pounds less than during regular flight operations.
Making Connections
Front row, far left, Capt. Warren Witt (United) kneels in the main hangar at Ramstein Air Base in Germany with members of the United Airlines CRAF team and others. F/O Hazrat Jahan (United), to the immediate right of Witt, served as an interpreter for the mission.
F/O Alexander Kahn (Delta) had personal reasons for transporting Afghan evacuees from Germany to the United States. "Ramstein Air Base [his flight's departure point] is where I first learned how to fly an airplane—where I first soloed and got my private pilot's license," he recalled.
"More importantly, I'm the son of an immigrant who came to the United States," he said. "My father was a Holocaust survivor. He was liberated from Buchenwald concentration camp [near Weimar, Germany] by Gen. George Patton's Third Army and came to the United States not much differently from the people who are coming to the United States now."
Kahn added that his father had to begin his life again, much like many of the current refugees. "Fortunately, he was starting over in the land of opportunity."
"Delta pilots were proud to support relief missions during the rescue operation in Afghanistan," said Capt. Jason Ambrosi (Delta), his pilot group's MEC chair. "In fact, Delta was the first airline to volunteer and begin operating CRAF flights prior to the DOD's activation of Stage I of CRAF."
Ambrosi noted that Delta provides transport for U.S. troops on a periodic basis, flying between the United States and international locations through the airline's Charters Operations group. "Delta pilots have a long history of supporting these missions and going the extra mile to make passengers and crewmembers feel safe and welcome on our airplanes," he said.
Hawaiian Airlines joined United and Delta in helping reposition the thousands of refugees in other parts of the United States. Hawaiian ferried evacuees on 13 flights, transporting nearly 3,000 passengers in two Airbus A330-200s.
"This easily stands out as one of the most memorable flights of my career," observed Capt. Alan Akina (Hawaiian). "After delivering a full flight to Dulles, as the Afghanis passed us deplaning, they covered their hearts with their hands. This simple gesture means 'salaam alaikum' or 'peace be upon you.' However, in this case we knew they meant so much more."
"In all, 13 Hawaiian pilots were involved in this important mission," said Capt. Larry Payne (Hawaiian), his pilot group's MEC chair. "We had an overwhelming number who wanted to participate. Those selected said the experience really touched their hearts."
Numerous flight crews commented on the upbeat attitudes and remarkable work of the participating flight attendants, noting that they treated these special passengers like family. Some purchased toys for the children on these journeys and others conducted impromptu salons in the aft galley for girls, brushing and braiding their hair. For many of the refugees, this was their first trip on an airliner, and the flight attendants demonstrated how to buckle seat belts and flush toilets.
In all, the United States evacuated more than 120,000 people, including approximately 4,000 U.S. passport holders together with their families, in military and civilian aircraft. The scale and extent of the Afghanistan operation was truly unprecedented, but like previous airlifts conducted by the United States, people fleeing a besieged nation traveled to a new land with hope in their hearts and the dream of a brighter future.
This article was originally published in the November 2021 issue of Air Line Pilot.