Remembering a Friend
The Landing
Tom Banks takes time out for a photo at ALPA's former offices in Herndon, Va.
COVID-19 has tragically taken the lives of more than 2 million individuals around the world. In late January, ALPA received devastating news that longtime employee Tom Banks, who worked in the Association's McLean, Va., offices, had passed away on January 28 as a result of the deadly virus. Banks worked at ALPA for 24 years, most recently as the receiving and distribution clerk in the union's Facilities Department. His legacy will forever be his good nature and welcoming presence. He made a friend of everyone whose path he crossed.
"What Tom really did was connect to each of us and connect all of us," said Kelly Collie, director of ALPA's Human Resources Department, in a recent message to ALPA staff. "He made his way through the building with a wide grin on his face and a big, generous heart in his chest." Others described him as "funny and kind," adding that "his infectious laugh always made life easier." Outside the office walls, Banks will be remembered as a regular at the Association's annual golf tournament, which will bear his name when it resumes. And his infield chatter and home-run–hitting ability were legendary as a member of the ALPA Flyers softball team.
Once in a lifetime, a person comes along who brightens their environment with their sheer presence. We'll miss you, Tom. You made the office a nicer place to work!
Tom and his wife, Lynette Moore, pose with their sons Robert (left) and Jonathan (right) following their graduations from Coastal Carolina University.
Tom at bat during the Crabtown Classic in 2012.
Tom and ALPA colleagues during the Association's 2011 Pin Awards.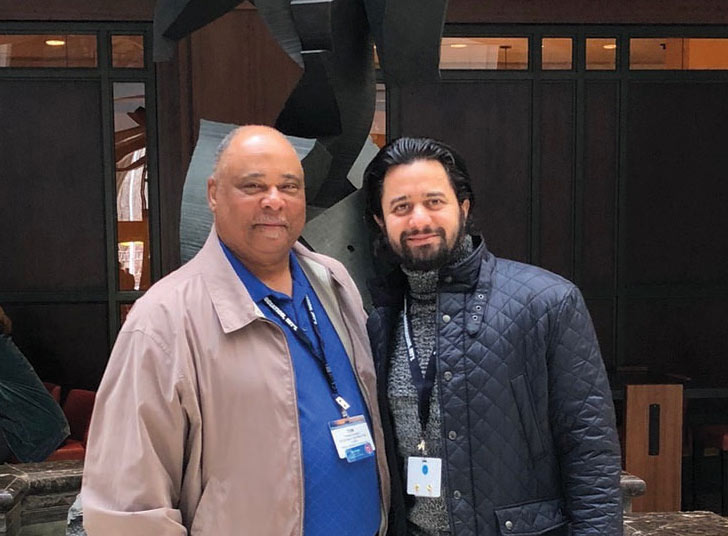 Tom and coworker Zavash Shadmehr at an ALPA All Hands on Deck meeting
This article was originally published in the March 2021 issue of Air Line Pilot.