Secretary-Treasurers Learn the Position's Duties and Lingo at Recent Conference
ALPA at Work
By Kevin Cuddihy, Contributing Writer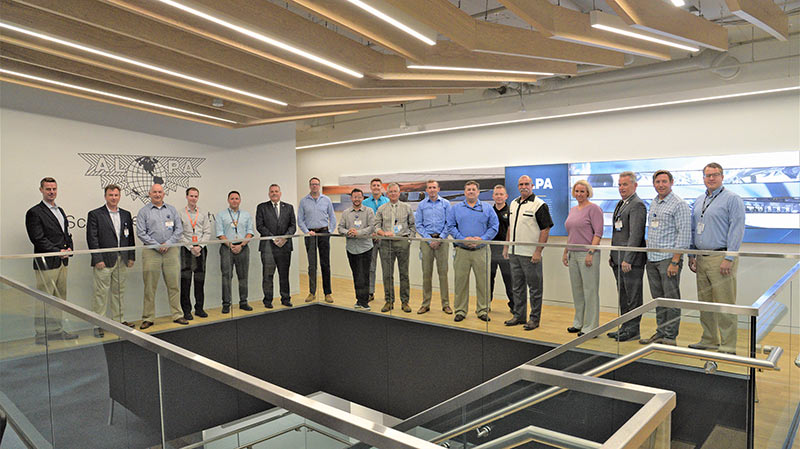 Participants take time out from ALPA's Secretary-Treasurers Conference to gather for a photo at the Association's McLean, Va., offices.
Approximately 50 pilot volunteers from 20 ALPA pilot groups attended the Association's annual Secretary-Treasurers Conference held June 22–23. The hybrid online/in-person event was conducted to provide ALPA secretary-treasurers the needed skills to perform their duties and to highlight the support available from the Association and its vast resources.
Capt. Joe DePete, ALPA's president, told attendees, "Each master executive council [MEC], as you know, charts its own course. ALPA national and staff are your support. And this conference is your best way of learning about these resources and everything available to help you serve your members."
This year's conference was open to local executive council (LEC) volunteers as well as MEC volunteers after a test program two years ago proved valuable. "While the LEC secretary-treasurers are dealing with issues on a smaller scale, the issues are the same and the rules are also the same," explained Capt. Joseph Genovese, ALPA's vice president–finance/treasurer. He added that today's LEC secretary-treasurers are often tomorrow's MEC secretary-treasurers, so this helps "build the bench" for the future.
For the first time, the conference included a "Day in the Life" roundtable during which Genovese and four experienced volunteers discussed their day-to-day activities, meeting planning, budgeting, and more as well as answering questions from attendees. This provided an excellent "real world" perspective on the issues many were or will be facing.
Participants also heard from national officers and various support staff. They learned how to pull and use membership and budget reports, explored flight pay loss and spending policies, dove into governmental reporting, and received guidance on purchasing policy, travel, and hotel rules. And they learned who they could go to with questions or for more information.
"There will be a whole host of things people will come to you for," said Capt. Bill Couette, ALPA's vice president–administration/secretary. "And we don't expect you to have all the answers—just to know that you have more than 350 staff members in your toolbox who you can go to for the answers."
That's important given the scope and breadth of knowledge required of the position. Where else do you need to know about DFR, MCF, LM-2s, FPL, A&S, RROO, INFOR, and more? Thanks to the presenters, however, duty of fair representation, the Major Contingency Fund, Department of Labor reporting forms, flight pay loss, the Administrative & Services account, Robert's Rules of Order, and ALPA's expense reimbursement software have become part of their vocabulary.
"Your job, quite simply, is doing the business of the pilots," said Genovese. With that, he cautioned, comes the need to always keep in mind that it's their dues dollars being spent and to plan wisely, thoroughly, and conservatively.
F/O Ladislao Diaz (Western Global), the secretary-treasurer of his pilot group, is new to the position and "expects to learn more about my duties as treasurer, get a more in-depth look at the Tableau software platform, and learn about our budgets," he said prior to the event. "I'd also like to be able to get a little more organizational development in order to meet the needs of my MEC as its secretary."
When contacted after the event, Diaz, a member of ALPA's newest pilot group, was enthusiastic about his experience. "The conference was extremely informative and actually exceeded my expectations," he noted. "The breakout rooms that educated us on the Tableau and INFOR software platforms were exceedingly helpful. Both of these are huge tools for me to use."
He was also impressed with the organization now behind him. "The most valuable takeaways that I can bring back to my MEC and pilots are how much support we have at ALPA and how much ALPA has to offer its pilots," he said. "The amount of information and support that ALPA gives its MECs is invaluable. I also realized that the overall responsibility of the secretary-treasurer is an immense part of the success of any MEC. As in any job category, the organizational development has to be on point, and this conference went a long way toward that goal for me."
This article was originally published in the August 2021 issue of Air Line Pilot.