Pilot Mentor Provides Hope For Rehab Patients
Our Stories
By John Perkinson, Senior Staff Writer
Capt. Chad Harris (FedEx Express) flies the B-767 for the all-cargo carrier.
It's been said that mentors help us envision a future for ourselves that we might otherwise not be able to see. That's the goal Capt. Chad Harris (FedEx Express) strives to accomplish when he volunteers his time at the Warriors Center in Memphis, Tenn. When he's not flying a B-767 for his all-cargo carrier, Harris works at the rehabilitation facility, helping those who suffer from substance abuse and dependency imagine a better life for themselves.
"Alcoholism and drug addiction affect you as a person in every possible way," said Harris, who's been providing a helping hand at the center for the last 10 years. "Those who complete the program raise the quality of their lives; they improve the relationships they have with their families and friends. They better their environments."
The Warriors Center is a rescue mission providing "treatment for substance abuse, opioid addiction, and alcoholism" as well as transitional housing and community outreach. In 2019, the organization served 136,304 meals, provided 42,952 nights in shelter for those who needed a place to stay, and helped 31 individuals graduate from its "New Life" program.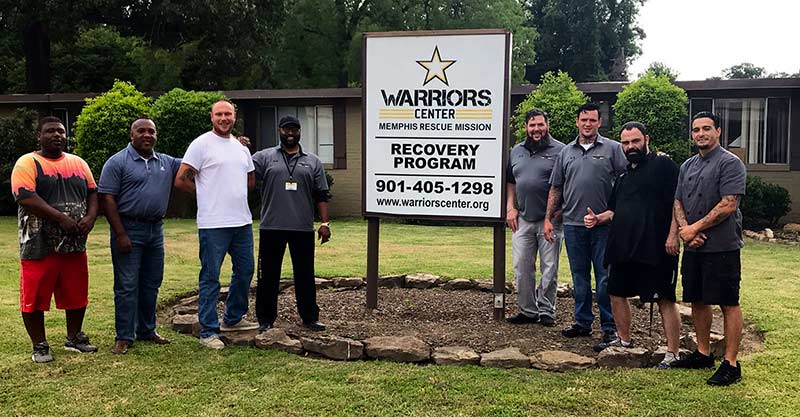 Harris, second from left, has been volunteering at the Warriors Center for the past 10 years, lending a helping hand to those in need.
Harris learned about the Warriors Center through his church. The facility director made an appeal to the congregation for volunteers and financial assistance, bringing along a program participant to give his testimonial. "The guy shared his personal story, and it hit me like a ton of bricks," admitted Harris, who added that he knew he would have to get involved.
The center's patients require all types of assistance. Harris received mentorship training and, for a decade, has been offering guidance and support, sharing life skills and providing tips for building positive personal relationships. The individuals he works with are of all races and run the gamut from young to old and from poor to wealthy.
Harris noted an instance in which he helped a University of Tennessee student who had joined a fraternity, begun "partying excessively," and developed a heroin addiction. Harris said that the student eventually hit rock bottom and entered the Warriors Center for help. He then "dealt with his root causes" and successfully completed the program.
"Many people don't understand how or why others can become alcoholics or drug addicts," Harris remarked. "It's not a character flaw. Addiction is a disease, and quitting takes a lot more than just willpower or good intentions," he added.
In another case, a member of the Aryan Brotherhood entered the rehab as a methamphetamine addict. Harris recalled telling the individual, "I'd like to hear your story. We can always agree to disagree, but my focus is on helping you get better." Among other things, the 21-year-old patient revealed that he had a 7-year-old daughter.
The two chatted for a long while. When the initial tension broke and the patient laughed at a comment Harris made, he noticed that the man's teeth were essentially gone. "'Meth mouth' is a condition that can result from extended methamphetamine addiction and is characterized by severe tooth decay and gum disease, which can cause teeth to break or fall out," Harris pointed out.
Harris reached out to a dentist he knows and helped pay for the patient to get dentures. Over time, the pilot and patient became friends. Harris reported that the man has recovered and now has a full-time job. "He goes to his meetings on Mondays and Wednesdays, has custody of his daughter, and even takes care of his grandmother," Harris said, acknowledging that the Warriors Center grad told him, "I can't promise you I'll never do meth again, but I promise you I won't do it today."
"We all say that we don't have time to get involved or to volunteer, and yet we make time to do the things we want to do," observed Harris. Referencing the many Warriors Center patients he's encountered over the years, the FedEx Express captain maintained, "Some guys will get it. Other guys won't. The ones who do—they touch you—and that makes helping out and mentoring really worthwhile."
This article was originally published in the June 2021 issue of Air Line Pilot.