ALPA Outlines Aviation Priorities with Newest Members of Congress
By John Perkinson, Senior Staff Writer
Soon after the 117th U.S. Congress came to order, ALPA organized a "meet and greet" with new senators and representatives as part of the Association's Aviation Policy Week to promote its latest pilot-partisan agenda. On March 23–25, 80 pilot volunteers participated in video conferences with 26 new lawmakers who serve on committees that tackle aviation and labor issues to familiarize them with ALPA, its priorities, and the many ways the Association works to promote airline safety and security while ensuring good jobs for Americans.
"Welcome to the T&I Committee," said F/O Joe Morowitz (United) to Rep. Marie Newman (D-IL), referencing her presence on the House Committee on Transportation and Infrastructure. This group oversees all aspects of U.S. civil aviation, including safety, infrastructure, labor, and international issues.
During the virtual meet and greet, Capt. Scott Batzel (United) identified himself to Newman as a resident of Illinois's 3rd Congressional District, which she represents. Batzel offered to serve as a point of contact for the lawmaker and her staff, acknowledging he is both a constituent as well as someone who understands the nuances of aviation policy because he works at the very epicenter of airline operations.
For three days, pilot volunteers used this unique opportunity to introduce ALPA's latest white paper, "Battling the Pandemic, Rebuilding Our Economy, and Connecting the World," outlining several crucial issues the document addresses. Capt. J.J. Hughes (JetBlue) talked to Rep. Jake Auchincloss (D-MA) about the history of the flag-of-convenience business model and how some foreign airlines use it to base different aspects of their operation in different countries with less-stringent laws and regulations to drive down worker compensation and sidestep tighter safety standards. He noted that this practice decimated the U.S. maritime cargo industry and that overseas airlines using flags of convenience and other atypical employment models continue to try and gain access to U.S. markets.
During the same session, F/O John Christian (JetBlue) explained to the Massachusetts official how Congress directed the FAA to issue a rule requiring the installation of secondary flight deck barriers on all new passenger aircraft by Oct. 5, 2019. However, the agency has yet to act. Secondary barriers remain an inexpensive and effective way to prevent flight deck intrusions, and ALPA continues to press for their inclusion on all airliners. A subsequent bill, the Saracini Enhanced Aviation Safety Act, has been introduced that, if enacted, would mandate secondary barriers on all passenger airplanes.
In another video conference, F/O Krystal Lewis (United) talked about the cargo carveout in FAR Part 117 with Holt Edwards, the legislative assistant for Sen. Cynthia Lummis (R-WY). All-cargo pilots are currently excluded from the science-based flight and duty regulations and fatigue rules afforded their passenger-airline counterparts. Pilot fatigue is not dependent on an aircraft's payload, and Lewis observed, "We have the science on our side."
Among the many new faces on Capitol Hill, Rep. Kaialiʻi "Kai" Kahele (D-HA), a House Aviation Subcommittee member and a Hawaiian Airlines first officer, noted he'd be happy to work with the Association to advance these and other pressing issues ALPA's white paper addresses.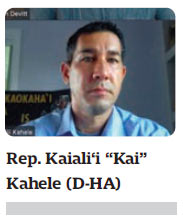 The congressional meet-and-greet sessions also allowed ALPA pilots to underscore the importance of the recent payroll support program (PSP) extension, which has provided a lifeline for U.S. airlines and workers during the COVID-19 pandemic and prevents participating carriers from furloughing employees or cutting their pay and benefits through September 30.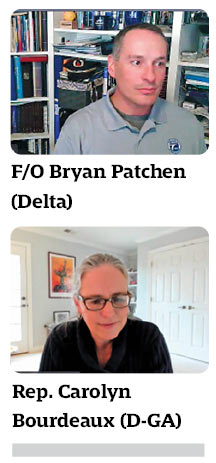 F/O Bryan Patchen (Delta) thanked Rep. Carolyn Bourdeaux (D-GA) for her recent support on the bill, observing, "Lots of airline employees were going to be laid off." In another meeting, F/O Karen Larson (United) indicated that with only five years at her carrier, she certainly would have been furloughed without the latest PSP extension.
During one of the sessions, Rep. Randy Feenstra (R-IA), a member of the House Committee on Science, Space, and Technology, recounted how he'd been aboard an airliner with a disruptive passenger prior to departure. He remarked that the captain instructed everyone to disembark, adding that the flight crew handled the situation efficiently and with great professionalism. Feenstra expressed his gratitude, saying, "Thank you for all you do. I know it's been a tremendously tough year."
This article was originally published in the May 2021 issue of Air Line Pilot.