FFD Committee Meets Virtually to Discuss Career Progression, Pilot Group Needs
ALPA at Work
By John Perkinson, Senior Staff Writer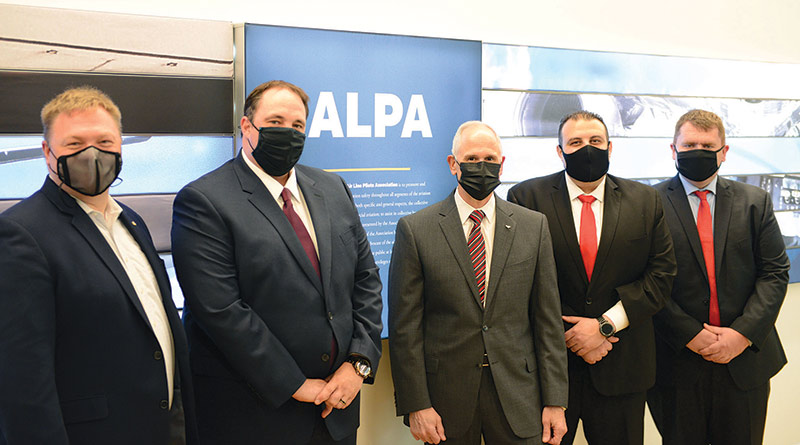 Fee-for-Departure (FFD) Committee pilots gather with ALPA leaders prior to their meeting. From left, F/O Paul Ryder (United), ALPA's national resource coordinator; Capt. Scott McCormick (PSA), FFD Committee chair; Capt. Joe DePete, ALPA's president; and Capt. Jimmy Abdalla (Air Wisconsin) and Capt. Dave Szurgot (Endeavor Air), FFD Committee members.
Members of ALPA's Fee-for-Departure (FFD) Committee convened at the Association's McLean, Va., offices on May 10 to conduct a video conference with senior pilot leaders from the union's express-level pilot groups. Capt. Scott McCormick (PSA), the FFD Committee chair, and fellow committee members, including Capt. Jimmy Abdalla (Air Wisconsin) and Capt. Dave Szurgot (Endeavor Air), hosted the annual gathering, which featured a panel discussion, pilot and staff presentations, and reports from individual FFD pilot groups on priorities and trends.
Capt. Joe DePete, ALPA's president, opened the meeting and highlighted the use of joint standing committees to facilitate better communications among pilot groups flying under the same livery. "Through your boundless energy and invention, ALPA has brought airline brand pilot groups together in a new and revitalized way," he remarked. "ALPA is also creating collaboration among our pilots that will do more to achieve job progression and career opportunities for all our members."
Career advancement was a recurring theme in many of the meeting's presentations, including a panel discussion titled "Breaking the Business Model." Panelists examined current pilot career-progression programs and the subsequent cultures that exist among mainline carriers and their express airline counterparts.
Betty Ginsburg, director of ALPA's Representation Department, who moderated the panel, queried Master Executive Council (MEC) chairs Capt. Jason Ambrosi (Delta), Capt. Brandon Lighty (Piedmont), and Capt. Todd Insler (United) about the effects of the COVID-19 pandemic on airline operations, how current career-progression programs perform, and how the system might be improved.
Career progression for airline pilots includes opportunities such as preferential interviewing and hiring. Some mainline carriers in North America offer "flow" programs allowing pilots at partnering express carriers to flow up to the mainline operation as vacancies become available. Alternatively, depending upon the terms of the agreement, mainline pilots may also flow down to fill FFD pilot positions within their family brand when mainline staffing demand shrinks.
Looking back at the onset of the pandemic, Lighty observed that his pilot group transitioned almost overnight from working with a carrier that couldn't "hire pilots fast enough to scrambling to make sure everyone remained employed."
Insler described the Aviate program as his airline's "former carrier pathway program on steroids," explaining that United Airlines intends to hire more than 10,000 pilots in the next decade.
Ambrosi pointed out that flow programs must be carefully managed to avoid scenarios in which they "clear out excessive groups of pilots from the mainline or express-level carriers" due to periods of industry fluctuation or other events. As part of the discussion, panelists acknowledged that many FFD pilots also transition to all-cargo and low-cost carriers.
Capt. Bill Couette, ALPA's vice president–administration/secretary, discussed the turnover in FFD leadership as those pilots move on to other carriers, the consequential loss of acquired knowledge and experience for the pilot group, and the union's ongoing efforts to mitigate these concerns with training, libraries of past practices, and peer contacts. Referencing ALPA's support for pilot groups large and small, Couette commented, "We're all ALPA pilots. We're just flying for different carriers."
F/O Rob Thomas (United), ALPA's Human Factors & Training Group chair, highlighted the group's recent activities as they relate to FFD operations. He talked about how ALPA's training and human factors subject-matter experts work directly with regulators on industry projects, adding, "ALPA people are in influential positions to guide support for programs we think are important."
"The Strategic Preparedness and Strike Committee [SPSC] was stood up in 2007 so that we could discuss past challenges and successes and apply the lessons learned going forward," said Capt. Wes Reed (FedEx Express), ALPA's SPSC chair. He explained how the committee applies a collaborative team approach to maximize each pilot group's effectiveness during collective bargaining.
In addition, Elizabeth Baker, director of ALPA's Government Affairs Department, gave a legislative update and encouraged support for ALPA-PAC, and Paul Karg, manager of the union's Economic & Financial Analysis Department, provided an airline industry forecast.
"Our committee is made up of professionals who fly every day in the FFD sector, and our goal as a committee is to facilitate productive communications and help provide every available ALPA resource for these MECs to create the best pathway for success," observed McCormick.
This article was originally published in the June 2021 issue of Air Line Pilot.