ALPA Scholarships Provide Opportunity and a Few New ALPA Pilots
By Kevin Cuddihy, Contributing Writer
For more than 50 years, ALPA has offered an annual scholarship available only to the child of a medically retired, long-term disabled, or deceased Association member. While this scholarship isn't designed for or limited to those with aspirations in aviation, the Association has awarded a handful of scholarships to recipients who've gone on to follow in their parents' footsteps and become ALPA members.
Scholarship Creation
Establishing an ALPA scholarship was first proposed at the Association's 1968 Board of Directors (BOD) meeting, but the decision was deferred to and made during the spring 1969 meeting of the Executive Board.
According to documents, the scholarship was suggested after the Canadian Air Line Pilots Association (CALPA) Board of Directors "created two $500.00 scholarships to be given to deserving children of deceased ALPA members in furtherance of their education" in 1967. These scholarships "were a form of thank you from CALPA to ALPA for the assistance furnished CALPA over the years in its representational activities."
More than 50 students applied for the two scholarships, indicating, "a great and continuing need for educational assistance for needy children of deceased ALPA members." The documents also stated, "ALPA's fiscal stature has attained that level where a small amount of its annual income should be productively employed in a limited scholarship program as envisioned in this [BOD] agenda item."
At its May 6–10, 1969, meeting, the Executive Board approved the establishment of an annual $1,000 scholarship, highlighting both that "financial assistance is becoming more and more necessary in providing educational opportunities in the light of the spiraling cost of education" and "needy children of deceased ALPA members form a logical group [that] may be in need of financial assistance in acquiring a college education." One scholarship is granted to an enrolling college freshman and is renewable for three additional years, provided the student maintains an adequate grade point average. Under that proviso, three scholarship renewals are made to a sophomore, junior, and senior.
Throughout the decades, ALPA's scholarship program has evolved. In 1982, the BOD raised the annual grant to $2,000 per year, and in 1988 the Executive Board increased it to $3,000 per year. Beginning with the 1995–96 school year, ALPA established a one-year $2,000 grant, making the total annual expenditure $14,000. In 1998, the scholarship was expanded to children of medically retired pilots and those placed on long-term disability.
To date, ALPA has awarded 58 four-year grants and 31 one-year grants.
Selection Process
ALPA's vice president–administration/secretary, currently Capt. Bill Couette, and vice president–finance/treasurer, currently Capt. Joseph Genovese, select the annual recipients and conduct periodic reviews per the scholarship guidelines.
"It's important to remember those who were part of the ALPA family," said Couette. "We give them an opportunity with this scholarship. It's a way to not let past members disappear—we still have an opportunity to recognize them."
After ALPA's Governing Bodies staff collects and confirms the applications, both officers receive a duplicate copy for the lengthy review process. "You want to ensure you make the right decision," Genovese remarked. "I read them, I organize them, and I think about them intently. It's a robust process."
Once the officers have reviewed and rated the applications, they meet to compare their top picks. "It's uncanny, but it always seems that we've each highlighted the same top applicants," observed Couette. "It may be for different reasons, but the same applicants always seem to rise to the top."
And the quality of the applicants continues to impress. "The applicants are so multitalented and really bring a lot to the table," Couette said. "It's not even all about the academics. What I look at is their social activities—jobs, hobbies, sports, interests, etc. These are individuals who are going to make contributions to society in a positive way."
"While the scholarship isn't intended to create ALPA pilots, it's an extra bonus when a scholarship recipient becomes a member," Genovese noted. "And hopefully they'll move into a leadership role as they continue their ALPA careers."
Air Line Pilot recently had the opportunity to interview three scholarship recipients who've gone on to follow in their parents' footsteps and become ALPA members.
Following in Footsteps
F/O Blake Travelstead (Hawaiian) received a one-year scholarship in 2010, which he applied to his studies at Southern Illinois University (SIU) after transferring from Oregon State University.
"As a child, I knew I wanted to be a pilot," said Travelstead, who learned of the scholarship through his father's copies of Air Line Pilot; Capt. Rex Blake Travelstead flew with Ozark Airlines and TWA before finishing his career with American Airlines. "It was a privilege to be selected for an ALPA scholarship, and it relieved some of the burden of college tuition from my family. We'll always appreciate the help ALPA provided."
With a pilot for a father and a flight attendant for a mother, Travelstead traveled the world during his youth and took his first flight lesson when he was 11 years old. "I didn't really throw myself into it as a career until I went to SIU and joined the aviation program," he said.
After graduating with a bachelor of science degree in aviation management and an associate's degree in aviation flight, he quickly earned his ratings, then moved to Hawaii with his family and flew for Transair, a Part 135 cargo carrier. Travelstead then acquired his ATP and became an ALPA member when he was hired by Envoy Air. He flew for Envoy for three years and currently is a B-717 first officer at Hawaiian, having recently come off furlough.
"I wanted to make my parents proud by following in their footsteps, and I think I was able to do that," Travelstead acknowledged. "They've helped me so much with my career—everything from their advice to connections in the industry. They've really helped me make good decisions and seek the right opportunities. I don't think I would be where I'm at without them."
And while Travelstead was still completing his first year at Hawaiian when interviewed, he's already thinking of getting more involved with ALPA. "I'm impressed with the way ALPA represents its members," he said, "and with the various support programs the Association offers. From the scholarship program to the furlough support program, it's amazing. I truly believe ALPA makes the aviation industry better for pilots."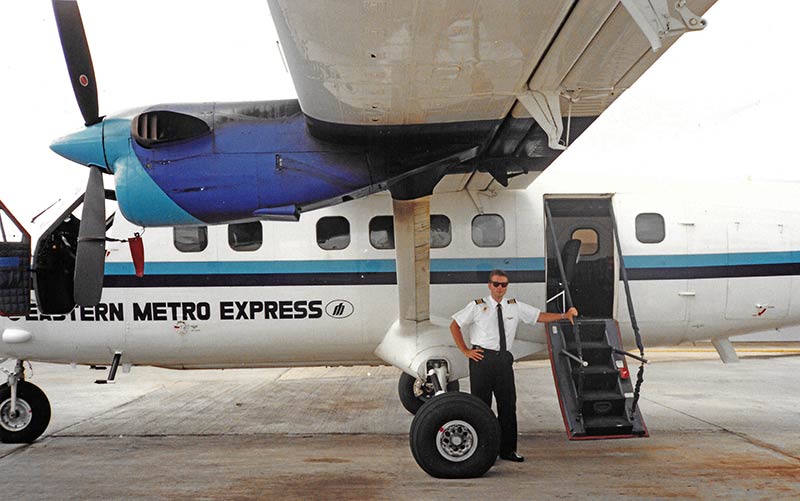 Capt. Scott Smith, who now flies for Southwest Airlines but was formerly an ALPA member, received a scholarship in 1988 and went to Central Missouri State University (CMSU). "I was familiar with ALPA from friends and family who had talked about the union over the years," he said. "We also received Air Line Pilot at home so I was able to read about the Association and learn about the scholarship," Smith noted.
"I was very excited to hear that I'd received the scholarship as there were a lot of applicants the year I applied," Smith recalled. " I felt lucky to be selected and was happy that ALPA was able to help provide me with an education, especially since I was pursuing a career in aviation. It made it that much more meaningful to me."
Smith knew he wanted to be a pilot from a young age. His father, Jerry R. Smith, was a first officer for Southern Airways before passing away in 1970. Members of his father's family had all been general aviation pilots, and his mother was a flight attendant. Smith started taking flying lessons at 15 years old and progressed rapidly, soloing on his 16th birthday. He received his private and commercial ratings on his 17th and 18th birthdays, respectively.
At CMSU, Smith graduated with a bachelor of science degree in aviation technology. "I was a full-time student as well as a flight instructor for the university's aviation program," he said, "along with attending classes during the summer. I was pretty focused on school and flying."
His first airline job was with Eastern Metro Express in St. Croix, the U.S. Virgin Islands. The airline had ALPA-represented pilots and later became Sunaire Express. Smith moved to Atlantic Southeast, then to American Trans Air, and in 2004 to AirTran Airways, which was absorbed by Southwest.
"I'm fortunate to be an airline pilot and to have been an ALPA member just like my father," Smith said, "and to be able to do something that I really love. I think anyone who's able to pursue a career that's also their passion is very lucky. I wish my father had been here to share the experience."
Capt. Scott Golich (Delta) was also well aware of ALPA as he was growing up. His father, Capt. J.X. Golich, was an active ALPA member while flying for Muse Air, Flying Tigers, and then FedEx Express. "Growing up, my brother and I knew that ALPA must have been cool, because Pop was cool and he was a leader there."
He met many other ALPA members during his youth through his father's friendships and relationships. "Growing up, I knew ALPA was the good guy. And I've come to know that what good guys do is to advocate for safety, for pilots, and for the profession."
Golich used to thumb through his father's copies of Air Line Pilot. When his father went on medical leave while Golich was in high school, he remembered the scholarship and applied.
"I felt immense gratitude when I was learned that I'd received a scholarship," Golich noted. "We were cobbling together college money, and I was seeking out numerous scholarships. Receiving the ALPA scholarship was a welcomed respite from that search."
Golich received the scholarship in June 1999 and attended three different schools before graduating from the University of San Diego—something he refers to as "getting my act together" and prioritizing college over his love of skiing.
Once he put skiing behind him, Golich's sole focus was getting into the cockpit of a Navy fighter jet. He was commissioned into the Navy after college, attended flight school, and served as an active-duty Naval aviator for nearly 12 years, mostly flying the F/A-18E Super Hornet. After leaving active duty, he was hired by Delta in 2015.
Golich said he "absolutely" targeted an ALPA pilot group for his entry into commercial aviation. "Pop and my family gave quite a bit to ALPA in terms of time," he explained. "And ALPA absolutely gave back to us. Never mind my scholarship. ALPA's tireless advocacy has, to a large degree, made the airline industry what it is today—the safest industry on the planet. Stepping into the airline piloting profession with the support of ALPA felt incredible."
While his status and commitment to the Naval Reserves currently prevent him from doing ALPA volunteer work, Golich has completed every ALPA Call to Action and proudly wears his ALPA pin and lanyard. "But I'm looking forward to the day when I can give my time and skills to advocate for the Delta pilot group and the profession as a whole," Golich said.
Additional Scholarship Info Available Online
To learn more about ALPA's scholarship eligibility requirements, review scholarship information, and access an online application, visit www.alpa.org/scholarship. Application deadline is April 1, 2021.
ALPA's Education Committee also offers a scholarship that's available only to students currently in an aviation-related field of study and in a flight training course at a college or university with an active ALPA ACE Club. For more information, qualification details, and to apply, visit www.alpa.org/scholarship. Application deadline is April 1, 2021.
This article was originally published in the March 2021 issue of Air Line Pilot.