Take Action to Secure the Flight Deck
Since the terrorist attacks on September 11, 2001, ALPA has advocated for the mandatory installation of a lightweight security device known as a "secondary barrier" on commercial aircraft. These devices have proven effective in creating a physical barricade to prevent hostile individuals from reaching the flight deck any time the cockpit door is open during flight. Secondary barriers ensure the flight deck remains secure at all times.
When Congress reauthorized the Federal Aviation Administration (FAA) in 2018, the legislation included a mandate that the FAA issue a rule by October 5, 2019, to require the installation of secondary flight deck barriers on all new passenger aircraft. However, instead of issuing the final rule as intended, the FAA created an unnecessary working group this summer, against ALPA's advising, to "study" the issue, which has delayed installation of this much-needed aviation safety and security enhancement.
Then in September this year, the FAA itself highlighted the need for such protective measures by issuing a special warning to airlines for increased vigilance while conducting flight deck door-opening procedures in flight.
On September 26, ALPA first vice president Capt. Bob Fox testified before Congress at a hearing titled "Implementing the Federal Aviation Administration Reauthorization of 2018." He called on lawmakers to act on previously approved policies, including secondary barriers.
The October 5 deadline has long passed, and no rule has been published. Why is flight safety still in jeopardy when a law has already been passed to secure the flight deck?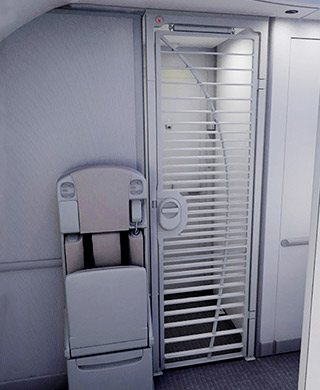 In a press statement on October 9, 2019, ALPA president Capt. Joe DePete stated: "ALPA is deeply disappointed in the FAA's blatant stalling on this important issue. Airline pilots have been advocating for this safe, cost-effective, and efficient way to protect the flight deck, and we were pleased last year when Congress passed a law mandating the installation of these barriers. By dragging their feet and wasting resources, the FAA has thumbed its nose at Congress, threatened the flying public, disrespected pilots, and has done the bidding of special interests. It's time to implement the law today."
"If you know anything about terrorists, they look for weaknesses. This is something that nobody is taking the responsibility for—to do what's right for the safety and security of Americans . . . There is a simple solution to at least take that threat out of the way." These words by Ellen Saracini ring just as true today as they did in September 2013, when both the U.S. House of Representatives and the Senate introduced the Saracini Aviation Safety Act of 2013. Named after Saracini's late husband, Capt. Victor Saracini, the pilot of United Flight 175, which was hijacked by terrorists and flown into the World Trade Center on September 11, 2001, the bill called for the installation of secondary flight deck barriers on all airliners. Read more about Ellen Saracini's work with ALPA to secure the flight deck.