How Does ExpressJet Compare to the Competition?
An airline pilot's contract is a critical part of their job as these contracts govern not only compensation, but work rules, quality of life, scheduling and more. Knowing how one airline's contract compares to other airlines is critical when making career decisions that impact your finances, personal life and future career potential. Below is an in-depth look at how the ExpressJet pilot contract measures up against—and lags behind—the rest of the regional airline industry.
The data below has been compiled by the ALPA Economic and Financial Analysis department, made up of experts who analyze the airline industry and support ALPA groups in negotiations, and was current as of July 2019.
Pay rates are often the first thing pilots look at when reviewing a contract or making career decisions—and for good reason:
We all have bills to pay. In order for our company to attract and retain pilots—critical to the long-term sustainability of ExpressJet—our pay rates need to be competitive with our peers in the Fee for Departure (FFD, or regional airline) industry.
The management teams at other FFD carriers (PSA, Envoy and Piedmont, in particular) see the obvious logic in competitive rates as evidenced by the recent advancements in pay offered to their pilots outside of the normal negotiations process. However, ExpressJet management has not been willing to invest in ExpressJet pilots.
How does XJT stack up?
Our 50-seat captain hourly pay rates falls in the bottom 50% of the industry and are only noticeably higher than CommutAir.
Our 50-seat F/O hourly pay rates fall below SkyWest, PSA, Piedmont, Envoy and Endeavor.
Comparisons of 51-76 seat pay rates for both captains and F/Os are similar to our 50-seat rate comparisons, meaning they are lower than much of the industry.
ExpressJet's method of deferring $8,000–$10,000 in compensation via the Earned Quarterly Override (EQO) is far from ideal. In fact, no other carrier in the industry uses this method of paying their pilots. While all other carriers pay a straight pay rate, ExpressJet pilots must consider complex proration schedules, quarterly flight times and pay dates for additional quarterly pay. It is not guaranteed!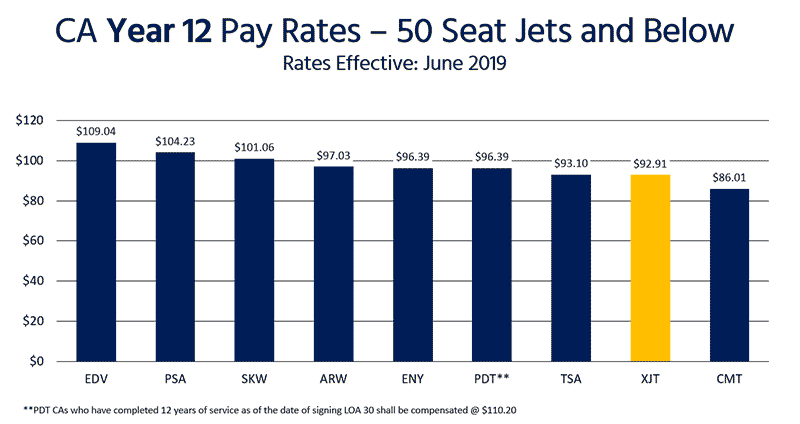 Other Compensation Items
The pay rate comparison above does not consider retention bonuses and other pay advances offered at other carriers, which brings their compensation above the rates compared in this analysis.
For example:
CommutAir pilots begin receiving captain pay at year two and receive a $10,400 bonus upon upgrading to captain.
Air Wisconsin, Envoy, GoJet, Mesa, PSA and Trans States all pay some type of retention bonus through a pilot's first two or three years of service.
Premium Pay
ExpressJet's premium pay rules are generally in-line with the rest of the industry, although some carriers, like Air Wisconsin, GoJet, Envoy, PSA, and Trans States provide automatic premium pay for any trip picked up on a day off.
While ExpressJet pays 15 hours (minimum) for a 4-day trip and an average of 3.75 hours per day for open time picked up on a day off, our minimum pay for a regular day of work (2 hours) is the lowest in the FFD industry.
In addition, Air Wisconsin, Horizon, Republic, Silver, and SkyWest have additional trip and/or duty rigs, surpassing ExpressJet. Trip and duty rigs provide a minimum amount of pay for inefficient or unproductive trips.

All FFD carriers accrue sick leave at varying rates. At ExpressJet, sick leave is accrued up to a maximum of 640 hours and is "use it or lose it." Recently, ExpressJet management has threatened career advancement repercussions for calling in sick; meanwhile, other carriers reward their pilots for not using sick time. People tend to respond more favorably to carrots rather than sticks, but ExpressJet management routinely takes the punitive route in contrast to most of the industry.
Mesa rewards pilots with perfect attendance with the option of being paid for 25% of their sick bank and offers to pay out 10% of the sick bank of a pilot who has had less than 3 sick days in a year. Both Piedmont and PSA pay out a percentage of an eligible pilot's sick bank upon retirement (into a pilot's 401(k) at PSA) and Envoy offers sick bank payout at varying percentages depending on the total number of hours in a pilot's bank. In addition, Mesa, Republic, and Trans States all offer some type of attendance bonus.
General industry work rules are difficult to compare, as scheduling and reserve rules, junior manning and rolled day off policies, bidding and line improvement procedures, etc. are generally governed by complex contractual language. Some carriers also receive benefits that aren't directly comparable to the benefits received at other carriers. For example, carriers may provide commuters with hotels and paid parking at their home airport, while others are able to provide effective career progression opportunities to other airlines. Incidentally, these are perks and opportunities that ExpressJet management has, in the past, indicated are not attainable for ExpressJet pilots.
While other FFD carriers have seen tremendous growth in recent years, ExpressJet has continued to shrink and our operation has continued to deteriorate since the ratification of the company-rushed Contract 2018 and the purchase by ManaAir. ExpressJet simply can't compete with the rest of the industry for the reasons described above—and we won't—if management remains intent on propping up their inefficient operation on the backs of ExpressJet pilots.