Connecting the Dots
---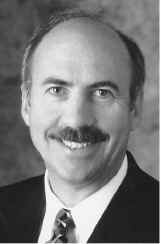 By Captain Duane Woerth, ALPA President
Air Line Pilot, January 2004, p.5
This issue of Air Line Pilot represents a fresh approach to communicating with members—with you, the line pilots who pay the bills and are our only real customers. We are using this core communications medium to tell you where your dues dollars are going, to show you how hard our line pilot volunteers, leaders, and staff work on your behalf, and to explain how your leaders are shaping the strategic direction of this Association.
The Table of Contents reveals the names of our new departments: "ALPA Tool Box," "ALPA at Work," "From the Front Line," and "From the Hill," to name a few. There you can clearly see where my focus is. In the coming months, we will be taking this same approach with many of our other communications vehicles, including our website, to take better advantage of technology and your limited time.
Connections are critical. Just as soldiers in the field are the ones who fight and win the battles, we need dedicated, informed, and energized members to succeed. Just as those soldiers need beans and bullets delivered on time, we need a professional staff to provide expertise and elbow grease. And just as an army needs its commanders to understand the battlefield and develop strategy, you are counting on me and your other officers to propel this organization forward.
What ties ALPA's various levels together is an open and efficient dialogue through every area of our union.
Like any large organization with national, and indeed international, responsibilities, we have multiple staff departments with specific expertise. We also have multiple layers of political accountability and governance through the local executive councils, the master executive councils, the Executive Board, the Executive Council, the Board of Directors, and the President and other officers. Coordinating the energies of these multiple departments and governing bodies is a real challenge.
If I may continue with a military analogy, I believe that the most important combatants are the front-line soldiers, who need the maximum amount of useful information to expand their situational awareness to allow them to accomplish their mission.
Our union's frontline soldier is the line pilot. Through all of ALPA's communications vehicles, our goal will be to increase line pilots' situational awareness with a reemphasis on how interconnected and interdependent the key components of our union are. The more the line pilot understands about the interconnectivity of our union and its relationship to our collective destinies in an interconnected industry, the more successful we will be in defending our profession, which has never been under more direct assaults on so many fronts.
These are challenging times to be an airline pilot. Nearly every day presents a new set of obstacles to overcome in our collective effort to protect jobs, secure good contracts, and keep flying safe. But every day also presents new opportunities to find creative solutions for the issues we all confront.
Throughout ALPA's long history, members have established our union's hard-earned reputation by relentlessly developing new approaches to old problems and by harnessing the combined strength of our line pilot volunteers, our elected leaders, and our professional staff.
Unfortunately, I fear that fewer than half of ALPA's current members have a working knowledge of how their union operates or the reasons for our past successes, as well as our disappointments.
Connecting the dots is not easy in an industry as complex and fragmented as ours. In the aftermath of Sept. 11, 2001, the U.S. intelligence and law enforcement agencies were widely and justifiably criticized because they did a terrible job of sharing information and coordinating their activities. Despite dozens of warning signs, the "dots weren't connected" and a national tragedy ensued.
At the heart of our newly retooled communication tactics, of which this slimmed-down and refocused Air Line Pilot is just one example, is the goal of providing information necessary for all line pilots from every segment of the industry to "connect the dots" and thus be more able to coordinate a common strategy to protect and defend our profession.
Capt. Dave Behncke and our other founding fathers said it best more than 72 years ago: "Cooperation across company lines will be the key to ALPA's future." Those words ring just as true today.
s/ Capt. Duane Woerth