Air Line Pilot, October 2003
President's Forum: One Level of Safety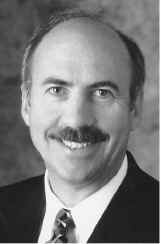 During the recent ALPA Air Safety Forum in Washington, D.C., NTSB Chairman Ellen Engleman announced plans for a cargo airline safety forum to be held at the agency's academy in Ashburn, Va. She called for our assistance and participation to ensure that the forum is successful and that the topics discussed and the follow-up actions provide meaningful improvement to safety for the cargo airline industry. This announcement, which follows closely on the heels of an NTSB "sunshine" meeting on the Emery Air Flight 017 accident, received a standing ovation from the ALPA safety representatives.
Since 1984, the NTSB has conducted at least 38 accident investigations involving airline cargo operators. Although these investigations have resulted in numerous recommendations to the FAA and to cargo airline operators, success in rectifying the safety deficiencies associated with cargo airline operations has been limited. The NTSB's investigation of the Emery Air accident revealed significant safety issues in airline cargo operations; loading, unloading, and maintenance practices; and FAA oversight. We felt that the NTSB's Emery Air recommendations did not go far enough in addressing safety deficiencies rampant within the cargo corporate safety culture and in seeking stronger FAA oversight. This cargo safety forum will give us the opportunity to bring our concerns and remedies to the forefront of public awareness and congressional interest, and to the top of the long list of the FAA's priorities. Participants must include a cross section of airline industry operators, maintenance personnel, government officials, and other safety specialists, in addition to interested parties, such as ALPA members and staff safety experts.
I have directed our experts in cargo airline operations from the ALPA Safety Committee to take the lead, with support from the ALPA President's Committee for Cargo, National Security Committee, and Engineering and Air Safety Department staff members, to closely coordinate the Association's participation in this NTSB forum. Although this is primarily a safety forum, it will serve to supplement the security work going on in other venues and enable us to raise security issues closely related to safety issues. Topics for the forum should include the following: the differences between FAA regulations for cargo and passenger operations in such areas as dispatch, required equipment, fire-suppression systems, and HAZMAT; airport certification issues such as rescue and firefighting operations; FAA oversight and training for cargo aircraft maintenance, cargo preparation, and loading; security issues; flight- and duty-time regulations; and issues unique to night operations, such as pilot fatigue and working on the back side of the clock.
Improving the safety of all-cargo airlines and of passenger airlines' cargo operations has been a long-term goal for ALPA members. When we began our push for One Level of Safety in 1995, we tried to include both cargo and supplemental airline operations within the FAA's purview. The agency's focus then was aimed solely toward small Part 121 airlines that, indeed, required much improvement in their safety cultures.
Cargo operations remain the FAA's stepchild in both regulations and practice—ignored until something goes wrong. In March 2001, we issued a position paper explaining why we asked the NTSB to hold a public hearing on cargo airline operations and safety. A year ago, I announced the formation of the President's Committee for Cargo to address ALPA's issues and concerns unique to cargo operations. That group has met several times. Last February, the ALPA Air Safety Structure established, under its Operations Committee, a Cargo Safety Project Team. The FAA and the Cargo Airline Association, earlier this year, began talking about the need to raise the standard for the level of safety and the regulatory environment in which cargo airlines operate. ALPA representatives attended a briefing about the FAA's Cargo Strategic Action Plan that outlined the FAA and CAA initiatives. All of this is movement in the right direction, but more is needed, and the NTSB cargo safety forum should move us closer to One Level of Safety for all airline operations.
ALPA officials and safety representatives look forward to working with the NTSB, other associations, and our industry partners to address cargo safety issues. If we have any hope of making lasting improvements in cargo operation safety, all interested parties must accept a systematic and comprehensive approach to the issues and concerns that we face with cargo operations. This forum will provide vital information on the scope and depth of the unique cargo safety issues as well as enable the parties to begin to develop appropriate solutions.
s/ Duane E. Woerth