Air Line Pilot, May/June 2002
President's Forum: A Stronger 'Voice' For Cargo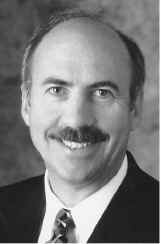 Since September 2001, public focus on airline security has been on the passenger side of the "house," but ALPA has had a long-standing involvement in cargo issues as well. Two actions this spring will serve to deepen that involvement and strengthen our collective voice on issues of cargo safety and security.
Gemini Air Cargo pilots voted for ALPA representation in mid-March, and as this issue reaches you, the ALPA Executive Board is expected to approve the merger with the FedEx Pilots Association.
Cargo and mail pilots have a special place in ALPA's history. Many airlines that operated in 1931, when pilots formed this union, got their start carrying mail and packages. In fact, most of the early U.S. airline industry's revenue was based on federal mail contracts. Early air mail carriers, in their quest for revenue at any cost, were notorious for pushing their pilots into the skies when pilot fatigue, weather, mechanical problems, and good common sense should have kept the airplanes on the ground.
Since those days, we have seen major improvements in airplane technology, navigation, pilot training, and safety—improvements that we either helped develop or forced on the industry through our work agreements; but cargo airline management philosophy has not shown much progress. Managements' attitude still seems to be based on the false premise that cargo pilots don't need the safety equipment, aircraft maintenance inspection, or flight-time/duty-time protections provided pilots whose airlines rely on passengers for revenue.
We strongly disagree.
ALPA members began to push for One Level of Safety in 1992. Our goal was to improve safety regulations for operations of carriers with small transport airplanes, then not covered under FAR Part 121. In 1994, when we launched a formal awareness campaign, we expressed concern that cargo and supplemental carriers were being treated differently even though we all share the same air-space and airports. We asked for a notice of proposed rule-making mandating TCAS for freighters. ALPA's campaign for a fair regulation limiting flight and duty time and providing rest requirements was aimed at the needs and safety of all pilots, but cargo and supplemental carriers were the worst offenders in this form of pilot-pushing.
FedEx opened a base at Subic Bay in the Philippine Islands a few years ago and claimed its pilots domiciled there were not covered by Railway Labor Act protections. On behalf of all pilots, we disagreed. Management of that cargo carrier contended that its pilots were subject to the local labor laws of whatever country they operate in. This is not acceptable. The FedEx pilots subsequently worked out an agreement that, at least on paper, has management treating the Philippine-based pilots as though they are based in Memphis, Tenn.
Immediately after the terrorist attacks on 9/11, ALPA representatives began hammering the Administration and Congress about loopholes in airport and airplane security, some of which are a direct result of enforcing different rules and requirements for cargo and supplemental carriers than those applied to passenger carriers. Calling for one level of security, we made certain during face-to-face meetings with Transportation Security Administration Director John Magaw that cargo airline security concerns carried the same weight as those of passenger carriers. At this meeting, we discussed issues that affect all pilots, including airport access control and ID verification, ineffective security ID display areas that local authorities control, jumpseat rider identity verification, guns in the cockpit, and ALPA's help in obtaining appropriate funding levels for TSA and for specific security programs.
Last fall, cargo carrier managers contended that their companies were not required to meet the new security standards. Again, we disagreed. ALPA insisted and eventually convinced the Department of Transportation that congressionally mandated security measures for reinforced cockpit doors must include cargo airplanes. The FAA swiftly acted to clarify that all airline cockpit doors were to be strengthened and retrofitted before April 2003.
ALPA pilots and staff have actively participated in the NTSB investigation of the February 2000 Emery Flight 017 accident and mediation with Emery management after it decided to shut the airline down following FAA concerns about the airline's safety operations. The NTSB has scheduled a public hearing on the Emery 017 investigation for May 9–10 and another on cargo operations safety later this summer.
We strongly contend that achieving One Level of Safety and One Level of Security for all airlines—jet or turboprop, passenger or cargo, scheduled or supplemental operations—is the way to ensure that our skies are safer for all.
s/ Duane E. Woerth