October 24, 2018
"Communicating for Safety" Gives ALPA Platform to Share Perspectives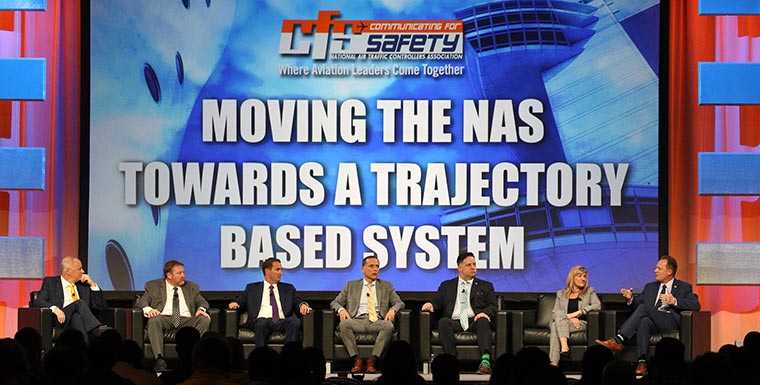 Photo by NATCA
ALPA was very active this week at the annual National Air Traffic Controller Association (NATCA) Communicating for Safety conference. This year's conference drew more than 1,500 controllers, pilots, and industry representatives to discuss aviation safety issues, and several ALPA member and staff experts served as discussion panelists throughout the three-day event.
To kick off the conference on Monday afternoon, Capt. Mike Schilz (DAL), ALPA Safety Information Analysis Programs lead, discussed the importance of safety data programs at both the airline level and on a national scale. Along with other panelists, he emphasized that all safety reports by pilots and controllers are critical and that every report submitted strengthens safety.
Capt. Marc Henegar (ALA), ALPA Air Safety Organization (ASO) Air Traffic Services (ATS) chair, participated on a panel discussing trajectory-based operations (TBO) and the promised benefits that would emerge from this highly automated and structured traffic management strategy. Despite this promise, Capt. Henegar also reminded the audience that the aircraft equipage needs to be in place before we expect pilots and controllers to fully embrace new types of operations.
Lori Garver, ALPA general manager, joined the discussion Tuesday morning on a panel that discussed the challenges of accommodating new entrants into the national airspace system—including unmanned aircraft systems (UAS) and commercial space activities—and the emerging technologies needed. Garver told the audience that ALPA continues to focus our concerns on the safe integration of any new entrants, but that we believe it is possible to achieve. In the meantime, we need to be vigilant about FAA efforts to accommodate new users without introducing new risks to commercial aviation.
During Tuesday's awards luncheon, Capt. John Drexler (UAL) was called to the stage to receive recognition for his years of service as ALPA's director of Air Traffic Control and ALPA-NATCA liaison. NATCA highlighted Capt. Drexler's leadership and dedication to working with NATCA in a collaborative spirit.
Wrapping up the conference earlier today, ALPA ASO Aviation Safety chair Capt. Steve Jangelis (DAL) joined a panel discussing several events in which unforeseen circumstances put pilots and controllers to the test. Jangelis used this opportunity to remind the audience that two experienced, well-rested, and highly trained pilots are critical to ensure that all unexpected events conclude safely. He also thanked the air traffic controllers for their partnership in safety, highlighting the strong safety relationship between ALPA and NATCA as frontline users to ensure that passengers and cargo arrive at their destination safely and efficiently thousands of time each day.
ALPA members are invited to join in the final events tonight by watching the live stream of the Archie League Awards ceremony, where NATCA celebrates air traffic controller actions to ensure the safety of passengers and crews.
-###-