Release #: 16.08
March 10, 2016
ALPA to Congress: Small Businesses Must Use Unmanned Aircraft Safely
WASHINGTON, D.C.––In testimony (written/oral) before the U.S. Senate Committee on Small Business and Entrepreneurship, Capt. Tim Canoll, president of the Air Line Pilots Association, Int'l (ALPA), today underscored the union's strong support of entrepreneurs who are using unmanned aircraft systems (UAS) to help advance small business and the national economy, but emphasized that the union's greatest concern will always be safety.
"We know that unsafe situations involving UAS are occurring right now. Each month, the Federal Aviation Administration receives more than 100 reports of UAS sightings from pilots and others," Capt. Canoll told committee members. He pointed to reports of UAS sightings by pilots on approach to airports in Baton Rouge, Louisiana and Manchester, New Hampshire among recent examples. "While it is almost certain that these events involved recreational rather than commercial UAS operators, they demonstrate the need for UAS 'pilot' education and enhanced safety."
While the FAA is making progress, the administration needs to address all UAS uses with a full regulatory safety framework, said ALPA's president. He outlined for committee members ALPA's near-term four-part action plan for the safe integration of UAS into the national airspace, which includes.
Education

ALPA maintains that anyone flying a UAS, no matter the size, must understand the aircraft, the airspace, and the other aircraft that share it. Commercially operated UAS should be flown by pilots who have the necessary knowledge. All U.S. transportation forms—marine, rail, roads, and air—require commercial licenses for commercial operations. UAS should be no different.

Registration

ALPA is pleased that more than 342,000 UAS owners have already registered with the FAA. While the union applauds the civil and criminal penalties for those who don't register, ALPA maintains that point-of-sale registration is essential.

Technology

If UAS operate in airspace intended for airliners, or if they could end up there, airline pilots need to be able to see them on cockpit displays, and controllers need to see them on their radar scopes. The UAS must also be equipped with active technologies to avoid a collision with manned aircraft. The FAA should identify resources to develop UAS-centric collision-avoidance technologies in FY 2016 and adopt them in FY 2017.

In addition, if regulations restrict UAS from operating in a location, the UAS must have technology that cannot be overridden to prevent it from flying there. The FAA must also continue to evaluate technologies to identify UAS and operator location.

Penalties and enforcement

ALPA calls for the full enforcement of the civil and criminal penalties regarding UAS. If the FAA intends to rely on first responders to ensure compliance, it must do more to inform local, state, and national law enforcement about their responsibility and authority.
"With ALPA's plan, and Congress providing the FAA with a long-term source of stable funding through a full reauthorization, small businesses can capitalize on the opportunities offered by UAS while maintaining our industry's extraordinary level of safety," Capt. Canoll told the committee.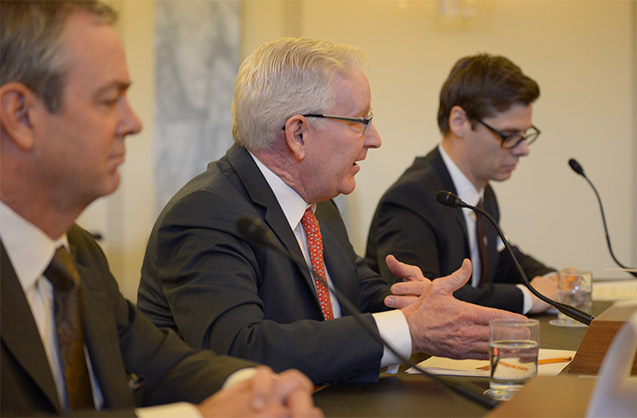 Founded in 1931, ALPA is the largest airline pilot union in the world and represents over 52,000 pilots at 30 U.S. and Canadian airlines. Visit the ALPA website at www.alpa.org or follow us on Twitter @WeAreALPA.
-###-
CONTACT: ALPA Media, 703-481-4440 or Media@alpa.org