Release #: 16.05
February 22, 2016
No Excuses: Keep U.S. Airline Pilot Qualifications Strong
Airline Business Decisions Determine Smaller Community Air Service, Not Pilot Availability
WASHINGTON, D.C.—Two new fact sheets released today by the Air Line Pilots Association, Int'l (ALPA) reveal that a credible analysis of the data contradicts any claim that a pilot shortage is causing airlines to stop serving smaller communities and discredits calls by some airlines to weaken pilot qualification and training rules that make air transportation safer for passengers and air cargo shippers.
"Claims that a pilot shortage is behind any changes in rural community air service are easily dismissed when you look at the facts of what's actually happening at smaller airports," said Capt. Paul Ryder, ALPA's national resource coordinator, in an Air Line Pilot story about the fact sheets. "Airlines make decisions about where they fly based on what's best for their bottom line—namely how many passengers will buy tickets and how much they're willing to pay."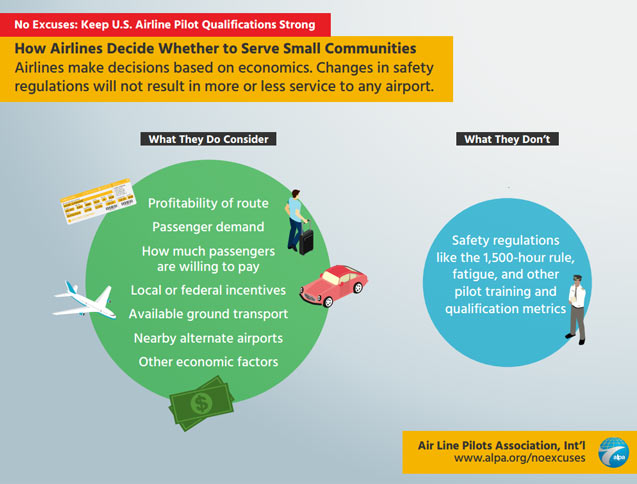 Every day, airlines evaluate the routes they fly based on whether the route is profitable. ALPA's fact sheet shows that many factors influence a route's profitability, but it is primarily based on passenger travel decisions. Such decisions include whether a passenger might drive to airports with lower ticket prices or decide to drive to their destination instead of fly. Another significant consideration is whether federal or local financial incentives exist that would help make a route profitable for an airline.
In addition, a new ALPA fact sheet shows that, while the number of flights into and out of small communities may shift and even decrease with seasonal demand or new competition, the number of available seats in many areas is actually increasing due to the use of larger aircraft.
"When passengers have more seats available to fly to and from a smaller community airport, local business grows, the local economy gets stronger, more jobs are created, and ultimately more people have the resources and opportunity to travel and ship by air," said Ryder.
At smaller U.S. airports from Redding, California to Erie, Pennsylvania and West Yellowstone, Montana to Parkersburg, West Virginia, growth in passenger traffic is resulting in passengers having access to more seats and larger aircraft. Nationwide, the number of available seats for passengers at smaller community airports has remained constant.
"False claims of a current pilot shortage are simply no excuse, and ALPA won't allow aviation safety to be compromised so that a few airlines can boost their profits," said Capt. Tim Canoll, ALPA's president.
The FAA's first officer qualification and training requirements were prompted by Congress in 2010 following multiple fatal airline accident investigations that identified the pilots' lack of flight experience and training as factors in the accidents. The safety-focused FAA rules requiring increased flight experience and better training were the result of an industrywide effort led by representatives of regional airlines, which have had years to prepare for the rules taking effect.
"Given the evidence, it's clear that today's safety rules have no bearing on why some companies may not be able to attract qualified pilots, because there are pilots available to fly for airlines that provide career growth and adequate work-life balance," said Canoll. "And it's equally clear that any changes that may occur to smaller community air service are the result of airline business decisions, not pilot availability."
Founded in 1931, ALPA is the largest airline pilot union in the world and represents over 52,000 pilots at 30 U.S. and Canadian airlines. Visit the ALPA website at www.alpa.org or follow us on Twitter @WeAreALPA.
-###-
CONTACT: ALPA Media, 703-481-4440 or Media@alpa.org