United Pilot Plots Course to The Flight Deck for Women of Color
Our Stories
By John Perkinson, Senior Staff Writer
On the flight deck of a B-787, Capt. Theresa Claiborne (United) prepares to depart from Paris Charles de Gaulle Airport.
"If you can see it, you can be it!" said Capt. Theresa Claiborne (United), who believes in the importance of having differing role models on airline and military flight decks to help a broader range of people envision themselves in jobs they previously thought were unattainable. Stressing the value of diversity, she added, "If I can be the best pilot I can be, it makes it that much easier for the next young lady who looks like me, who wants to fly for a living."
Claiborne put that guiding principle into action when she became a founding member of the Sisters of the Skies, Inc. (SOS), which was established in 2016. A nonprofit 501(c)(3) aviation organization, SOS initially served as a networking opportunity, but it quickly transitioned into a cooperative effort to provide mentoring, fellowship, and camaraderie to Black women who previously had little or no exposure to professional pilot careers.
"When you look around and don't see anyone who looks like you, when you want to say, 'I have a problem' but don't feel comfortable talking to others because you're afraid they won't understand, this creates challenges because you wind up internalizing issues that need to be discussed," Claiborne remarked. Drawing from her own experiences, she and others at SOS strive to make the charity a powerful tool for promoting careers in aviation.
The organization's promotional and counseling efforts take many forms. On May 7, the charity sponsored Girls Rock Wings Houston 2022 in which SOS presented a day of aviation-related activities for 60 young women between the ages of 10 and 18. Participants toured an air traffic control tower, learned about flight planning, sat at the controls of a simulator, and flew in an aircraft with an SOS member. "Some of these ladies had never flown before, let alone stepped in an airport terminal," noted Claiborne, adding, "It was a wonderful experience, and hopefully it made them think about what they want to do with their lives."
Two months earlier, SOS and Delta Air Lines cohosted a fundraiser at a downtown hotel in Atlanta, Ga. The Sisters of the Skies 2022 Scholarship Gala recognized the approximately 150 Black female pilots who currently hold airline transport pilot, commercial, military, and/or certified flight instructor (CFI) licenses—less than 1 percent of the professional pilots in United States—and the obvious need to get others involved. Claiborne, the SOS president, was the event's keynote speaker.
Seeing Is Believing
The SOS website notes, "The question that is asked the most is, 'Why are there so few Black female professional pilots?' Our experience has taught us that the numbers are dismal because of the lack of exposure, funding, and role models/representation. Our focused initiatives are based on these three areas."
Claiborne highlighted two young women who are currently instructors at United's Aviate Academy who initially came to SOS for help. They didn't have the licensing necessary to fly. The women soon got the assistance they needed and eventually became members of SOS. They later became CFIs and, one day, will become United pilots, providing a great example of how the SOS pipeline can work.
SOS consists of approximately 100 members who are predominantly women of color. To join, you must have a commercial pilot certificate or the military equivalent and be employed, retired, or seeking employment as a professional pilot. In addition, the organization works with an ongoing group of mentees who pair with members to take advantage of the various SOS programs. Some apply for the Sisters of the Skies Flight Training Scholarship. With the generous help of sponsors and diligent fundraising, SOS has given more than $500,000 in scholarships since 2017. As part of that sum, in 2021, the charity awarded $100,000 in financial aid to commemorate the achievement of Bessie Coleman, the Black female pilot pioneer.
Leading by Example
Claiborne continues to mentor the younger generation not only through SOS, but also by setting an example through the many accomplishments she's achieved during her truly extraordinary career. Claiborne routinely traveled by air as a child to destinations around the world due to her father's military career. However, it wasn't until college that she was bitten by the "flying bug."
"It really was happenstance," acknowledged Claiborne. Having enjoyed the military lifestyle growing up, she decided to sign up for ROTC during her junior year at California State University, Sacramento. As part of the program, she attended a training camp that included a ride on a Cessna T-37, "and that was all she wrote," Claiborne remembered.
On June 20, 1981, Claiborne was commissioned as a second lieutenant in the U.S. Air Force. After graduating from Laughlin Air Force Base near Del Rio, Tex., on Sept. 16, 1982, with the class 82-08, she became the first Black woman to fly for the U.S. Air Force. She flew the KC-135 Stratotanker (a variant of the B-707), initially supporting the Strategic Air Command by conducting aerial refuelings for its B-52 Stratofortresses and other aircraft.
"I flew the A model, the 'water wagon'—with water-injection engines—way back in the day," she recalled, adding that she eventually transitioned to the more modern E model.
Claiborne left active service in 1988 and continued to fly for the Air Force Reserves where she rose to the rank of lieutenant colonel. Adding to her list of accomplishments, she became the Air Force's first Black female air commander and first Black female instructor pilot for the KC-135. She retired from the military in 2003 with more than 3,000 military flight hours.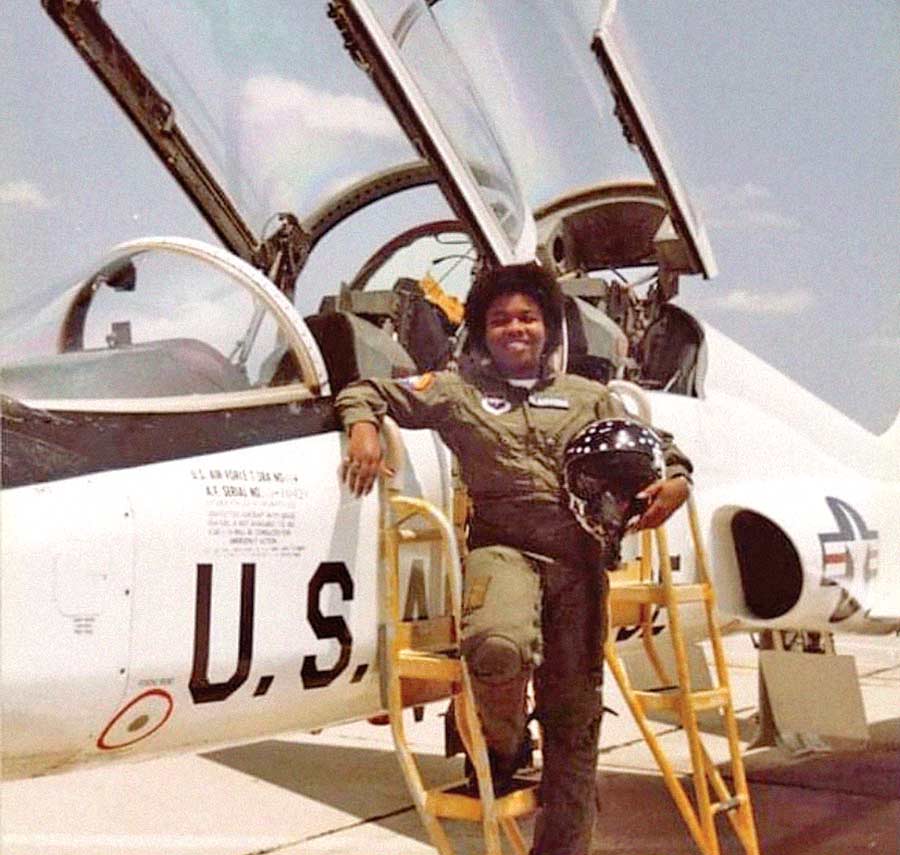 Claiborne stands beside a Northrop T-38 Talon, the second aircraft she flew as part of her Air Force pilot training.
A New Set of Wings
Transitioning to civilian life, Claiborne went to work for United Airlines in 1990 where she initially confronted a new challenge. At five feet, two inches tall, she was two inches short of the minimum height requirement at some carriers—an antiquated rule based on the stature perceived necessary to perform the duties of the job. Claiborne soon demonstrated that she had no difficulty piloting an aircraft. She became a captain in 2017 and has been flying for her carrier for 32 years.
In addition to her responsibilities as a B-787 captain, she's a member of the Board of Directors for the WASP World War II Museum in Sweetwater, Tex., and a hall-of-fame honoree of the Organization of Black Aerospace Professionals.
Discussing the challenges she's confronted during her career, Claiborne divulged, "I'm one of the last people to say, 'Oh, it's the race thing.' I want to call it everything else before I go there." However, it didn't escape her attention that when she became the first Black female Air Force pilot, the news media wasn't allowed on the base. The Air Force initially wouldn't let this accomplishment be covered.
Nonetheless, she remains hopeful about bringing more diversity to the flight deck. Airlines are hiring pilots by the droves, and this is a perfect opportunity for those who may not have thought about a flying career simply because they haven't seen someone like Claiborne performing the job.
"It's all about creating a pathway. I want to lend an ear, draw from my own experiences, and, when appropriate, offer advice to these young women," said the trailblazing captain. "We all need some help from time to time, and that's the beauty of SOS."
This article was originally published in the July 2022 issue of Air Line Pilot.