Preparing for Your Future
How One Pilot Took Advantage of an ALPA Educational Partnership to Further His Career Progression
By F/O Kandy Bernskoetter (FedEx Express), Chair, ALPA Membership Committee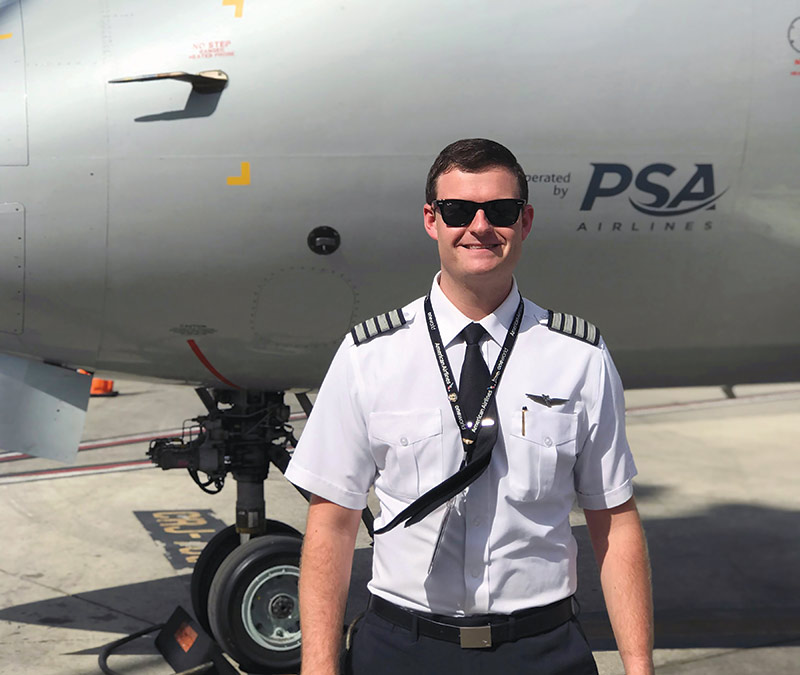 Capt. Cody Downey (PSA) in front of a PSA CRJ900.
Capt. Cody Downey (PSA) cannot recall a time when he didn't want to be an airline pilot.
"One of the first words I ever spoke was 'airplane.' My parents will tell you that in the middle of my Little League baseball games, I would miss fly balls because I was busy staring up at airplanes," he said.
Downey got an early start in heading skyward.
"I started flying when I was 14, soloed on my 16th birthday, completed my instrument training at 18, and became a commercial single- and multiengine aircraft and certified flight instructor at 19," he said. "During that time, I was working full time as a baggage handler for Delta Air Lines, waiting tables, and volunteering as a choir director while completing my associate of science degree."
Six days after Downey earned his associate's degree, he moved to Texas and started flying freight transport airplanes at the age of 20. By the time he was 21, he had already fulfilled his 1,500 mandatory flight hours to become an airline pilot by flying cargo on SA227 Metroliners into Mexico and Canada. Today, Downey flies passenger jets out of PSA's Charlotte, N.C., hub. But like many of his colleagues at the fee-for-departure level, he has an eye on moving to a mainline.
"I knew I couldn't rely on a two-year degree to make me as competitive as I'd like and advance my career with a legacy airline, so I decided to complete my bachelor's degree," explained Downey. "Doing so would also equip me with the credentials needed for future opportunities."
In researching schools, Downey noticed that ALPA had an educational partnership with Thomas Edison State University (TESU) that enabled him to receive discounted rates on tuition and transfer credits—including his flight certifications. With these benefits in hand, he applied to TESU to help him complete his degree.
Focusing on a bachelor of science degree in aviation flight technology at TESU's School of Applied Science and Technology, Downey was able to transfer most of his associate of science degree credits and all of his pilot certifications—including his certified flight instructor time, along with his regional and air carrier certifications—into his degree program for academic credit.
ALPA partnered with TESU to provide a flexible, affordable pathway to finish a bachelor's degree and leverage professional aviation training. It's yet another benefit of ALPA membership.
"Many carriers require, or highly desire, a four-year degree for applicants to remain competitive," said Capt. Andrew "Drew" Everett (Hawaiian), who serves on ALPA's national Membership Committee and as chair of the Hawaiian pilots' Membership Committee. Everett noted that possessing a degree demonstrates personal drive, ambition, and dedication. "Above and beyond the professional advantages, higher education also provides an opportunity to open one's mind, expand horizons, and provide a fallback should you ever seek a career outside the cockpit," he said.
"If a pilot aspires to reach the highest levels within the industry, a degree is paramount," added Everett. "Due to the cyclical nature of supply and demand within the industry, some pilots may have been hired during a time when a degree wasn't a minimum qualification. The TESU opportunity will allow pilots to continue their education and advance their career with a degree in hand."
For instance, Downey discovered he only had to take 24 credits—or eight courses—to complete his bachelor's degree without accumulating any student loan debt. By taking two courses at a time, he completed his courses in under one year while flying full time as an airline pilot.
Downey was able to work on his papers and assignments during flight layovers and noted that instead of final exams, many of his courses had written midterms and final assignments, reducing his stress and allowing him to continue in other activities. He continued working with ALPA on several committees and volunteering as a Line Operations Safety Audit auditor during his time in the program. Off the clock, Downey immerses himself in charity and volunteer work and serves on a number of industry-based initiatives.
He volunteers for Pilots for Kids, whose members spend time with pediatric cancer patients and their families during the holidays; Professional Pilots of Tomorrow, as a pilot mentor; The Planetary Society, helping to further space exploration and scientific discovery; and participates in numerous career-focused events, study sessions, and free ground school tutoring to inspire the next generation of pilots.
To his colleagues who remain unsure about making a similar commitment, Downey advises, "Just do it. It's cost effective and schedule compatible. In an industry that's so versatile and ever changing, you should never become complacent or sell yourself short when it comes to your credentials—they're your currency."
The Partnership
Through this university partnership, ALPA members can earn up to 57 credits for FAA certifications that apply directly to a bachelor of science degree in aviation flight technology. Credits earned for FAA certifications fulfill the degree program's area of study requirements and electives.
Credits can also be transferred from previous college experience. If you studied at a regionally accredited community college, you may apply up to 80 credits. If you studied at a regionally accredited four-year institution, all your degree requirements with transfer credit can be filled—except the two required courses from TESU: SOS 110-Critical Information Literacy and the TESU Capstone Course. Credits can also be earned through military and professional training (JST, ACE transcripts), CLEP and DSST scores, and similar items.
If you're not sure what credits you have that might transfer, ALPA's liaison at TESU can offer guidance. Don Cucuzzella, assistant dean of the School of Applied Science and Technology, specializes in helping ALPA members finish their bachelor's degree. Students enrolled under the partnership with ALPA can also take advantage of discounted tuition for both undergraduate and graduate programs. For undergraduates, that's currently $325 per credit registered. Graduate students will be charged $635 per credit registered, and those working for an MBA will be charged $678 per credit registered.
TESU is also a partner institution of Sophia, a flexible, affordable online learning platform. Several Sophia courses can be applied as credit to degree programs offered by the university, including the BSAST degree with the area of study in aviation flight technology.
Students can take one course for $99 or five courses for $450 ($90 each course). Credits earned via Sophia courses must be submitted to the university via an official ACE transcript for credit to be awarded, and students pay Sophia directly for all courses taken.
Editor's note: We've been informed that Capt. Cody Downey (PSA) is moving on to Delta Air Lines this month. Congratulations!
This article was originally published in the March 2020 issue of Air Line Pilot.