Pilot Assistance Week Showcases ALPA Health, Wellness Programs
By John Perkinson, Senior Staff Writer, and Christopher Freeze, Senior Aviation Technical Writer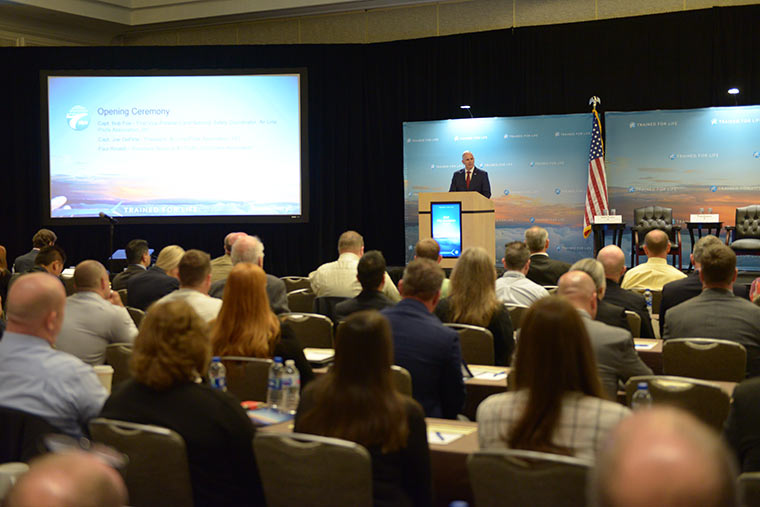 Capt. Joe DePete, ALPA's president, welcomed attendees to the opening ceremony of this year's Pilot Assistance Forum.
ALPA turned the spotlight on Pilot Assistance during the week of May 20–24, highlighting the invaluable work of Aeromedical, Canadian Pilot Assistance, Critical Incident Response Program (CIRP), Human Intervention Motivation Study (HIMS), and Professional Standards—critical components that make up the Air Safety Organization's (ASO) Pilot Assistance structure. Nearly 275 pilots attended the week's events, which included the Pilot Assistance Forum, an awards reception and banquet, and separate interdisciplinary functions.
"You can judge an organization by how it comes to its members in need," said Capt. Joe DePete, ALPA's president, in his opening remarks at the Pilot Assistance Forum, which kicked off Wednesday afternoon, May 22. "That's why our union's Pilot Assistance mission at every level—national, MEC [master executive council], and local—is to help ensure that pilots are mentally and physically prepared to perform their jobs."
DePete continued, "We're here this week to not only learn the latest in each of ALPA's Pilot Assistance disciplines, but to also recognize the work that our Pilot Assistance volunteers do almost entirely behind the scenes. And we're here to acknowledge the tremendous value that these volunteers bring to all our members."
ALPA's president welcomed Paul Rinaldi, president of the National Air Traffic Controllers Association (NATCA), who presented the opening keynote address. "We have to learn every day from each other," said Rinaldi, acknowledging that several of his union's member-support networks are based on what his organization has learned from ALPA's Pilot Assistance.
Rinaldi shared with attendees how NATCA relied on its assistance programs to help its members endure the stressful and often distracting events of the 35-day federal government shutdown that occurred earlier this year. "Why shut the government down?" he asked rhetorically, adding, "If everybody's going to get paid, let everybody come to work." Rinaldi advocated for the Airport and Airway Trust Fund to be used to support FAA activities in the event of a future shutdown, an idea that has taken seed in legislation (H.R. 1108) currently before Congress and is supported by ALPA.
Forum features
The two-day forum featured thought-provoking presentations, panel discussions, and breakout sessions, giving participants a better understanding of the many challenges confronting airline pilots and the resources available to help. To provide an overview of the programs and how they work together, F/O John Taylor (United), ALPA's Pilot Assistance Group chair, moderated a panel discussion on meta-leadership with those who chair the primary Pilot Assistance disciplines: Capt. Tom Letson (Delta), Professional Standards; F/O Ellen Brinks (Delta), Aeromedical; Capt. Murray Munro (Jazz Aviation), Canadian Pilot Assistance; Capt. John McFadden (United), CIRP; and F/O Craig Ohmsieder (Spirit), HIMS.
"Meta-leadership is the practice of leading people and teams, each with different responsibilities and pathways, to the same goal," explained Taylor, "and part of that is seeing that the five disciplines don't operate in individual sandboxes but visualizing them as a single beach.
"Within Pilot Assistance," he continued, "it's commonplace for a pilot to access one aspect but require the services and expertise of one or more of the other disciplines. But at the end of the day, Pilot Assistance is just about talking to our fellow pilots and offering guidance or a helping hand."
In a panel titled "Meet the Doctors," ALPA Aeromedical representatives and the FAA examined current issues and challenges pertaining to the health and wellness of airline pilots. Dr. Quay Snyder, ALPA's aeromedical advisor and president of the Aviation Medicine Advisory Service, talked about how the government views the use of certain medications. The group also discussed handling conditions like depression.
"Federal law says it's illegal," remarked Dr. Michael Berry, the FAA federal air surgeon, when asked about the use of marijuana and Part 121 flying. He elaborated that you don't have to be under the direct influence of the drug. "If you test positive, you're in trouble," he said. David Noble, ALPA's Canadian pilot health consultant, acknowledged during the forum that while marijuana is legal in Canada, Canadian pilots weren't permitted to smoke it or use cannabis-related products. However, Transport Canada recently revised its regulations, and flight crews and flight controllers are now prohibited from consuming cannabis for at least 28 days before being on duty.
Wrapping up Wednesday's forum presentations, Capt. Bob Fox, ALPA's first vice president and national safety coordinator, briefed the group on the new Data Action ReporT (DART) program, established to improve member access to ALPA resources. "DART is designed to support MECs that are experiencing high turnover and are task-saturated," he explained. "It will enable them to provide the full service of ALPA to their members—be it Pilot Assistance or other union business. A streamlined approach to pilot engagement has the added benefits of educating others at the MEC and LEC [local executive council] levels while leveraging the collected data for contract enforcement."
The PSA pilots will be the first to employ the ALPA-wide program, which will soon be available as a standalone smartphone/tablet app and later as a function of the ALPA mobile app. Other MECs are slated to join the DART network within the next few months.
Sleep science
On Thursday, Dr. Alan Kubey, a clinical instructor at Thomas Jefferson University Hospital and a supplemental consultant at the Mayo Clinic, shared insights in the study of sleep, including light and circadian physiology, as well as interventions to promote alertness.
Kubey recommended not looking at electronics or drinking coffee right before going to bed and suggested that taking a brief nap in the afternoon can be helpful. He also noted, "Light serves as the strongest external stimulus to maintaining circadian alignment to Earth's 24-hour day/night cycle, and you're continuously interacting with it. If you can manage your exposure to various light colors—blue for day, red and orange tones for evening, and little to no light at night—you can train your circadian cycle."
Aircraft cabin air quality was the subject of a panel discussion that addressed the appropriate measures to ensure the proper care of crews and passengers regarding a smoke or fume event. Judith Anderson, an industrial hygienist for the Association of Flight Attendants-CWA, observed that oil and hydraulic fluid can leak or spill into the engine or APU compressor creating airborne contaminants. Brinks pointed out that ALPA's Fume Exposure Guidance is available as a data collection point for ALPA pilots who encounter smoke or fumes in the cabin and encouraged members to use it.
Capt. Steve Jangelis (Delta), ALPA's Aviation Safety chair who moderated the discussion, recalled two flights he's been on as a pilot and as a passenger that experienced cabin smoke. Jeff Pavlak, ALPA's legislative and policy representative, highlighted the Cabin Air Safety Act of 2019 currently before Congress, which would require airlines to conduct investigations after fume events. Paul Roux, a senior principal engineer with Pall Aerospace, explained how suppliers and manufacturers are attempting to better address these problems using new technologies.
"The brain you take off with is not the brain you land with," claimed Capt. Paul Westfield (FedEx Express), ALPA's aeromedical subject-matter expert, during a lunchtime keynote address. He noted that expecting pilots to perform at the peak of their abilities at all times throughout a flight isn't realistic, stating that the premise assumes "cognition is a static quality."
Westfield identified the different cognition classifications, acknowledging that "different parts of the brain are active doing different tasks." He highlighted the importance of not flying when fatigued, observing that an individual who is excessively tired doesn't have access to what he called "relevancy filters." In scenarios in which multiple problems are occurring, the affected individual is often unable to effectively determine which issue is the most critical.
Addressing accidents or critical incidents before the accompanying psychological impact can affect job performance, health, and relationships is crucial to flight crew recovery. Capt. Murray Munro (Jazz Aviation), ALPA's Canada Pilot Assistance chair, moderated a panel discussion surveying how pilot volunteers responded to the First Air Flight 6560 accident in 2011.
"The pilots were based in Yellowknife, which is a small, close-knit town," remarked Capt. Will Brander (First Air), his pilot group's Professional Standards chair, "and the CIRP volunteers were invaluable not only to our flight crews, but to the whole community." Capt. Peter Black (First Air), his pilot group's MEC chair, recollected, "From this accident, the company saw just how devastated our pilots were, and it reinforced the importance of having a 'band of brothers and sisters' that can be called upon to help in time of need."
The forum also featured Thursday-afternoon breakout sessions that included an aeromedical chairs meeting, a CIRP presentation titled "The First 72 Hours," and an opportunity to meet the new HIMS chairs. Forum attendees were also able to sit in on a presentation called "Building a Superhuman Pilot," which dealt with employing health and wellness strategies to maximize pilot potential, and a segment called "Understanding Diverse Perspectives" about sexual harassment and social-media complications that can occur in the workplace.
Recognizing excellence
The highlight of Pilot Assistance week was the awards reception and banquet, which was held at the Steven F. Udvar-Hazy Center near Washington Dulles International Airport.
"Each of us has a duty, a calling to help one another," DePete told the audience during the evening's opening ceremonies. "The many ALPA Pilot Assistance volunteers who commit their time and talents—and who often go unnoticed because of their nature of their work—are evidence of this calling."
DePete thanked the many pilot volunteers in attendance and introduced special guests as well as previous Pilot Assistance Award honorees before welcoming the banquet's guest speaker, the Honorable Jennifer Homendy, who became the 44th member of the NTSB last August.
In her presentation, Homendy related how she recently talked with her daughter about famous female pilots and cited a quote by aviation trailblazer Amelia Earhart: "Some of us have great runways already built for us. If you have one, take off. But if you don't have one, realize it is your responsibility to grab a shovel and build one for yourself and for those who will follow after you."
Homendy continued, "And I think that's exactly what ALPA does and what each of you do. You build that runway and you grab the shovel and you make it better for everyone who follows you—not just yourself. And I hope that's what I'm going to do at the NTSB."
DePete presented the prestigious 2018 Pilot Assistance Award to Capt. Ben Kalom (United), his pilot group's Aeromedical Committee chair and a member of ALPA's Aeromedical Group for 28 years.
"Ben has been instrumental in promoting and advancing the physical and emotional wellness of airline pilots for many years," said DePete, pointing to Kalom's work on the effects of aging, disease, and infection as well as FAA and company medication standards. Kalom was also a cofounder of the United pilot group's Support Outreach Assistance Resources program, a precursor to ALPA's Pilot Peer Support program.
Kalom addressed the crowd, thanking ALPA for the recognition and emphasizing the importance of the union's Pilot Assistance programs in being there for members when they need assistance. Thanks to these special resources, he noted, "Going it alone is unnecessary."
Munro received the 2018 Presidential Citation. About the Jazz Q400 pilot, DePete stated, "Capt. Munro has been the lynchpin of the ALPA Air Safety Organization's Canadian Pilot Assistance structure, serving as the chair for 15 years and as an active member of the group for 28 years." DePete highlighted Munro's work with the Jazz Pilot Wellness program and his personal engagement and support following several major aircraft accidents and incidents, including his remarkable efforts with the crew of CanJet Flight 918, who survived a hijacking at the airport serving Montego Bay, Jamaica, on April 19, 2009.
Capt. Ben Kalom (United), center, recipient of this year's Pilot Assistance Award, stands with F/O John Taylor (United), ALPA's Pilot Assistance Group chair, left, and Capt. Joe DePete, ALPA's president.
Capt. Murray Munro (Jazz Aviation), left, receives the Presidential Citation from Capt. Joe DePete, ALPA's president.
In addition to the Pilot Assistance Forum and its subsequent awards reception and banquet, more than 150 ALPA pilots and other airline representatives spent the balance of the week at the Association's Herndon, Va., Conference Center for interdisciplinary training, meetings, and a workshop. These sessions included Pilot Peer Support (PPS) initial training. Members of the Aeromedical Group also spent time developing PPS recurrent training, which they hope to make available to volunteers soon.
On Tuesday during Pilot Assistance week, Professional Standards held a one-day training course, and ALPA's CIRP chairs convened for a meeting. The Canadian Pilot Assistance Group also met and earlier in the day held a Canadian Pilot Assistance CIRP workshop.
This article was originally published in the June 2019 issue of Air Line Pilot.