Envoy Pilot Has Lighter-Than-Air Experience Flying Goodyear Blimp
By John Perkinson, Senior Staff Writer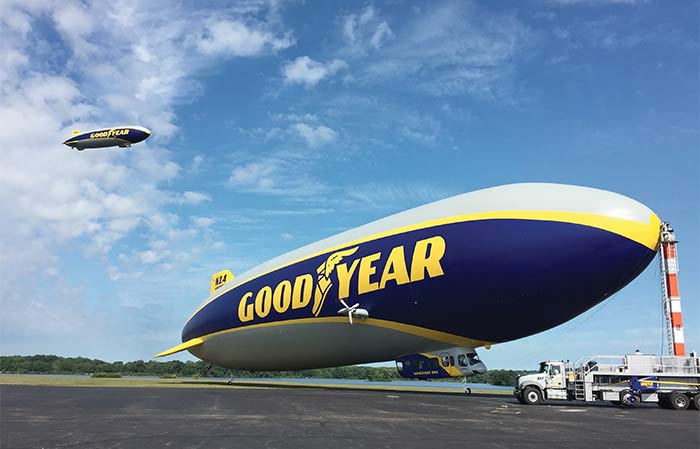 Wingfoot One moors while Wingfoot Two soars at Goodyear's Wingfoot Lake blimp facilities in Suffield, Ohio.
Capt. Andrew Rose's (Envoy Air) love of aviation led him to pursue an airline piloting job, but a unique flying opportunity several years ago prompted him to take a sabbatical from airline flying. "On a layover in Los Angeles one day, I picked up a newspaper from the back of the plane," he recalled. Rose quickly spotted an article profiling a former colleague who had become a Goodyear blimp pilot.
Disembarking the aircraft and entering the terminal, Rose called the friend to "catch up" and mentioned that he'd seen the story in the news. During the conversation, Rose learned of another vacancy at Goodyear and contacted the company to find out how he could apply. "I just happened to be at the right place at the right time," he said. And from June 2015 to January 2017, Rose took a brief hiatus from his airline career to join the Goodyear blimp pilot ranks.
One of America's most enduring corporate icons, the Goodyear blimp is used primarily for advertising and capturing aerial footage of live sporting events for television. Based in Akron, Ohio, the Goodyear Tire and Rubber Company operates three state-of-the-art airships: Wingfoot One (N1A), built in 2014 and based in Pompano Beach, Fla., near Fort Lauderdale; Wingfoot Two (N2A), launched in 2017, which resides in Carson, Calif., in the Los Angeles basin; and Wingfoot Three (N3A), manufactured in 2018 and housed in the company's 101-year-old hangar in Suffield, Ohio, southeast of Akron. "Wingfoot" is a reference to Suffield's nearby Wingfoot Lake.
Capt. Andrew Rose (Envoy Air) at the controls of Wingfoot One.
When a blimp is not a blimp
"Technically, these three airships aren't blimps," Rose observed. Goodyear's previous nonrigid airships, also known as blimps, required internal pressure to maintain their shape. Semirigid airships, like the current Wingfoot series, have a skeletal structure of aluminum and carbon-fiber trusses that together with internal pressure provide support for the aircraft's polyurethane envelope. When inflated, each of the new semirigid airships holds nearly 300,000 cubic feet of helium.
Despite this structural distinction, "Goodyear blimp" is a household term that's been in the mainstream for so many years that even the company doesn't think twice about using it. Goodyear began flying airships in 1919; its first blimp used to promote the company was Pilgrim, which made its inaugural flight on June 3, 1925—95 years ago this month.
Rose, who serves as his pilot group's Master Executive Council secretary-treasurer, observed that when the need arises, Goodyear hires seasoned fixed-wing and helicopter pilots and trains them in house. Each candidate must earn a lighter-than-air (LTA) airship license to join this unique cadre of aviators. Airship operations fall under FAR Part 91, and the required license is an all-in-one certification: those who possess it are covered as captains and flight instructors.
"There are probably fewer than 100 individuals around the world who have their LTA airship license, and the number of active pilots is even less," said Rose, who added that as a member of such a small group, "You get to know everyone."
He noted that fellow airline pilots, familiar with his recent sabbatical, often ask him what it's like to fly a blimp. Many don't realize that these transports are notoriously temperamental. "I tell them the airship is its own animal," he said, jesting that "it acts 50 percent like an airplane, 50 percent like a helicopter, and 50 percent like a boat, so you have to pay attention to it 150 percent of the time." Rose, who flew Wingfoot One during his tenure with Goodyear, commented that airships are aerodynamic like airplanes, their rear control features perform similar to those of helicopters, and they glide buoyantly through air like a boat in water.
One big balloon
The Florida-based Wingfoot One is nearly 250 feet long and 65 feet at its greatest width. It has a top speed of 73 miles per hour and typically cruises at 1,000 to 2,000 feet for visual recognition, although it can climb as high as 10,000 feet if necessary. Its crew complement is two pilots, and the gondola carriers up to 14 passengers.
According to Goodyear, "The airship even features a standard lavatory in the back, helpful to the pilots who often fly eight-hour shifts when covering longer events such as a golf tournament."
When empty, the dirigible weighs approximately 20,000 pounds. However, inflated with helium and after accounting for fuel, payload, and ballast, it typically tips the scales at 100–200 pounds. "You're dealing with three engines with four propellers," said Rose. "The vectored engines swivel to provide direction. You can move backwards and sideways and come to a complete stop."
Blimps generally use smaller, less-active airports because of their size and potential disruption to air traffic. When it's time to take off, the pilot maneuvers an engine swivel lever between 60 and 90 degrees, adding thrust to create the necessary lift. Once the vehicle is off the ground, the pilot presses the swivel lever forward to create airspeed. When hovering, the airship needs to be positioned into the wind, and the angle of the engine swivel and propellers must be adjusted to help hold it in place.
Rose noted that one reason blimps need so much attention is that they react to sunlight. Pilots must carefully monitor their air pressure and temperature. "It's a strange concept, but you can fly all day and land heavier than you took off," he remarked, adding, "You have to unlearn some things about flying that you thought you knew and learn some new ones."
Once this transport has landed in the required wide-open and flat space, a ground crew connects its nose to a mast. The crew then loads the gondola with extra ballast while the airship is moored to keep it detained. However, the blimp swivels on its attached mast with the direction of the wind, requiring its parking space to have a perimeter of at least 500 to 600 feet.
Another challenge is the weather. Rose observed, "You're not going to get over it, and you're not going to run away from it." Because blimps are slow and cumbersome, they have difficulty avoiding rapidly advancing squall lines, which sometimes occur in Florida. In some cases, it may be necessary to run for the hangar very quickly. He added, "Forecasts are always at the forefront of our minds."
The responsibilities of a Goodyear blimp pilot extend beyond basic flying duties. "It's half an office job where you handle ground logistics, serve as an extra hand for the ground crew, and coordinate and assist the maintenance crews as well. You act as a manager for the base and handle many of the business details," Rose acknowledged, noting that you also occasionally fly corporate clients and on "game days" coordinate with onboard and ground camera crews.
Rose recalled working a Daytona 500 NASCAR race. The Thunderbirds air demonstration squadron was performing at the event. Rose noted that the local air traffic control was anxious about clearing the Thunderbirds to fly 500 feet over the top of the blimp. "It was wild to look down and see the race below us and look up and see the Thunderbirds streaking by," he remembered.
Rerouted flight path
Interestingly, Rose initially chose a different career, working as a certified public accountant and a certified internal auditor. "At that point in my life, flying was just a hobby," he said. However, something about the events of 9/11 triggered a change of heart and a desire to pursue an airline job. "I didn't want to get older and wonder what if.…"
Rose built his hours flying general aviation and instructing, eventually transporting local radio station personalities in the Denver, Colo., area who gave aerial reports of ground traffic conditions. Prior to his Goodyear experience, he flew for American Eagle and SkyWest.
As to why he left airship flying, Rose acknowledged, "I felt like it had run its course. As much as I enjoyed it, I realized I really missed flying airplanes." In early 2017, he returned to an airline cockpit and is currently flying E145s for Envoy Air.
This article was originally published in the August 2020 issue of Air Line Pilot.