Setting a Good First Impression of ALPA
By Kevin Cuddihy, Contributing Writer
Capt. Bill Couette, ALPA's vice president–administration/secretary, welcomes pilots to the Membership Seminar.
Fifty pilots from 23 ALPA pilot groups attended the Membership Seminar on September 17–18 at the Association's offices in McLean, Va. The event, hosted by the Membership Committee and its chair, F/O Kandy Bernskoetter (FedEx Express), provided a primer or refresher on the duties and priorities of master executive council (MEC) Membership Committee volunteers with a focus on military and veterans affairs.
"The first impression our pilots get of ALPA is you," stated Capt. Bill Couette, ALPA's vice president–administration/secretary, as he welcomed the volunteers to the seminar. "It's not an easy job to do, but you stand at the front of the room and tell them what ALPA is and why ALPA is important."
"In your position, your goal is to strengthen membership in your MEC and in ALPA," said Bernskoetter, highlighting that the seminar's goal was to provide the volunteers with the information and tools needed to do so. Committee members and ALPA staff provided information on membership classifications, new-hire classes, the Uniformed Services Employment and Reemployment Rights Act (USERRA), keeping members engaged, pilot assistance, and more through presentations, interaction, and networking.
A continuing emphasis was placed on the need to keep membership records updated, as this information affects everything from participating in ALPA insurance programs to accessing the Association's website.
Accomplishing this task—along with making a good first impression—starts at an employee's new-hire orientation. Depending on the specific MEC, Membership Committee volunteers are given anywhere from an hour to a day to talk to new hires, introduce them to ALPA, and explain the benefits of a union. With new hires already feeling as if they're being inundated with information during their initial training period, getting that information to stick with them can be tough. Pilots discussed the various ways they impart information and talked about what they can do better.
One of the goals of ALPA's national Membership Committee, said Bernskoetter, is to provide "recurrent training" for members throughout their ALPA careers. "We do a great job with new-hire briefs, but after that we can and should reach out more," she said. "We want our members to have a better understanding of the direct member services ALPA provides and to share that information with their colleagues."
During the seminar, the volunteers heard presentations on various benefits, including the Pilots for Pilots emergency relief fund, ALPA's supplemental insurance program, the Association's accident/incident hotline, ALPA-PAC, Union Plus, and pilot assistance programs. They also received a crash course in dues: where their dues dollar goes, dues reconciliation, and agency shop. The pilots also learned about the administrative aspects of their position. And, most importantly, they met the subject-matter experts they can contact if they have questions.
The Veteran Perspective
The event also included multiple presentations from ALPA's national Veterans Affairs Committee, a subset of ALPA's Membership Committee, and its chair, Capt. Phil Faucheux (FedEx Express), who talked about the unique challenges pilots face transitioning from military to airline flying. "Meeting a member of the Membership Committee is often the first interaction new employees have with ALPA," he said, "and often for military folks, it's the first time they come into contact with anyone from a union."
"There are certainly additional factors involved when a new member is either a veteran or on reserve, so having the input and expertise of the Veterans Affairs Committee is extremely important," explained Bernskoetter. "We need to introduce them to ALPA and explain the advantages of belonging to a union."
Faucheux discussed the benefits of the two committees meeting together and sharing resources. "It's critical that
ALPA's membership teams have an insight into the challenges that military new hires face as they embark on an airline career," he explained. "By combining assets, this seminar gives members of both the Veterans Affairs and Membership Committees an opportunity to exchange ideas about how best to serve our military veterans and drilling reservists, as well as offer insights into each committee's responsibilities and goals."
Faucheux pointed out that more and more industry new hires have a military background and/or are in the reserves and that special laws apply regarding military members' rights and responsibilities. He noted that ALPA's USERRA Guide is a useful tool for current ALPA members and volunteers. He and Bernskoetter also announced the publication of a military transition guide, soon to be available on www.clearedtodream.org, geared toward pilots looking at or in the midst of such a transition.
Faucheux and others on his committee discussed a relatively new movement, rotor transition programs, and the Rotary to Airline Group, which helps connect transitioning military pilots and maintenance personnel with potential employers. It's "a huge, untapped market," Faucheux said, noting that great strides have been made during the past two years to introduce military pilots to careers in the airline industry.
Faucheux highlighted some of the different challenges new hires in the reserves face, including the dreaded "commuting triangle" of home, the airline base, and the military base. He observed that pilots must constantly weigh "management vs. the military" and acknowledged, "We need give and take on both sides so that this can work out to everyone's benefit."
He also discussed the key projects ALPA's national Veterans Affairs Committee has been working on, including a user's guide, a veterans affairs page on ALPA's website, encouraging more MECs to have Veterans Affairs Committees, expending more resources in Canada, developing a transition guide, and continuing to grow ALPA's national Veterans Affairs Committee into a valuable resource that will benefit all members.
The MEC Veterans Affairs and Military Affairs Committee volunteers finished the seminar with a breakout session focusing on issues specific to their areas of expertise. "Although USERRA is the primary legislation that governs a military member's rights and responsibility," Faucheux explained, "the application and interpretation of those rights is not uniformly applied by airline management. The breakout session allows us to share experiences with varying management interpretations, while formulating common strategies to preserve our members' rights under USERRA. Exchanging ideas about best practices that are standardized across the airline industry will ensure that ALPA military members and veterans continue to have their rights under USERRA protected and defended across all airlines."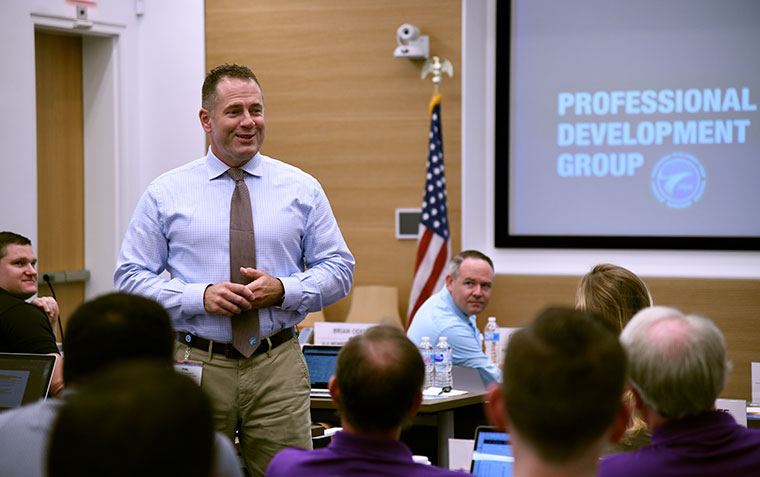 Capt. Phil Faucheux (FedEx Express), ALPA's Veterans Affairs Committee chair, reviews key projects the committee is undertaking, including a user's guide and a veterans affairs page on ALPA's member site.
F/O Kandy Bernskoetter (FedEx Express), ALPA's national Membership Committee chair, discusses the need for "recurrent training" on ALPA topics.
Best Practices
Exchanging ideas about best practices was a common theme throughout the seminar. F/O Daniel Reitzig (Frontier), his pilot group's Membership Committee chair who is fairly new to his position, attended the seminar "to listen to the best ideas and practices all of you have already developed and apply them to benefit my pilots as well."
Capt. Brad Hundley (Air Transport), a member of his pilot group's Membership Committee, said, "My MEC is interested in standing up a Veterans Affairs Committee, and I'm here looking for guidance."
Capt. Vic Tansey (FedEx Express), a member of his pilot group's Membership Committee, shared an example of how to address a new-hire who asks, "What does ALPA do for me?" He recalled a FedEx Express MD-10 accident at Fort Lauderdale-Hollywood International Airport several years ago. Immediately after the incident, the very first people to attend to the crew (after aircraft rescue and firefighting) were ALPA safety volunteers, who ensured that the crewmembers received the assistance they needed. "This exemplifies that ALPA has your back," Tansey observed.
As Couette noted in his opening remarks, "For many members, ALPA is kind of like insurance. You hope you'll never need it, but you're really glad it's there when you do."
This article was originally published in the October 2019 issue of Air Line Pilot.