Health Watch: Cancer No Longer Has to Be a Career Ender
By ALPA Staff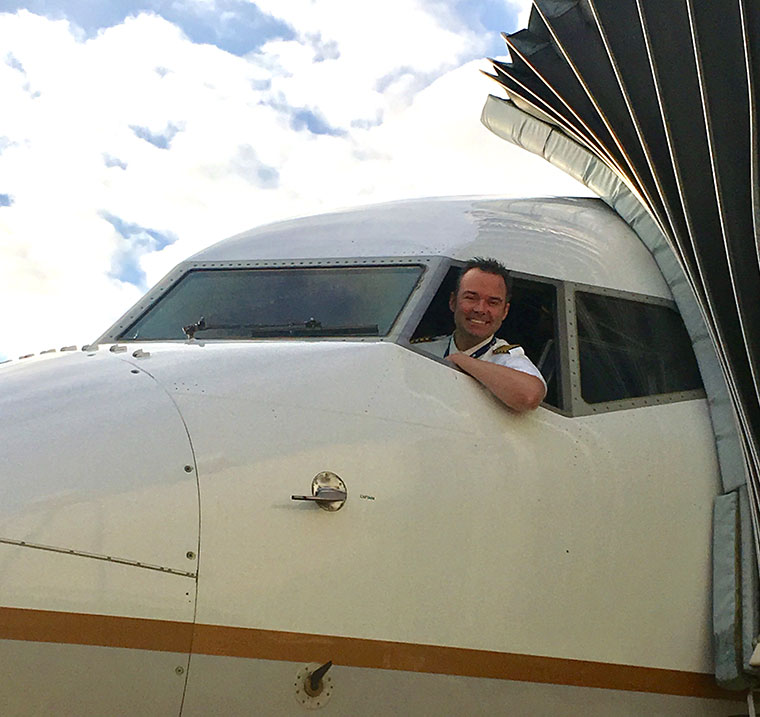 Capt. David Whitson (United) currently flies as a captain on the B-737 after beating leukemia.
Since the early days of commercial aviation, a cancer diagnosis has had dire implications for airline pilots. Regulators in both Canada and the United States view the disease, in most cases, as a disqualifying condition for medical certification. And nearly 2 million people in the two countries will be diagnosed with cancer this year—and the number continues to grow.
As grim as this reality may sound, there's some good news for pilots confronting this disease. Mortality rates due to cancer are on the decline, thanks to early detection and better treatment options. Many cancers are completely curable; and with proper care, more and more pilots whose cancers are in remission are finding their way back to the airline cockpit.
The World Health Organization points out that reducing the risk of cancer can best be achieved through a multifaceted approach, including maintaining a healthy lifestyle of eating right, staying active, getting the proper amount of sleep, and achieving a good body mass index and a healthy weight.
It's also important to educate yourself so that you can be proactive.
The enemy
According to the Aviation Medicine Advisory Service, ALPA's Aeromedical Office, cancer is "an uncontrolled proliferation of certain abnormal cell types in the body that invade surrounding normal tissue." The disease is caused by a mutation in certain genes that results in a change in the way cells normally function. There are more than 200 types of cancer, and the cell kind and location help determine the cancer type.
The biggest challenge with cancer is that it can grow rapidly, robbing normal cells of nutrients and metastasizing to other parts of the body. This is particularly problematic when the disease appears in the blood stream, bone marrow, and lymph tissues, which greatly increases its ability to travel to other parts of the body. Cancer in certain parts of the brain can also cause irreparable damage.
The National Cancer Institute reported, "Cancer risk factors include exposure to chemicals or other substances, as well as certain behaviors." Some of the strongest associations between risk levels and cancer are a poor diet; excessive alcohol use; smoking; exposure to radiation, including extended, unprotected exposure to the sun; and a family history of the disease.
The gatekeepers
In general, with the successful completion of treatment, pilots with a history of cancer can be issued a special issuance medical certificate. ALPA's Aeromedical Office advises, "Pilots diagnosed with cancer are obligated under FAR Part 61.53 to ground themselves until their case is reviewed by the FAA or their aviation medical examiner." There are exceptions, including certain superficial nonmelanoma skin cancers that have been completely removed. In these cases, pilots may return to flying and report the condition at the time of their next FAA medical examination.
The FAA also empowers aviation medical examiners to clear pilots with certain urological and prostate cancers. Other types necessitate appropriate documentation of the successful removal of the cancerous matter, completion of any required therapies, and the clear indication that no metastatic tissue is present. Metastasized cancer necessitating chemotherapy will also require a one-year observation period after the cancer has been removed, and chemotherapy must be completed before certification is considered.
In Canada, the approach to evaluating pilot cancer patients is on a case-by-case basis. Transport Canada and Civil Aviation Medicine provide the nation's civil aviation medical examiners some discretion in determining when pilots are fit to fly once their cancer is determined to be in remission.
The vanquisher
In September 2016, Capt. David Whitson (United) was diagnosed with acute myeloid leukemia, a condition in which white blood cells that manage the body's immune system form abnormally. The then B-787 first officer was treated at the Texas Oncology–Baylor Charles A. Sammons Cancer Center in Dallas, Tex., where he spent an initial 30 days undergoing tests and chemotherapy.
"I had a mutation called FLT3 that put me at high risk for not reaching remission and also in a high-incidence category for relapse even if remission was achieved," he recalled, adding, "My best shot was to have a bone marrow transplant, also called a stem cell transplant. Without it, I had a 5 percent chance of survival."
Whitson was released from the hospital for a brief break. During this period, doctors conducted a bone marrow biopsy and discovered that the pilot's cancer was in remission, a condition necessary to achieve before a bone marrow transplant could be conducted. Whitson and his doctors quickly found a donor.
"It was hard for me to wrap my head around the fact that a complete stranger would be willing to give me bone marrow stem cells and potentially save my life," he acknowledged. Whitson endured additional rounds of chemotherapy and a full-body radiation scan to ensure his body was ready and on Dec. 21, 2016, received the transplant. Within several days, his new immune system was up and running.
Thirteen days after the transplant, Whitson was released from the hospital. He noted that prior to the transfusion of stem cells his blood type was B+, but today it's O-. In addition, the DNA in his blood is different from that in his body.
Whitson, center, holds a sign marking the date of his bone marrow transplant and his fresh start on life.
Whitson encourages everyone to donate blood. "I needed more than a dozen blood and platelet transfusions during my treatments," he said. The United pilot also urges those interested to join the national bone marrow registry at bethematch.org or www.dkms.org. "There's a lack of diversity within the registry, and minorities are greatly needed," he shared.
"Every day is a gift," Whitson remarked, who credits ALPA's Aeromedical Office for advising him and helping him jump through the necessary hoops to acquire his special issuance medical certificate and return to the cockpit. He also gave a nod to his medical benefits, noting, "I was on long-term disability for more than two years, and my medical insurance was excellent. Thank you, ALPA!"
Learn More
For more information about cancer prevention, detection, treatment, and recovery, visit the American Cancer Society, the National Cancer Institute of the National Institutes of Health, the Canadian Cancer Society, and the Canadian Institutes of Health Research.
U.S. ALPA members with questions about cancer can contact the Aviation Medicine Advisory Service, ALPA's Aeromedical Office, at 303-341-4435, Monday through Friday, 8:30 a.m. to 4:00 p.m. mountain time.
Canadian ALPA members who have questions are encouraged to call David Noble, the Association's pilot health consultant, in the Association's Toronto, Ont., office toll-free at 1-800-561-9576.
This article was originally published in the March 2019 issue of Air Line Pilot.