Government Inaction Continues to Cost Canadian Pilot Jobs
By Corey Kuhn, Contributing Writer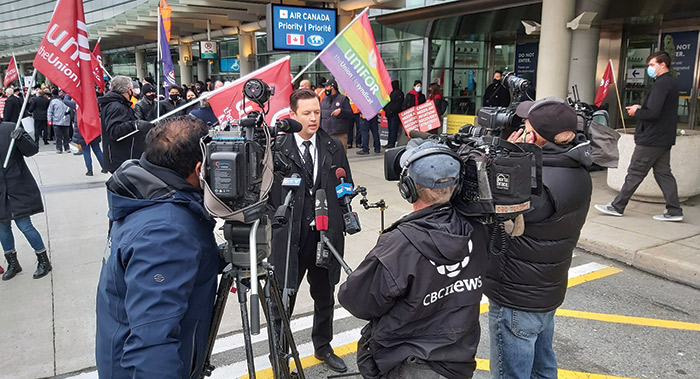 F/O Tim Perry, ALPA Canada president, is interviewed by the news media during a rally on October 30 at Toronto Pearson International Airport to urge the federal government to create a national aviation recovery strategy.
COVID-19 has negatively affected nearly every country around the world. As governments continue to struggle to keep their economies afloat during these unprecedented times, ALPA Canada has become increasingly frustrated with Parliament's unwillingness to provide meaningful assistance to the aviation industry and its workers.
From early in the pandemic, ALPA Canada has been lobbying the government for targeted support to prevent a collapse of Canada's airline industry. An integral and irreplaceable part of the Canadian economy, air transportation facilitates trade, plays a key role in tourism, and ensures the movement of people and cargo throughout the country and the world. Canadian airlines employ more than 50,000 people directly, another 141,000 indirectly with an economic footprint of $35 billion, and help support millions of other jobs throughout the economy.
In April, Parliament passed the Canada Emergency Wage Subsidy (CEWS), which was aimed at supporting Canadian employees as the economy safely reopened. For airlines that chose to enroll in the program, CEWS covered a portion of employees' wages and either allowed airlines to rehire and avoid layoffs or functioned as a form of government employment insurance administered through the airline's payroll department. However, while CEWS has been moderately successful in helping to mitigate layoffs and has kept pilots on the payroll to date, the government has yet to provide any direct financial assistance to airlines.
"Support from the federal government is needed today so that the airline industry will be there for Canada tomorrow," said F/O Tim Perry, ALPA Canada president. "The failure of Canada's airline industry will have wide-ranging effects on the workforce and the economy, including increased downward pressure on Canada's GDP. Each week, we're seeing more and more pilot cuts, which is why federal assistance is needed even more urgently."
ALPA Canada and its pilots have been engaging government officials from Labour Canada, Transport Canada, the Public Health Agency of Canada, Finance Canada, the Office of the Prime Minister, and Members of Parliament almost daily, urging leaders to safeguard the public health, limit the economic toll on airlines and support their recovery, and protect airline workers who help power this important industry.
While this consistent pressure and immense dedication was instrumental in getting CEWS extended through next summer, ALPA has continued to advocate for further support to bridge vulnerable businesses such as airlines to the other side of the pandemic and has called on federal leaders to remove jurisdictional barriers and work with provinces on a coordinated and science-based return to domestic, and eventually international, air travel.
On October 23, ALPA Canada welcomed news that the Canadian and Albertan governments will work together on a pilot project to reduce quarantine times for eligible travelers. According to the Albertan government, beginning November 2 COVID-19 testing would be initially offered at Calgary International Airport. Travelers who participate will receive a COVID-19 test upon entry into Canada before proceeding into the required quarantine. Once a test comes back negative, they will then be allowed to leave their place of quarantine so long as they commit to getting a second test on day six or seven after arrival at a community pharmacy participating in the pilot program.
While Calgary International Airport is the only airport in Canada so far to have a government-approved testing pilot program for arriving international passengers, ALPA Canada pilot leaders are hopeful a successful pilot will lead to an expansion to other airports across Canada.
On November 8, almost two weeks after hundreds of airline workers held a demonstration on Parliament Hill, Canada's Transport minister announced that the government would soon begin discussion on a support package for the sector.
"We're pleased that the government has finally heard our collective voice and acknowledged those efforts," said Perry. "However, since Transport Canada's announcement lacks concrete details or plans, we'll continue to insist that any support must protect our members and other airline workers who've already done their part to assist struggling airlines weather the turmoil caused by the global COVID-19 pandemic."
As Canada's airline industry continues to face one of its greatest challenges in history, ALPA will keep working with other labour groups across Canada to bring a unified approach in addressing the pandemic while looking to the federal government to protect public health, limit the economic effects on airlines and assist with their recovery, and safeguard the well-being of frontline aviation workers.
Our Jobs, Our Future—Act Now!
Lend your voice in calling on the Prime Minister and his government to support the aviation sector and the thousands of Canadians it employs. Tell our elected officials that the aviation industry needs help now and is worth supporting.
This article was originally published in the November 2020 issue of Air Line Pilot.