Kalitta Air's Role in 9/11 Recovery
By Kevin Cuddihy, Contributing Writer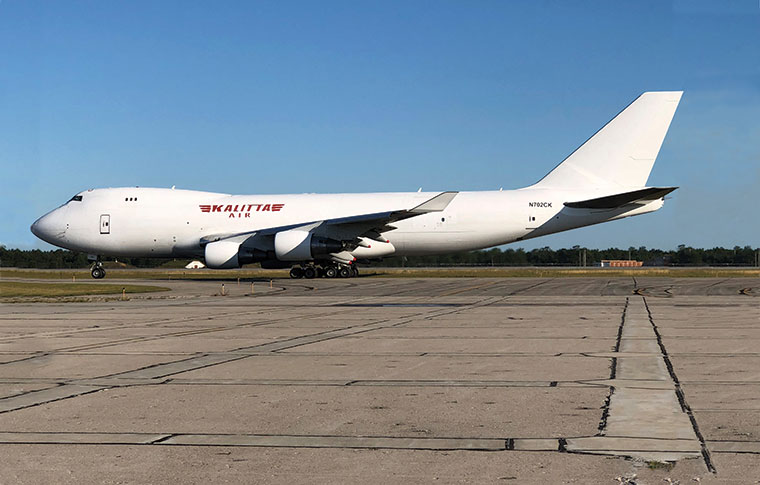 A Kalitta Air B-747 much like this one flew a relief mission in the early morning hours of Sept. 12, 2001, the only nonmilitary airplane in the air.
The night after the terrorist attacks of Sept. 11, 2001, the skies were clear. Shortly after the Twin Towers fell, the FAA issued a national ground stop—instructing all airplanes in flight to land as soon as possible and ceasing any further takeoffs. Time magazine called it "The Day the FAA Stopped the World." Aside from military patrols, only birds were in the sky.
And one cargo airplane.
At 1:21 a.m. PDT time on September 12, a Kalitta Air B-747 took off from Los Angeles International Airport (LAX), laden with disaster relief from the Red Cross—49,590 pounds of blood, platelets, and cadaver skin. Its destination: Philadelphia, Pa., and the supplies would go on to New York City or Washington, D.C., from there.
The three pilots on that flight, Capt. Dan Socia (now retired), F/O Neal Watson (now retired), and F/E Ralph Fritsch (now a first officer), were deadheading on a flight to Los Angeles, Calif., from Ohio, when the attacks began. "I was in the bunks sleeping," recalled Watson, "and the captain woke me up. He said, 'I don't know what happened, but I think we're at war.'"
The airplane was close enough to Los Angeles to reach its destination after the national ground stop, and the pilots went to the crew hotel. "The lobby was completely packed, wall to wall," said Fritsch, "and no one knew what was going on."
The three watched some news coverage together before Socia made a suggestion and a prediction: "Let's get some rest. I bet we go flying tonight."
Patriotism and volunteerism
Meanwhile, phones were ringing in Ypsilanti, Mich., at the headquarters of Kalitta Air. FedEx Custom Critical had been asked by the Red Cross to find a company willing and able to undertake a relief flight from Los Angeles to the East Coast, and Kalitta Air was its first and only call. "The only question for us was if we had planes and people in Los Angeles, which we did," noted Conrad Kalitta, CEO of the airline. In fact, all six Kalitta pilots who were in Los Angeles volunteered for the late-night flight.
When Socia got the call asking him to volunteer for a flight, his first response was to tell dispatch to turn on the television because no one was flying. He then spoke with the chief pilot, who explained the situation and circumstances of the flight, and Socia immediately said yes. "It was a privilege," he acknowledged. "I was honored to help. I would have volunteered 100 times for that flight."
Patriotism and volunteerism were well ingrained in Kalitta Air at the time—and continue to be. While the airline was technically less than a year old, a previous iteration of the airline (which Conrad Kalitta had sold and then seen go bankrupt) was heavily involved in supporting Operation Desert Storm and Operation Desert Shield in the 1990s. As Fritsch observed, "Where there's death, destruction, and mayhem, usually there's a Kalitta aircraft nearby doing something to help."
Many of the pilots from the airline's previous iteration were once again working for Kalitta Air at the new company, and the airline had built a relationship with the Port Authority of New York, so the tragedy had struck close to home.
Taking off
The country was in a general state of confusion when the pilots left their hotel headed to the airport for the flight. "We were in uniform, of course," explained Socia, "and were approached by everyone in the lobby asking if the airport was open again, how long it might be, and where we were going. We didn't mention to anyone what we were doing, though—we wanted to keep everything hush-hush."
Fritsch recalled the odd quiet during preflight. "I was doing my walkaround," he said, "and there was nothing. Typically you see 10 or 12 planes in flight lining up for landing, but the only thing moving were police cars racing down the taxiway. And everywhere you looked were parked airplanes."
The flight was initially destined for John F. Kennedy International Airport and then Newark Liberty International Airport before Philadelphia was finally settled upon. The pilots had a showtime of 10:00 p.m. PDT with takeoff set for 11:00 p.m. PDT, but the buildup for cargo took much longer than expected and pushed back departure by more than two hours. Socia pointed out, "When leaving LAX, the tower gave us clearance to the end of the runway, clearance for takeoff, and clearance direct to Philadelphia. That never happens, especially for a cross-country flight!
"Nobody was flying that night," Socia explained, "so the radio was absolute quiet. I flew for 30 years and there was always chatter on the radio, so the silence was strange. The only conversation during the flight took place around Denver regarding the traffic below us. We were told, 'That's a military C-5 plane, don't worry about it.'"
Approximately 200 miles from Philadelphia, the tower called and asked, "What runway do you want to come in on?" Being asked runway preference for landing was another new experience for the pilots. They landed at 8:37 a.m. EDT and taxied to the cargo facility, arriving there at 8:45 a.m.
Return flight
"We landed in Philadelphia, and they offloaded the cargo," explained Watson. "The Red Cross representative got off, we got gas, and they cleared us back nonstop to Los Angeles almost right away." The pilots spent just two hours and 49 minutes on the ground before pushing back at 11:34 a.m. EDT and taking off nine minutes later.
"Coming out of Philadelphia," said Fritsch, "they cleared us up to about 20,000 or 22,000 feet. Then TCAS started alerting us about traffic, and we had to stop our climb due to an aircraft above us." The aircraft was an "escort," a fighter jet, and the cargo plane had ascended faster than expected due to its empty load. "That was a little unnerving," Watson acknowledged.
Fritsch noted that another unnerving aspect of the flight home was what seemed to be a recorded message sent every 10–15 minutes by ATC: "If you're in the air and not squawking the proper code, your aircraft will be met. If you don't respond, you may be fired upon."
The flight crew was able to get some work in on the return flight, though: Watson took command of the airplane and received IOE training from Socia in the empty skies before touching down at 1:37 p.m. PDT—just 12 hours and 16 minutes after wheels started turning early that morning.
The three pilots downplayed their efforts that night, stating that anyone at Kalitta would have volunteered for the trip. "We just had a job to do—and we did it," explained Watson. But he admitted, "Flying on September 12 was an experience I'll never forget."
The aftermath
Kalitta Air's contributions to the War on Terror began almost immediately after the terrorist attacks and continued long after that first relief flight on September 12. "People at the office were doing 13- to 16-hour days," observed Conrad Kalitta, "and we went from three to four flights a day to almost constant flying." A contract with the U.S. Postal Service (USPS) resulted in Kalitta Air flying mail to the military in the Middle East, and the airline's flights for the Department of Defense (DOD) picked up enormously as well. "Kalitta Air always has been and always will be a strong supporter of the DOD and the Civil Reserve Air Fleet," said Conrad Kalitta.
According to the airline's website, "In 2003 Kalitta was awarded a Certificate of Appreciation for support of the Enduring Freedom and Iraqi Freedom Operations and Kalitta continues to support the USPS with scheduled flights delivering mail and packages to the soldiers in Iraq and Afghanistan."
Its Michigan headquarters is also home to a certificate of appreciation from the Port Authority Police Department and a memorial plaque containing a cross made out of metal from the World Trade Center. The inscription reads: "This cross made from World Trade Center steel is dedicated to Conrad Kalitta of 'Kalitta Airlines' for his support to the PBA [Police Benevolent Association] and their fallen family members."
This article was originally published in the October 2019 issue of Air Line Pilot.