Powered by Pilots: Five Questions for ALPA's Aviation Safety Chair
By Christopher Freeze, Senior Aviation Technical Writer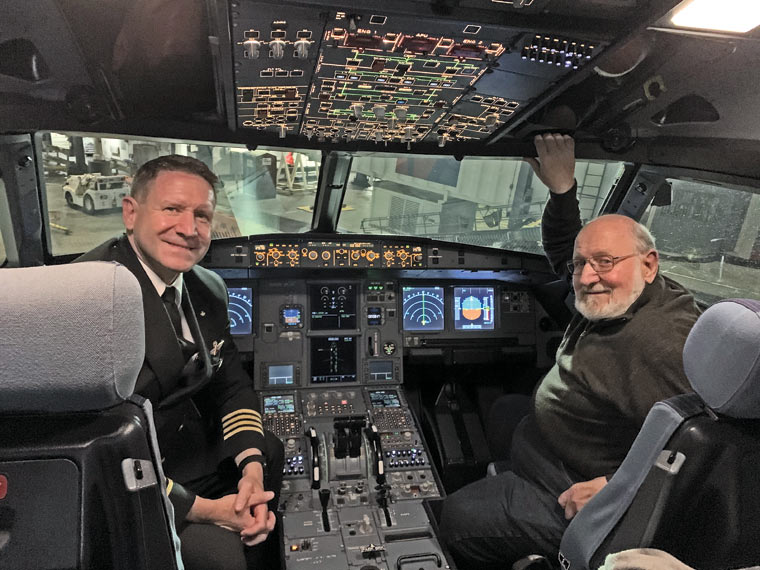 Capt. Steve Jangelis (Delta), ALPA's Air Safety Organization Aviation Safety chair, left, on a trip with his dad, Jack, just before the start of 2020.
Editor's note: The relationship between members and staff is vital to the Association's success. Beginning with the January–February issue, this column will showcase the efforts of a cross-section of ALPA pilots who volunteer their time and talents to advocate for the union's priorities and the cadre of knowledgeable and passionate staff specialists who support them.
In 2017, Capt. Steve Jangelis (Delta) became the Aviation Safety chair of ALPA's Air Safety Organization (ASO), which is composed of 400-plus volunteers who give their time and expertise on issues ranging from FAA reauthorization to the B-737 MAX to ensure that U.S. and Canadian airspace remains the gold standard for flight safety and security.
Air Line Pilot sat down with Jangelis to learn more about the pilot who leads the ASO's safety efforts and how ALPA's staff help to achieve the Association's goals.
Q1. How did you get into aviation/flying?
Capt. Steve Jangelis: When I was growing up, I would always look up in the sky and pay attention to the airplanes flying by. I would beg my parents whenever we'd go to Chicago O'Hare International Airport to watch the planes at this spot on Irving Park Road near Runway 4R/22L. It's an excellent place to get really close to planes landing and departing, and we'd sit on the car hood and take it all in. Whenever we were on a plane, no trip was complete without me bugging my parents to visit the flight deck and talk with the pilots. So basically, it was something I wanted to do from a young age.
I also read anything I could get my hands on—operating guides, flight manuals, accident reports—to learn the business. When I was 17 and headed to Lewis University, I took my first flight in a Cessna 152. I realized then that this was what I wanted to do for a career.
I worked throughout college at an airport—which would later be instrumental to me in performing my ASO duties—as a ground technician on everything from runways to lighting to painting airport surfaces to plowing snow in the long Chicago winters. From there, I earned an internship with the old Midway Airlines and learned the airline business while still in school. After I graduated, I was hired by a small Part 121 carrier in the Virgin Islands and then went on to cargo operations in the Middle East and Caribbean where I eventually made my way to the left seat of a B-727. In 2000, I was hired by Delta Air Lines, where I now fly the Airbus A320.
Q2. How did you first become involved with ALPA work?
Jangelis: In early 2001, I was involved in a potentially catastrophic runway incursion between a B-767 and a B-737 on a rainy night. We ended up barely clearing the -737, landing over the top of it on the same runway.
The ensuing investigation determined that controller error—not pilot error—led to the near collision involving 360-plus passengers. But the investigation also showed that there were a lot of things that got missed. Several safety enhancements were developed as a result of that incident, like the air traffic control advisory "traffic in position prior to your arrival," and the rollout of ASDE-X was expedited to many airports.
So even though it was a quiet incident, numerous safety issues came to light. And I realized that my experiences and knowledge could help eliminate runway accidents and incidents. I volunteered and talked with my Master Executive Council (MEC) Central Air Safety Committee and essentially became the "airports guy" for my pilot group and got involved with accident investigations as well.
From there, I took all the ALPA training courses, which readied me for anything I would see as a safety volunteer. I later became ALPA's Airport and Ground Environment Group chair and then the Aviation Safety vice chair and now chair.
Q3. What are your roles and responsibilities as the Aviation Safety chair?
Jangelis: I oversee and handle all of the safety issues facing ALPA's 63,000 pilots in the United States and Canada. It entails policy development and rulemaking, as well as interfacing with upper-level government and regulatory officials and maintaining strong ties to the manufacturers that build the planes we fly. As pilots, we're in control of and responsible for the safe operation of our aircraft, and ALPA's mission is to ensure that we're supported by our companies and regulators.
My greatest responsibility is directing the ASO's dedicated volunteers and ensuring that we have subject-matter experts on every topic we touch, from airport and aircraft design to air traffic control and pilot training. This also means making sure we're well trained, well funded, and ready to operate on behalf of each member when the situation arises or as threats appear on the horizon to our profession. Along with Capt. Frank Pizzonia (United), ALPA's ASO Aviation Safety vice chair, we get the pleasure of working with our technical group chairs who are the best in the safety business, and they're the direct team leaders of our pilot safety volunteer subject-matter experts.
Q4. How do ALPA national and staff help you achieve your goals?
Jangelis: To draw a football analogy, while the pilots may be the quarterbacks of the Association, we can't achieve the wins without our whole team.
ALPA has assembled great staff members who are all as passionate about their work as we pilots are about flying. Every day, they do a great job—whether they're assisting by fielding day-to-day phone calls; helping us draft policies, letters, or press releases; or advocating on our behalf with government and industry. They're our "silent" professionals who make the team great.
In every department, they bring decades of historical and technical knowledge and experience and have connections to stakeholders we need to reach to solve or advocate for line-pilot issues.
A great example of staff support would be ALPA's accident/serious incident hotline and the Pilot Peer Support line, which staff members monitor 24 hours a day, 365 days a year. They make it possible for us to deploy all of our resources quickly and efficiently no matter what time of day or night. In the case of an accident, it's reaching out to the investigative body, the regulators, and the airport where the accident has taken place. Staff members provide pilot investigators the tools required for an investigation, including engineering and analysis expertise, and ensure that the pilots involved have legal representation and medical assistance. Without our professional staff, we couldn't accomplish as much as we do. Their tireless dedication and commitment to ALPA members are unmatched.
Q5. What advice would you give new pilots who want to get involved with ALPA?
Jangelis: It's really simple—just raise your hand and volunteer to do work that you find interesting and want to do. Reach out to your MEC Central Air Safety chair to get the ball moving. Taking that first step can lead to a rewarding position helping fellow line pilots.
ALPA is truly an organization powered by the pilots. Whether you've been an ALPA member for three months, three years, or 30 years, we have positions available for all experience levels. There's training available to advance your knowledge and mentors ready to help you grow and take your service as far as you want to go.
This article was originally published in the January 2020 issue of Air Line Pilot.