Five Questions for ALPA's Security Council Chair
Powered by Pilots
By John Perkinson, Senior Staff Writer
Capt. Eric Herman (Sun Country) serves as ALPA's Air Safety Organization Aviation Security Council chair.
The mission of ALPA's Security Council is to provide input to the Air Safety Organization's (ASO) Steering/Oversight Committee, through the Aviation Security chair, on issues at each ALPA pilot group and ensure timely communications of current activities to each master executive council (MEC). The Security Council chair, who serves a two-year term, represents the Security Council members to the ASO through the Aviation Security chair and also provides support to the Security Council with guidance on how best to identify and resolve security issues in accordance with ALPA policies and processes.
Air Line Pilot recently sat down with Capt. Eric Herman (Sun Country), the ASO's Security Council chair and recipient of ALPA's 2018 Aviation Security Award, to learn more about the individual who manages these responsibilities for the Association.
Air Line Pilot:
1. How did you get into aviation/flying?
Capt. Eric Herman: I was given an intro flight one year as a Christmas present. For anyone unfamiliar with it, an intro or discovery flight is the opportunity to sit beside a certified flight instructor on the flight deck and learn what it's like to take control of a small aircraft. I was already an adult, but it was still a great experience and opened my eyes to a host of possibilities.
I had been a broadcast journalism major in college and had worked at 13 different radio stations in nine years up to that point. Needless to say, I was looking for a more stable way to make a living. In the late 1980s, the news media reported that there was a huge demand for airline pilots, so I decided to take a chance and make a change.
I paid for and earned my pilot certificates and ratings and flew as a flight instructor for 1,000 hours before getting hired at Great Lakes Aviation. I then flew for Express One International and later moved to Sun Country, where I've been ever since.
2. How did you first become involved with ALPA work?
Herman: I was hired by Sun Country in August 1998. Some of the Sun Country pilots knew about my previous broadcast experience, so I became the MEC Communications Committee chair. That's how I initially got started with ALPA work.
I later served as a negotiator and secretary-treasurer. After 9/11, I took three years off from flying to work for the Hennepin County Sheriff's Office in Minneapolis, Minn. When I returned in 2004, the MEC Security Committee chair position was open. I filled that post and more recently have served as ALPA's Security Council chair for about seven years.
I come from a family with lots of law enforcement experience—a brother and uncles. Plus, I've always been the kind of person who gets involved. I became a CPR (cardiopulmonary resuscitation) instructor for the Red Cross at 16 and was later assigned to its disaster team. I subsequently became an EMT (emergency medical technician) and briefly worked with an ambulance crew. While working for the sheriff's office, I served as a diver. At one point, I was called on to help when a nearby bridge collapsed. I also coordinated the sheriff's office drone team simulations.
You could say I've had a varied background, and my career could easily have moved in three or four different directions. However, I've always loved flying but didn't decide to pursue it until later in life.
3. What are your roles and responsibilities as the Security Council chair?
Herman: I see myself as a liaison between the council and the individual MEC Security Committees for the pilot groups we represent in both the United States and Canada. Within the ASO, I support Capt. Wolfgang Koch (Delta) and Capt. Darrin Dorn (Alaska), the current Aviation Security chair and vice chair. For any of the resolutions the council passes or projects it takes on, it's my job to navigate them through ALPA's policies and organizational networks.
In addition, the council looks for trends within individual pilot groups to see if they might be indicative of a larger issue or concern. The process typically includes data collection and, when necessary, conveying to the ASO leaders that further action is necessary.
Current Security Council concerns involve issues associated with the Known Crewmember® (KCM) program, including addressing the occasional KCM operational matters that surface.
Another ongoing serious concern for the council has been the dramatic increase in the number of unruly passenger incidents. We saw a significant increase in these events after the COVID pandemic was declared.
As an example, a recent update from the FAA indicates that, since the beginning of the year through August 2, there have been 1,802 reports of unruly passengers, 623 investigations initiated, and 411 enforcement action cases initiated. While these numbers fluctuate, this issue isn't going away.
Security Council members have also been monitoring the activities of the Air Carrier Training Aviation Rulemaking Committee. In particular, one of our Aviation Security representatives was involved in a working group on de-escalation that developed a recommendation on establishing training standards for air carriers in dealing with these kinds of confrontations.
KCM and unruly passengers have been hot-button issues for the council during the pandemic, but, of course, there are other ongoing concerns including the safety and security of crews in layover locations where there are public demonstrations and/or rioting. We've all heard about the incidents in recent years in North America, but these events can take place around the world. As much as possible, we need to learn from these experiences and provide support and guidance to help future crews mitigate risks.
4. How do ALPA national and staff help you achieve your goals?
Herman: Our leadership is extremely supportive of the work of the ASO. And the staff who support us are in many respects the backbone that keeps us upright and moving forward. They're the subject-matter experts we rely on to help us address these important security issues that come up on a routine basis.
They bring resources, contacts, and expertise regarding both the aviation industry and government to help us get things accomplished. They're invaluable in helping us pursue the mission of the Security Council.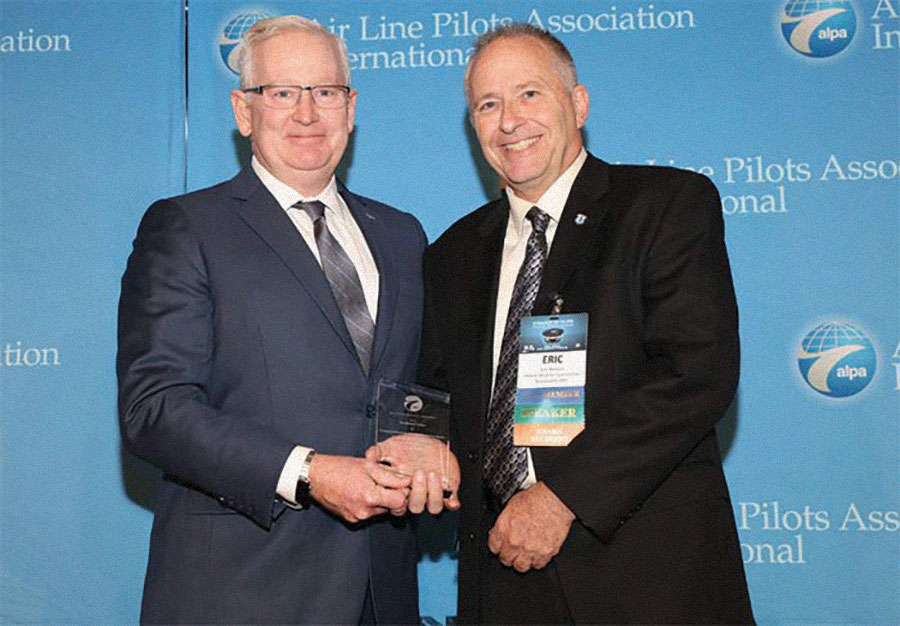 Capt. Eric Herman (Sun Country) serves as ALPA's Air Safety Organization Aviation Security Council chair.
5. What advice would you give to new pilots who want to get involved with ALPA?
Herman: I always joke that ALPA often finds you before you find it. There isn't anything related to airline safety and security that the Association hasn't been involved with, and ALPA is always looking for pilot volunteers to branch out into specific areas of expertise and help contribute to the larger effort.
My advice is to find your passion—whether it's safety, security, pilot assistance, jumpseating, or even something as specific as airport runway pavement friction—and just volunteer.
I honestly believe ALPA has given me more than I've given it. Through the various posts I've held, I've made all kinds of friends and had the opportunity to network with pilots from carriers at home and around the world. I'm proud of the work we do and highly recommend finding that core issue that piques your interest and getting involved. I know you'll be glad you did.
This article was originally published in the September 2022 issue of Air Line Pilot.