Fatigue Management Seminar: Pilots and Safety Experts Tackle FAR Part 117
By Christopher Freeze, Senior Aviation Technical Writer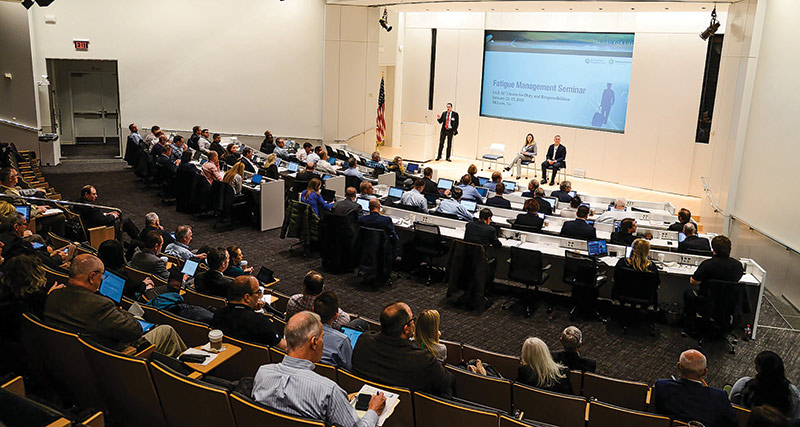 More than 140 pilots and safety representatives gather for ALPA's two-day Fatigue Management Seminar.
More than 140 pilots and safety representatives met at ALPA's conference center in McLean, Va., on January 23–24 for ALPA's Fatigue Management Seminar. Cohosted by Airlines for America, this annual event gathers stakeholders from across the aviation industry to discuss the implementation of flight- and duty-time rules under FAR Part 117. Representatives from the FAA and the NTSB were in attendance and participated in the two-day gathering.
Opening the seminar, Capt. Brian Noyes (United), ALPA's Flight Time/Duty Time (FT/DT) Committee chair, reminded attendees about the regulation's origins: "Part 117 is a direct result of the Colgan crash in 2009, where fatigue was cited in both the captain and the first officer as a cause of the accident. An Aviation Rulemaking Committee [ARC] was chartered, and the task was to develop recommendations for new rules on flight-time limitations, period limits, and rest requirements for Part 121 and 135 operators," he said. "The objective was to apply a single approach to address fatigue by using science, and the result was Part 117. However, these rules apply only to passenger-carrying operations under Part 121 and have been in effect since January 2014. ALPA continues to spearhead efforts to end the cargo carveout.
"Under Part 117, 'fitness for duty' means being physiologically and mentally prepared and capable of performing the assigned duties to the highest degree of safety," Noyes continued. "This particular conference will focus on fitness for duty, as it's a dual responsibility between both the pilot and the certificate holder to ensure that flight crews have the physical and psychological readiness to fly safely."
What Does Fitness for Duty Really Mean?
"Fitness for duty isn't as simple as not being visibly fatigued," noted Capt. Doug Marchese (JetBlue), a member of ALPA's FT/DT Committee. "It asks, 'Can a pilot reliably complete what will be required of him or her without compromising flight safety?' But how is this determined with a relative degree of certainty?"
"It's a fact that the company's responsibility is to schedule adequate rest for the flight crew," said Capt. Jim Mangie (Delta), manager of Delta Air Lines Fatigue Management Program and an original member of the Part 117 FT/DT ARC. "And it's the crew's responsibility to use scheduled rest time to prepare for any upcoming duty. But we have to all realize that it simply isn't good enough to just fly to the numbers anymore," he said. "We must actively manage the fatigue risk to an acceptable level under our carrier's safety management system."
"When we were all starting in aviation working toward our private pilot certificates, we learned fundamental aeromedical facts and self-checks," said F/O Ellen Brinks (Delta), ALPA's Aeromedical Committee chair. "The most memorable one is the IMSAFE check—essentially a preflight checklist for our own well-being. But once you're fatigued, the science shows that you can no longer reasonably self-assess your fitness for duty.
"ALPA and the Aeromedical Committee have been working together to educate pilots on fatigue risk management strategies," Brinks remarked. "We have to make pilots aware of what's going on internally when fatigue sets in and the associated risks."
Right: Capt. Brian Noyes (United), ALPA's Flight Time/Duty Time Committee chair, opens the Fatigue Management Seminar. Left: Capt Jim Mangie (Delta), manager of Delta Air Lines Pilot Fatigue Program, defines fitness for duty.
"The fatigue rules of Part 117 are a minimum," said F/O Kyle Rabiyan (Alaska), a member of ALPA's FT/DT Committee. "Pilots need to really be aware of how they're going to handle a flight if they're approaching the end of a flight-duty period [FDP] or long trip," he observed. "We need to think ahead in our flight planning and project a reasonable worst-case scenario based on the conditions. If we think we may have a possible weather divert at the end of a flight, is that something we want to handle if we're fatigued?"
Katherine Wilson, a human performance investigator for the NTSB, presented in-depth findings from the fatigue-related crash of UPS Flight 1354 in 2013, stating, "Reducing fatigue-related accidents has been a priority of the board for many years. It's been on our Most Wanted List since 2015." Analyzing the known activities of the flight crew in the 72 hours prior to the accident, the NTSB was able to establish that both the captain and first officer suffered from a lack of sufficient sleep prior to the flight, which—compounded by other issues that arose in flight—likely contributed to the accident.
Part 117 in Practice
"Based on a study of the FDPs at our carrier, more than 99 percent of them weren't FAA-reportable—meaning they were below the limits set out in Part 117," noted Capt. Robert "Chip" Benton (United, Ret.), senior manager of United Airlines Flight Operations Fatigue Programs. "The 9,000 flights or so a year—roughly 25 a day on average—that do require the involvement of our crew desk represent FDPs that come within 45 minutes of exceeding the limits," Benton noted. "This is when we—the company and the pilot—come together and discuss the options available: extend, recrew or reassign, or cancel the flight—or perhaps do nothing if the flight will conclude before the 45 minutes are up.
"Per our statistics, only 4 percent of the 9,000 flights that require crew-desk intervention result in cancellation," he continued. "Of those, less than half are reportable."
"Our crew-desk pilot program has been a real success story for the company and us," said Capt. Steve Radican (United), a member of his pilot group's Master Executive Committee (MEC) System Schedule-Crew Desk Subcommittee. "It allows us to provide real-time operational support, intervention, education, and feedback to our fellow pilots. We speak 'pilot' with our peers and can—thanks to the feedback loop we maintain with the company—create solutions to prevent identified errors and noncompliance from occurring in the future."
Fatigue Risk Management Plans and Systems
Discussing fatigue risk management systems (FRMS), Capt. Lisa Nydahl (Delta), a member of ALPA's FT/DT Committee, emphasized, "Our pilots are aware that the company will likely back them up—98 percent of the time in 2018 and 2019—if they make a fatigue call. Our goal is for our pilots to feel supported operationally and culturally when they feel fatigued. This has resulted in increased fatigue calls year over year, but this is a sign that the program is working. The data we're collecting has the potential to help us reduce risk in the future by modifying trip construction."
"When it comes to building a trip schedule, especially for long-haul and ultra-long-haul flights that are exempted via FRMS, like San Francisco to Delhi, there are numerous considerations that need to be taken into account," stated Capt. Dave Gourley (United), chair of his pilot group's MEC Fatigue Management Subcommittee. "Winds, time zones, curfews in and out of airports, airspace alternatives, and more. Only when you have that all figured out can you build in your crew's pretrip, in-flight, layover, and posttrip rest periods."
The Future of FT/DT
"An ARC was established in 2019 to review whether Part 135 operations should be covered under our fatigue rules," said Noyes. "In addition, new FT/DT rules are going into effect in Canada this coming December, and the Safe Skies Act, which would end the cargo carveout from Part 117, has been introduced in the U.S. Congress," he remarked. " All of this will help to gather even more data on fatigue, promote awareness of fatigue-related issues, and increase the overall knowledge that can be shared about the impact of fatigue on crewmembers."
This article was originally published in the March 2020 issue of Air Line Pilot.