'Building Bridges' to Connect the World's Airline Pilots
By Corey Kuhn, Contributing Writer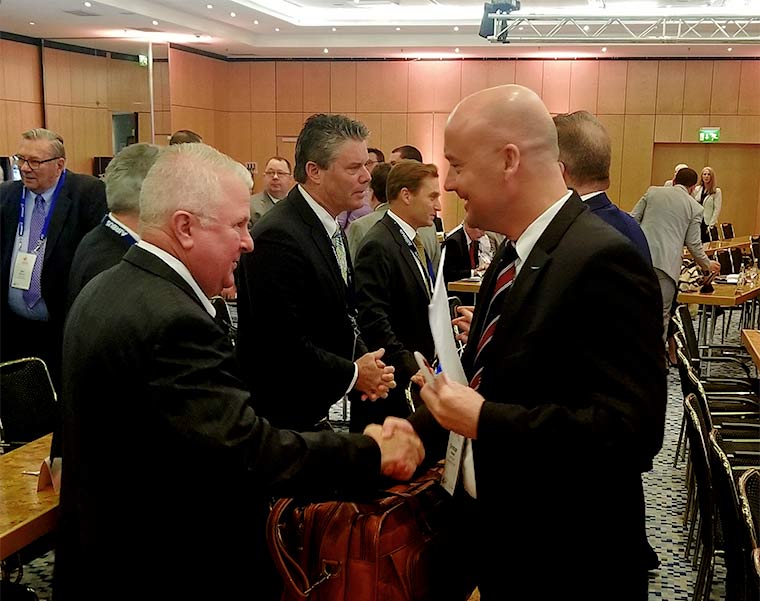 Capt. Rick Cameron (United), left, is congratulated by Christoph Schewe, International Federation of Air Line Pilots' Associations managing director, right, as Capt. Bob Fox, ALPA's first vice president, converses in the background.
As the globalization of aviation began to take off in the 1940s, ALPA knew that it needed to look far beyond the horizon to protect the interest of its members and the industry. As a result, in 1948 the union helped establish the International Federation of Air Line Pilots' Associations (IFALPA). In addition to advancing the profession, IFALPA was founded to ensure that airline pilots had a say in the important aviation policy decisions that were being formulated at the United Nations through the International Civil Aviation Organization (ICAO), which sets global aviation safety standards (see "ICAO: Developing the World's Aviation Standards," below).
For more than seven decades, IFALPA, which represents more than 100,000 pilots worldwide, has worked tirelessly to provide ICAO with the airline piloting perspective. And each year, the federation gathers to discuss emerging issues and develop strategies that will set the path for the year ahead. This year was no different. Airline pilots from more than 80 countries attended IFALPA's annual conference in Berlin, Germany. Despite the challenges of a multinational audience, the pilots transcended those barriers and coalesced around their greatest common denominator: being an airline pilot.
Charting the future of the profession
Appropriately themed "Building Bridges," the IFALPA conference was particularly relevant to ALPA as this was one of the first international conferences to include representatives from each of the Association's executive vice president election groups. Capt. Joe DePete, ALPA's president, observed that for the first time in years members from all of the Association's pilot groups—Canadian, cargo, fee-for-departure, regional, and mainline—were in attendance. "Issues that challenge the rest of the world have an impact on all ALPA members. By their direct participation in this important meeting, we're ensuring that all ALPA pilots are connected to the global issues that affect all of us. It's crucial that we bring the messages and the work of what we do on an international level back home, for all ALPA pilots, regardless of what aircraft we fly or where we fly."
Capt. Joe DePete, ALPA's president, welcomes ALPA members to the 74th International Federation of Air Line Pilots' Associations conference.
DePete, along with Capt. Bob Fox, ALPA's first vice president; Capt. Bill Couette, ALPA's vice president–administration/secretary; and Capt. Joseph Genovese, ALPA's vice president–finance/treasurer, led the U.S. delegation to the conference.
The Global Pilot Symposium
The conference kicked off with a one-day Global Pilot Symposium (GPS) that focused on the challenges transnational airlines are facing and the importance of pilot unity. Transnational airlines represent an atypical business model that ALPA has been fighting against for years. Under these models, pilots are employed through individual contracts, resulting in an unstable work environment. This type of business model poses serious concerns regarding working conditions, pay, and collective bargaining.
During a GPS panel discussion, several pilots from transnational airlines, including SAS, EasyJet, and Ryanair, described the real-life situations they're experiencing and the importance of union representation in the face of changing corporate entities that seek to pit one pilot group against another.
The symposium also featured a keynote address from Willie Walsh, the CEO of International Airlines Group, who discussed how strong leaders help to keep individuals unified. Walsh said of successful and failed leaders: "You take what's good and you take what's bad and you develop something that you're comfortable with. Because what I've seen is that when you come under pressure, you'll naturally revert to your type. If you try to mimic someone else, it doesn't always work," he observed.
Capt. Peter Black (First Air), upper right, briefs Air Traffic Services Group, Aircraft Design/Operations Group, and Airport & Ground Environment Group Committee chairs.
ALPA's important international role
Throughout the four-day IFALPA conference, delegates met with various committees to discuss the work that had been conducted throughout the year. "Because ALPA is the largest group of pilots within IFALPA, ALPA members and staff serve in a variety of capacities within the federation and are subject-matter experts on committees that advance the pilot agenda through ICAO," said Fox. Regional and committee chairs provided updates on a number of topics including safety, governmental issues, and aircraft design and operations. The updates and information sharing led to discussion and strategizing on next steps. Each year, IFALPA committees convene around the world to establish recommendations to ICAO that help advance safety issues as well as provide assistance to member associations that need guidance or support on technical and industrial issues. One such issue was reduced-crew operations.
Unified opposition to reduced-crew operations
A hot topic around the globe continues to be proposals by businesses and managements alike to reduce the number of crewmembers needed to operate an aircraft. IFALPA conference participants affirmed their unified opposition to reduced-crew operations, noting that "Our enviable safety record and culture is based upon two properly rested, fully qualified, and well-trained pilots. It is the federation's position that because reduced-crew operations carry significant additional risks over existing dual-pilot operations, they will result in a serious reduction in flight safety. It is essential to fully address these risks and safety shortfalls before the industry accepts changes to the standards which have built the safest transportation system in history." ALPA shares IFALPA's concerns and continues to advocate the safety value of having at least two pilots in every airliner cockpit.
Electing IFALPA officers
At the conclusion of this year's conference, delegates elected a new slate of pilots to serve on the international executive board, including a new president. Capt. Jack Netskar (SAS) was elected to head the federation. Capt. Rick Cameron (United) was elected executive vice president administration, membership & finance, and Capt. Brian Shury (Jazz Aviation) was elected executive vice president professional & government affairs.
"As a founding member of IFALPA, ALPA is proud of its affiliation with the global pilot community and the collective work accomplished throughout the years. By building the bridges that connect the profession, pilots around the world are able to protect and defend their jobs and advance global aviation safety and security," DePete said.
ICAO: Developing the World's Aviation Standards
In 1947, the United Nations created the International Civil Aviation Organization (ICAO) to help lead the world in establishing standards and recommended practices for the global aviation community. Today, the majority of the world's airline industry adheres to ICAO standards, so it's crucial that pilots have a seat at the table to take part in those policy discussions and decisions.
Because pilots can provide a unique perspective critical to developing and adapting aviation standards, IFALPA was granted official permanent status on the Air Navigation Commission, the entity that recommends action to ICAO. Through IFALPA, the voice of airline pilots is heard within this important aviation organization to promote the highest level of aviation safety and security across the globe.
Many of ICAO's actions have also directly impacted the airline piloting profession. ICAO was responsible for revising the global pilot retirement age to 65 for international operations. Also, the organization has assisted in the significant progress to safeguard the air shipment of lithium batteries around the world.
This article was originally published in the May 2019 issue of Air Line Pilot.