Cleared to Dream: Back to School with ALPA's Education Committee
By F/O Costas Sivyllis (United), Chair, ALPA Education Committee
Capt. John Hassell (United) speaks with high school students about becoming an airline pilot.
As summer comes to an end, students are headed back to school and ALPA's Education Committee is gearing up for another busy year of inspiring the next generation of airline pilots. During the 2018–19 academic year, Education Committee volunteers raised the bar by reaching more than 21,600 students at approximately 150 school visits and community events. We intend to build on that momentum and make this coming year even more successful (see "On the Horizon: 2019–2020 School Year").
I'm a true believer in ALPA's commitment to building the future generation of airline pilots, and with the support of ALPA's national officers as well as our hundreds of volunteers, we'll continue to reach those who just need that extra nudge to follow their dreams and to connect with those who never thought it would be possible to be an airline pilot.
So You Want to Be a Pilot
Currently, ALPA has 11 formalized professional development/mentoring programs at the collegiate level—Aviation Collegiate Education (ACE) clubs—and visits more than a dozen other universities, reaching more than 2,000 collegiate aviators to help bridge the gap between the classroom and the flight deck. The first ACE Club was established 10 years ago by students who today lead the Association's Education Committee. The program, which has 10 core volunteers who were former ACE Club members, has proven effective in preparing collegiate aviators for their careers and grooming future ALPA pilot volunteers.
Education Committee volunteers remain focused on increasing our presence at local STEM events, being more accessible online, and securing the future of the profession. We also have a goal to target the next generation on ALPA social media channels that future pilots may frequent. We continue to study new and emerging technologies to reach this core audience.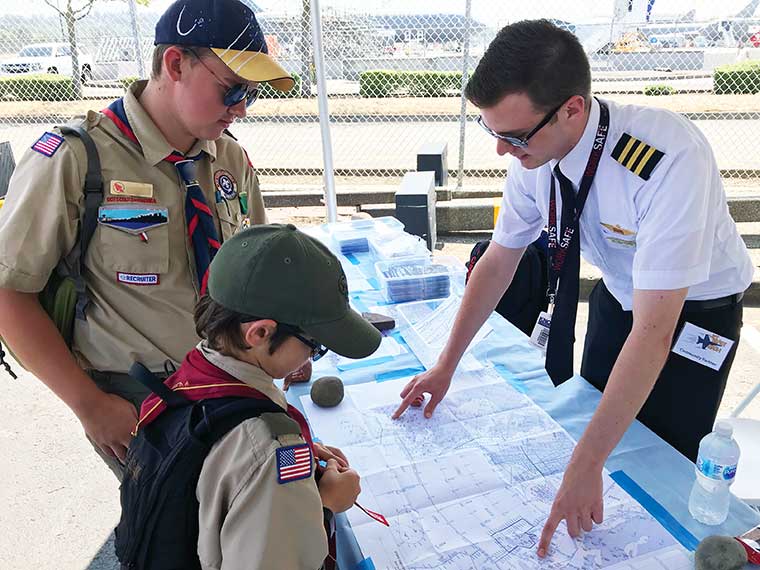 F/O Matthew Grow (Endeavor Air) talks to a scout.
Cleared to Dream
ALPA has a long and extensive history of dedication to future aviators, and Education Committee volunteers work hard to ensure that we secure the next generation of pilots through the Cleared to Dream initiative. Established in 2016, Cleared to Dream focuses on outreach activities that mentor aspiring aviators at the college and university level, as well as bringing pilots into primary and secondary schools to inspire students there.
ALPA pilot volunteers throughout the United States participate in community and industry events during the year to encourage students of all ages to consider careers as airline pilots. Also, the Cleared to Dream website has a vast collection of information including scholarships, "day in the life" stories from pilots, and more. Most importantly, we can connect aspiring aviators with an airline pilot mentor. This valuable connection can help guide a future pilot through what at times may seem like a confusing path.
To any of our current ALPA pilots who have a child (or extended family and friends) interested in becoming a pilot, send them our way! And if you have what it takes to volunteer and help inspire the next generation—even if it's just visiting a local school—visit Cleared to Dream or e-mail Education@alpa.org for more information.
Meeting with future airline pilots across the country allows us to promote the piloting profession. When we connect with elementary, middle, and high school students, we're excited to share our love of aviation and talk about our experience as professional airline pilots.
When we initially meet future aviators, we tell them that the first step is to take a discovery flight at the local airport. Take the controls of a single-engine propeller airplane and feel what it's like to leave Earth's bounds.
We wish everyone a happy and safe school year ahead.
On the Horizon: 2019–2020 School Year
October 2019
November 2019
January 2020
February 2020
March 2020
April 2020
May 2020
June 2020
July 2020
August 2020
Calgary, Alb.: Aviation Accreditation Board International Summer Meeting (August 3–7)
This article was originally published in the September 2019 issue of Air Line Pilot.