ALPA's New Strategic Plan
By Lydia Jakub, ALPA Strategic Planning & Resources Specialist
Strategic planning is challenging, especially in the midst of the COVID-19 pandemic, which has limited in-person interactions and increased the use of virtual meetings. Yet whether accomplished in person or virtually, strategic planning helps an organization develop a vision and refocus on its goals and objectives. It's more about identifying what to achieve rather than laying out a fixed path on how to get there.
At its biennial Board of Directors (BOD) meeting, ALPA engages in a process to formulate a new, two-year strategic plan. The BOD, which is ALPA's highest governing body, is composed of the elected status and seniority block representatives from all pilot groups' local councils. They know the priorities of their pilots as well as the issues facing the Association, profession, and industry. Their involvement in the process helps to ensure that the strategic plan captures the broadest perspectives and the collective will of the membership.
At the beginning of this year, Capt. Joe DePete, ALPA's president, coordinated with Capt. Bill Couette, ALPA's vice president–administration/secretary, on a plan to revamp the strategic planning process at both the national and local levels. The process used at the BOD meeting was originally formalized in 2008 and, as with any successful strategy, must continue to evolve with the times.
For 2020, it needed to become more transparent, inclusive, and focused, therefore seven pilots representing every segment of ALPA's membership were added to the Association's Strategic Planning Committee (SPC). National SPC and Strategic Planning & Preparedness Committee members evaluated best practices during a productive training session, and the group created a revised process to assist master executive councils with their strategic planning efforts.
In addition, a more high-level approach was taken when developing the proposed language for ALPA's new strategic plan. This proposal included input from ALPA's Executive Council, Executive Board, national committee chairs, department directors, and other subject-matter experts to ensure the widest possible participation. They looked at issues from a 30,000-foot level rather than getting bogged down in the weeds. It was then organized into eight subject areas and served as a starting point for the BOD's work.
During the virtual BOD meeting in October (see "Board of Directors Convenes Virtually, Plans for the Association's Future"), delegates reviewed the proposal and engaged in meaningful dialogue on substantive issues. They discussed the effects of the pandemic on the union's ongoing work to improve pilots' working conditions as well as advance pilot-partisan advocacy and ALPA's aviation safety, security, pilot assistance, jumpseat, and flight- and duty-time goals. They also took it a step farther, focusing on getting through and thriving beyond the pandemic.
The resultant strategic plan was unanimously adopted by the 2020 BOD and includes goals, supporting objectives, and initiatives designed to protect and advance ALPA pilot careers and cultivate a diverse and inclusive profession for current and future pilots. This plan is a guide of where the Association wants to go and what it strives to achieve for all ALPA members.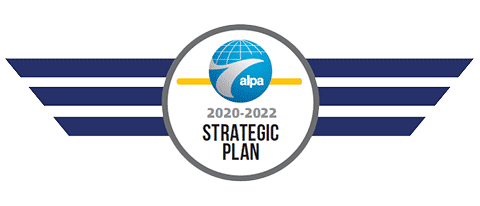 The following is an overview of the eight new strategic plan subject areas, along with their corresponding goals. You can also review the full strategic plan.
Organizational Structure/Resources Management
Goal: Ensure the highest level of resource stewardship.
Pilot Representation
Goal: Advance and protect ALPA members' professional careers and benefits.
Air Safety Organization & Regulatory Policy
Goal: Attain and continue to advocate for the safest and most secure air transportation system for pilots, flight crews, passengers, and cargo.
Legal & Risk Management
Goal: Protect and enforce the legal rights of ALPA, its members, and the piloting profession, and manage risk to safeguard the Association's assets and viability.
International Relations
Goal: Continue ALPA's advocacy efforts in the global environment.
Member/Public Engagement
Goal: Leverage member and stakeholder engagement to strengthen ALPA's position as the voice of U.S. and Canadian airline pilots.
Legislative/Regulatory & Government Affairs
Goal: Successfully advocate for sound government policies to benefit pilots.
Professional Development Group
Goal: Enhance the professional development of current and future ALPA pilots by promoting, inspiring, and supporting an accessible and sustainable airline career.
This article was originally published in the December 2020 issue of Air Line Pilot.