ALPA Advocates at Work
By ALPA Staff
For decades, ALPA has had a strong and influential presence on Capitol Hill. In ALPA's earliest days, then president Capt. Dave Behnke knew that persuading decision makers was key to improving his members' lives. Fast-forward to today's powerful combination of professional policy experts and lobbyists, political advocacy through ALPA-PAC, and pilot representatives and ALPA's safety and security agenda continues to be front and center. Below are just a few ALPA members who are connecting directly with legislators at both the federal and state level to advance ALPA's pilot-partisan agenda.
Changing of the Guard in the Pacific Northwest
For years, Capt. Doug Mattson (United) has taken the time and made the effort to build successful relationships with the legislative leaders in his home state of Washington. However, as Mattson nears retirement, he believes it's important to initiate a "change of guard." F/O Jessie Elliott (Delta), under Mattson's mentorship, has been prepping to take a leading role as one of ALPA's pilot advocates who will work closely with key decision makers on aviation, labor, and transportation policy. For Elliott, being prepared is key—but so, too, is staying true to personal convictions.
Capt. Doug Mattson (United) and F/O Jessie Elliott (Delta).
Taking Time to Connect with Members of Congress
Capt. Kevin Ho (Spirit) lives a busy life, but this doesn't keep him from being an ALPA advocate. "Honestly, most of my advocacy work is done after I put the kids to bed," acknowledged Ho. "It's easy to review ALPA's Calls to Action and connect with your congressional members on important issues. It makes a huge difference when we then follow up in person later and say, 'We've written your office about this issue in the past and it's still a concern.' Congressional staff can then research how long something has been going on and how many constituents are being impacted. ALPA makes it so easy."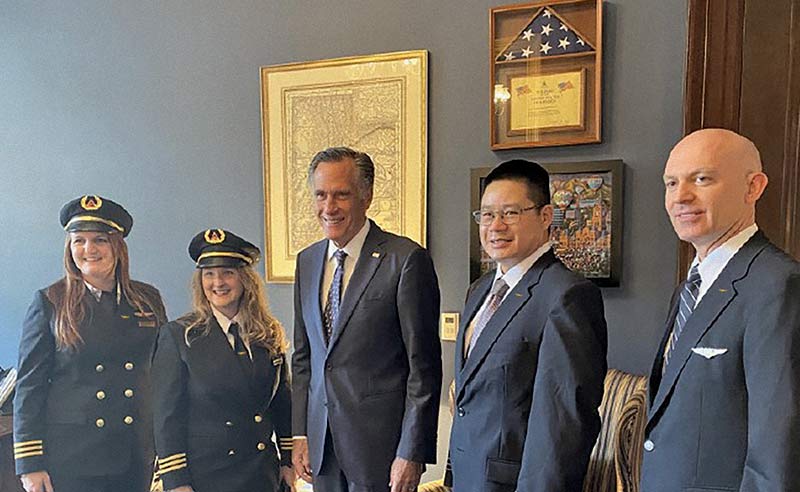 From left, F/O Alison Britton (Delta), F/O Jennifer Fiederer (Delta), Sen. Mitt Romney (R-UT), Capt. Kevin Ho (Spirit), and F/O Aaron Kennington (FedEx Express).
Informing Decision Makers on Top Pilot Issues
As Alaska Airlines pilots were developing their strategy to negotiate a new contract, they knew they had to ensure that members of the Washington state legislature and congressional delegation were informed on important contract issues and the status of negotiations from the pilots' viewpoint. Capt. Blake Reynolds (Alaska) was one of the key pilots in this effort. "They wanted to hear from us and wanted to know how they could help. It was refreshing to know that we have legislative leaders on our side."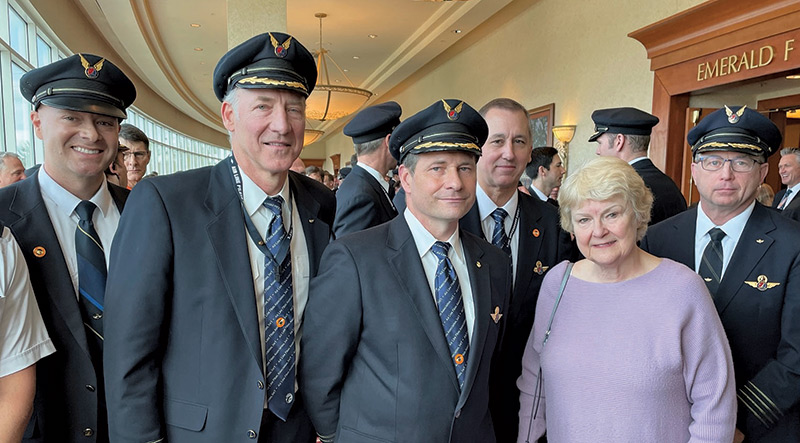 Front, from left, Capt. Blake Reynolds (Alaska), Capt. Garin Tentschert (Alaska), Capt. Will McQuillen (Alaska), and Washington state Sen. Karen Keiser. Back, from left, Capt. Joe Youngerman (Alaska) and Capt. David Campbell (Alaska).
Expanding ALPA's Advocacy Footprint
For the past eight years, Capt. Carlos Coto (JetBlue) has been a member of his pilot group's Government Affairs Committee and a district advocate from Idaho along with others pilots from the state. They've built a solid group that works together whenever possible to help ensure that pilots are well represented among Idaho's two House members and two senators. "Being a district advocate is very important to me. Along with fellow pilots and other Government Affairs Committee volunteers, I'm working to expand ALPA's advocacy efforts," said Coto. "With the support of the Association's Government Affairs staff, we're helping to protect and enhance our careers. Nothing is more important for airline pilots."
From left, Capt. Rick Harper (Delta), Scott Harper, Sen. Mike Crapo (R-ID), and Capt. Carlos Coto (JetBlue).
Thank you for your leadership, pilot advocates. If you'd like to join the ranks of district advocates, please visit ALPA Academy for training opportunities, learn more about our priorities on our advocacy pages, or e-mail GovernmentAffairs@alpa.org.
This article was originally published in the September 2022 issue of Air Line Pilot.