Air Wisconsin Pilot Performs Aerobatic Feats in Russian MiG-17F
Our Stories
By John Perkinson, Senior Staff Writer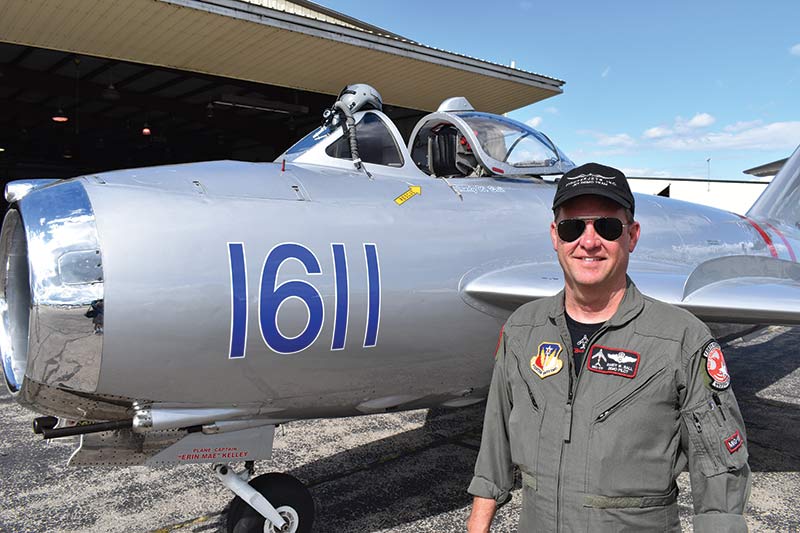 Capt. Randy Ball (Air Wisconsin) in front of his Russian MiG-17F at this year's EAA AirVenture Oshkosh.
Capt. Randy Ball (Air Wisconsin) is regularly called upon to test the limits of his flying skills although, thankfully for the sake of his passengers, not while on an airline flight deck. When he isn't in the left seat of a Canadair CL-600 flying for his air carrier, Ball is performing as North America's premier jet demonstration pilot, wowing air show audiences in a Russian 1960s-era MiG-17F.
Commenting on the aircraft's extraordinary capabilities, Ball quipped, "You can pull up to 8 gs, do 4 g turns in the corners, and keep the aircraft moving very fast, all while remaining in front of the crowd…if you're willing to punish your body." All kidding aside, Ball observed that this strenuous activity requires rigorous training and conditioning because at these acceleration levels the blood tends to be pulled downward toward the legs and arms and the pilot begins to lose peripheral vision.
Ball has been working the air show circuit for 32 years, spending as many as 26 weekends a year performing. In all, he's flown more than 1,400 routines.
Most recently, Ball conducted maneuvers as a featured performer at the 2022 EAA AirVenture Oshkosh. The MiG he flew sports a VK-1F engine with an afterburner, which can climb at a rate of 30,000 feet in three minutes. Ball is the only pilot in the U.S. to have a Level 1 day-and-night "unlimited aerobatic" rating in jet fighters from the FAA, which enabled him to fly several of his featured stunts in AirVenture's evening air shows.
The son of a general aviation pilot, Ball was riding in an aircraft before he could walk. Growing up in a small Texas town, he spent many hours at the stick of an Aeronca Champion, eventually earning his pilot license at age 18. He also enjoyed countless local performances of what would later become known as the Commemorative Air Force.
Several years after college, Ball began air show flying in the Douglas A-26 Invader and training for aerobatic performances in the T-6 Texan before moving on to jets like the T-33 Shooting Star. "This gave me the chance to learn how the business works and to see how I could manage and operate warbirds and pay for them," he commented.
For a brief stint, Ball flew for an operation that featured MiGs. Through an agent connected with the group, he purchased his first MiG (No. 1611) from the Polish Air Force in May 1994. Ball had wanted to do a fully authentic restoration. "What I didn't realize is that I was creating one of the best flying versions of the aircraft in the United States," he acknowledged.
Why the MiG? "I got a great price for it," said Ball, noting that he would have loved to have purchased a World War II-era Corsair or Mustang, but they were out of his price range. "But the MiG-17's performance is incredible, making it particularly adaptable to air show flying," he said. The Vietnam-era aircraft was the tightest-turning fighter in the world prior to the F-16. "You can fly aerobatics in it, and the thrust-to-weight ratio is phenomenal," Ball pointed out. When he isn't performing, Ball stores the three MiG-17s he's acquired in a hangar in Tyler, Tex.
Ball was a featured performer at Oshkosh 2022 executing aerobatic feats in his MiG.
Not surprisingly, in flying various military aircraft over the years, Ball has made numerous military friends. Through these connections, he's used an air show he founded 18 years ago, Thunder Over Cedar Creek, and a service organization he cofounded, Cedar Creek Veterans Foundation, for fundraising opportunities. Through these two resources, Ball has been able to donate more than $500,000 to military charities including Fisher House and the Navy-Marine Corps Relief Society.
"It's amazing to think that aircraft designed for military conflict have turned out to be such a point of joy for so many people," he observed. Remembering the wonder of seeing air shows as a kid with his father many years ago, Ball remarked, "I'm still that kid."
At a recent regional air show in Goshen, Ind., Ball noticed the many children who attended and the looks of awe and amazement on their smiling faces while watching the aerial displays. "That's the real paycheck," he said.
This article was originally published in the September 2022 issue of Air Line Pilot.